SAINt JHN, an artist from Brooklyn (real name Carlos St John Phillips), released his third album While The World Was Burning as artists continue to use the pandemic as inspiration for their music. His successful hit "Roses (Imanbek Remix)" spent 34 weeks on the Billboard Top 100 and peaked at #4 this past summer. The rest of his discography includes two other albums or "collections" with Ghetto Lenny Love Songs released in 2019 and Collection One in 2018. His commercial success took off in 2019, writing "Brown Skin Girl" for Beyoncé's album The Lion King: The Gift. While the World Was Burning is a glimpse at SAINt JHN's endless potential as an artist who can capitalize on using unpredictable times as momentum towards his promising career.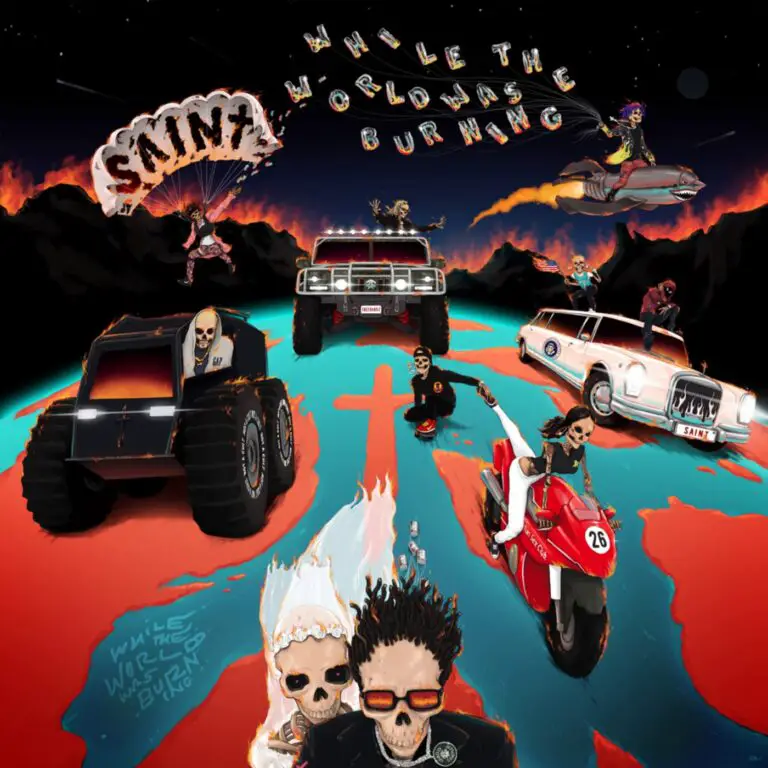 "Sucks To Be You" is the introductory track that successfully sets the tone of While The World Was Burning by reintroducing the world to a different side of SAINt JHN. The repeated lyrics from the chorus, "I said you know who I am, this kid from Brooklyn," describe an adverse journey from humble beginnings to a successful artist. His honesty about his upbringing coincides with growing apart from someone who supported his initial dreams of wanting to become an artist. SAINt JHN expresses a vulnerable side as an artist who can make an upbeat hit like "Roses" and explain who he is as a person on "Sucks To Be You."
SAINt JHN gathered a star-studded list of features on this album including 6LACK, Lil Uzi Vert, Future DaBaby, Kehlani, A Boogie Wit Da Hoodie, Kanye, and JID. On "Ransom," he teamed up with 6LACK and Kehlani to create a complementary vibe for each artist involved. Earlier in the year, he released a music video for "Ransom" featuring only his initial verse. By adding 6LACK And Kehlani, SAINt JHN proves his capability of knowing how to improve a song with the right features.  While "Ransom" and "Sucks To Be You" are both tracks that highlight melodies, "Freedom Is Priceless" delivers an up-tempo beat that showcases his lyricism as a rapper.
"Pray 4 Me" is a cautionary tale about the possible repercussions of a rockstar lifestyle. SAINt JHN expresses his deepest fears of fame getting the best of him with lyrics like, "My life now, this highlight now/ Play my mama this if I die right now." In comparison, Kanye's featured verse feels superficial and so out of place the song would thrive even more without his verse. "Smack DVD" is the second collaboration between the duo and is available on the re-release version of While the World Was Burning. Kanye has a better verse on "Smack DVD" than on "Pray 4 Me," but SAINt JHN outshines him on both tracks.
SAINt JHN mentions "Tryin to be the next Kanye" on "Quarantine Wifey," but his originality is his biggest asset rather than emulating any other artist. Looking back on this year, While the World Was Burning will be a reminder of how music made the uncertain times a little more bearable.