On August 4, 1901, Louis Armstrong was born in New Orleans. Until the age of five, Armstrong's grandmother was his caregiver. At the age of six, he attended the Fisk School for Boys, an all black school in New Orleans. While performing odd jobs for the Karnoffsky family, Armstrong heard the early sounds of jazz from King Oliver.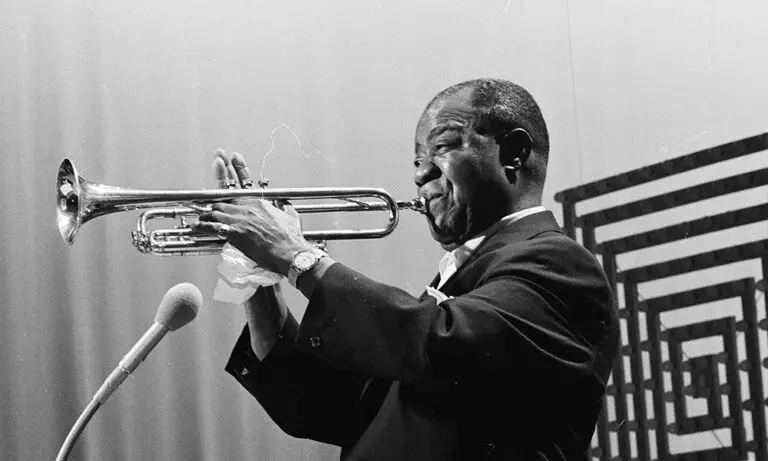 Armstrong and the Karnoffskys bonded over their discrimination. Armstrong faced the obvious racial discrimination, but the Karnoffskys, a Jewish houselhold, also faced discrimination by "other white folks."
In his early career, Armstrong performed on riverboats along the Mississippi River. This gave him more musical experience, particularly regarding reading music. He improved him trumpet playing, creating his own style and personality.
Chicago
In 1922, he moved to Chicago by invitation of King Oliver. Although race relations were poor, the city was flourishing and Armstrong was bale to find a job. The band, headed by Oliver, soon became one of the most influential bands in Chicago. Armstrong was able to live luxuriously in Chicago. Armstrong made his first recordings with Oliver for Gennett Records.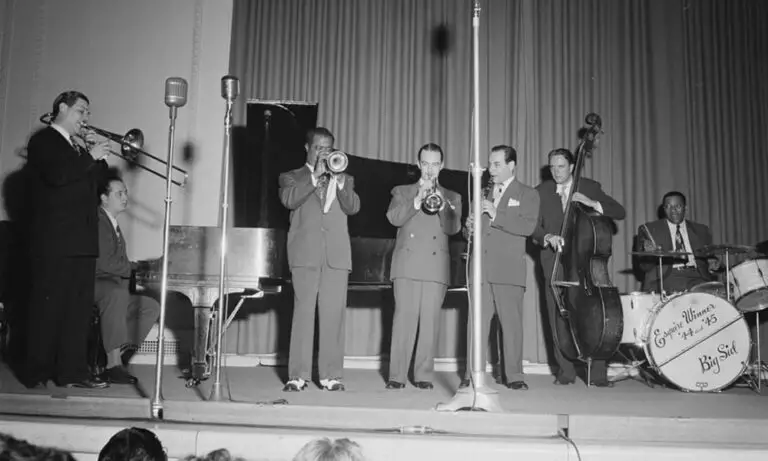 Louis Armstrong's second wife, Lil Hardin Armstrong, wanted him to develop his own style apart from Oliver. Her influence eventually undermined Armstrong's relationship with his mentor, especially concerning his salary and additional money that Oliver held back from Armstrong and other band members.
New York
Armstrong and Oliver parted ways in 1924. Soon after, Armstrong received an invitation to travel to New York and join the Fletcher Henderson Orchestra, the best African-American band at the time. Armstrong adapted to the tightly controlled style of Henderson, playing trumpet and experimenting with the trombone. The other members were affected by Armstrong's emotional style. His act included singing and telling tales of New Orleans characters, especially preachers.
During this period, Armstrong made numerous recordings with Clarence Williams, Ma Rainey, Bessie Smith, and Alberta Hunter. Additionally, Duke Ellington's orchestra went to the Roseland Ballroom to catch Armstrong's performances.
Return to Chicago
In 1925, Armstrong returned to Chicago. He joined his wife's band, the Lil Hardin Armstrong Band, but also created the Hot Five. This group included Kid Ory, Johnny Dodds, Johnny St. Cyr, Armstrong, and Lil Armstrong. Over the next year, the group recorded twenty four records. Armstrong's recordings of "Weather Bird" and "West End Blues" remain today as some of the most famous and influential improvisations.
He began to scat sing (improvised vocal jazz using nonsensical words) and was among the first to record it, on the Hot Five recording "Heebie Jeebies" in 1926. The recording was so popular that the group became the most famous jazz band in the United States, even though they had not performed live to any great extent. Young musicians across the country, black or white, were turned on by Armstrong's new type of jazz.
After separating from Lil, Armstrong started to play at the Sunset Café for Al Capone's associate Joe Glaser in the Carroll Dickerson Orchestra, with Earl Hineson piano, which was renamed Louis Armstrong and his Stompers, though Hines was the music director and Glaser managed the orchestra. Hines and Armstrong became fast friends and successful collaborators. It was at the Sunset Café that Armstrong accompanied singer Adelaide Hall. It was during Hall's tenure at the venue that she experimented, developed and expanded her use and art of Scat singing with Armstrong's guidance and encouragement
Back to New York
Armstrong returned to New York in 1929, playing in the pit orchestra for a musical with Fats Waller. He also made a cameo appearance as a vocalist, regularly stealing the show with his rendition of "Ain't Misbehavin'". His version of the song became his biggest selling record to date.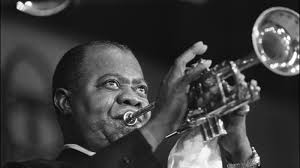 He soon began working at Connie's Inn in Harlem, the rival to the Cotton Club. He also continued recording, performing many of Hoagy Carmichael's music with "Stardust" becoming the most successful. As with his trumpet playing, Armstrong's vocal innovations served as a foundation stone for the art of jazz vocal interpretation. His resonant, velvety lower-register tone and bubbling cadences on sides such as "Lazy River" exerted a huge influence on younger white singers such as Bing Crosby.
Throughout the 1920's, Louis Armstrong played a major impact on the Harlem Renaissance. His impact on the Renaissance influenced other major figures such as Langston Hughes. Within Hughes' writings, he created many books which held the central idea of jazz and recognition to Armstrong as one of the most important person to be part of the new found love of their culture.
Jazz Revival
After spending many years on the road, Armstrong settled permanently in Queens, New York in 1943 in contentment with his fourth wife, Lucille. After spending many years on the road, Armstrong settled permanently in Queens, New York in 1943 in contentment with his fourth wife, Lucille.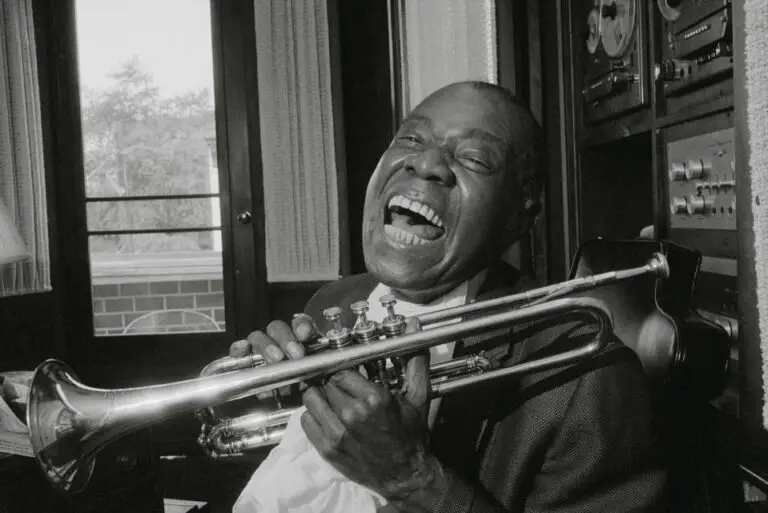 During the 1940s, Armstrong performed at the famed second Cavalcade of Jazz concert held at Wrigley Field in Los Angeles with Lionel Hampton's band. Following a highly successful small-group jazz concert at New York Town Hall, Armstrong's manager established a six-piece traditional jazz group featuring Armstrong with Jack Teagarden, Earl Hines and other top swing and Dixieland musicians. Armstrong's manager named the group Louis Armstrong and His All Stars.
Around the World
By the 1950s, Armstrong became a widely beloved American icon and cultural ambassador. Around the world, he had a fervent following. However, there was an obvious generational gap between Armstrong and younger jazz artists like Miles Davis and Sonny Rollins. The younger generation viewed Armstrong and his act as outdated.
In 1948, Armstrong heard Suzy Delair sing "C'est is bon" at the Nice Jazz Festival. He loved the song and recorded his own in 1950. This became a worldwide success. In the 1960's, he toured Ghana and Nigeria.
After leaving Decca Records, Armstrong became a freelance artist, but continued touring. This was an intense schedule, but Armstrong had to rest in 1959 when he suffered a heart attack in Italy.
In 1964, after over two years without setting foot in a studio, he recorded his biggest-selling record, "Hello, Dolly!", originally sung by Carol Channing. Armstrong's version remained on the Hot 100 for 22 weeks, longer than any other record produced that year, and went to No. 1 making him, at 62 years, 9 months and 5 days, the oldest person ever to accomplish that feat. In the process, he dislodged the Beatles from the No. 1 position they had occupied for 14 consecutive weeks with three different songs.
In March of 1971, Armstrong went against his doctor and played a two week engagement at the Waldorf-Astoria's Empire room that ended in a heart attack. He was released from the hospital in May, and quickly resumed practicing his trumpet playing. Still hoping to get back on the road, Armstrong died of a heart attack in his sleep on July 6, 1971, a month before his 70th birthday. His honorary pallbearers included Bing Crosby, Ella Fitzgerald, Dizzy Gillespie, Count Basie, Frank Sinatra, Ed Sullivan, and Johnny Carson.
Awards and Legacy
Armstrong was posthumously awarded the Grammy Lifetime Achievement Award in 1972. Twelve of Armstrong's songs have been inducted into the Grammy Hall of Fame. He is a member of the Down Beat Jazz Hall of Fame (1952), Hollywood Walk of Fame (1960), Big Band and Jazz Hall of Fame (1978), Ertegun Jazz Hall of Fame (2004), Rock and Roll Hall of Fame (1990), Louisiana Music Hall of Fame (2007), and the Long Island Music Hall of Fame (2007).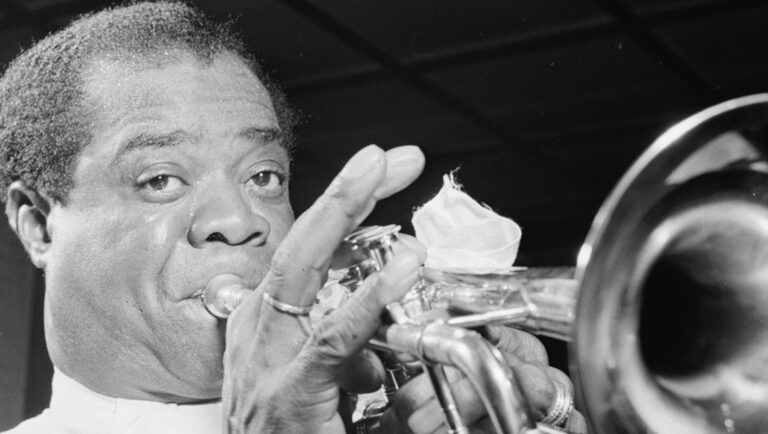 New Orleans' main airport was renamed Louis Armstrong New Orleans International Airport. In 2002, Armstrong had recordings preserved in the United States National Recording Registry. The U.S. Open's former main stadium was named the Louis Armstrong Stadium since he lived nearby.
Though Armstrong is widely recognized as a pioneer of scat singing, Ethel Waters precedes his scatting. Billie Holiday said that she always wanted Bessie Smith's 'big' sound and Armstrong's feeling in her singing. Other major jazz musicians like Duke Ellington have praised Armstrong through strong testimonials.