Profound Storyteller, Matt Butler, releases a cinematic and heart-stabbing single "Counting The Days" today, Friday, November 27. A stripped down acoustic demo also companies the release.
The Manhattan singer-songwriter gets your heart pounding immediately, boasting you up as Mr.Tough Guy, but let's not get too ahead of ourselves. If you're a Matt Butler fan, you're sentenced for life. After an interview with Matt at the last instalment of Vans Warped Tour, it was clear he is the real deal. Remarkably his synergy of music, storytelling and humbleness are all backed by a hunger to improve. That will never let the fire die in Matt's eyes. He makes things real. He makes it personal.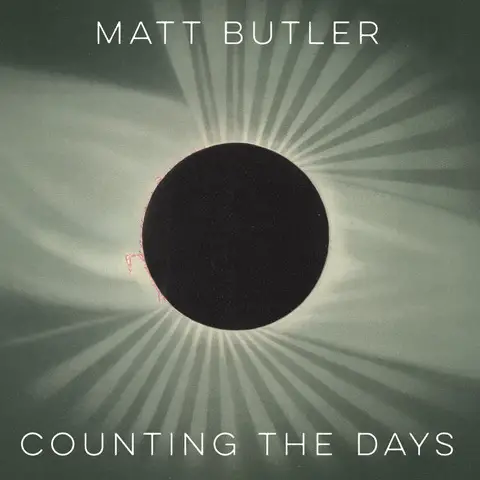 So many palatable emotions rush through your body throughout "Counting The Days" that it's hard to react. The track opens with an ominous yet eloquent acoustic strumming. Sixteenth-note bass drum kicks make the listener's heart anxious, ready to unleash a lifetime of pain.
Music is a provocative tool. Opening lyrics immediately cue a 35-mm story reel in the listeners head. Some close their eyes in hopes music will spark their mind's subconscious and craft inspiration, "Counting The Days" takes out all of the guess work."Sound of the flies buzzing like a drill / Blood pooling on the table with the beer he spilled / I was frozen still."
Butler goes on. "Too hot outside to dig a hole in the sand. And too tired to hide the gun in my hand. There was never a plan." The strings carry momentum, as the tape reel plays, and the image sways on your mind with the heavy 2 & 4 backbeat that Butler carries.
Now, let's get back to Mr. Tough Guy. Butler hits home here with the stereotypical male complex, that builds you up as each chorus replays. It is easy to feel like that kid, or cowardly man Butler depicts, as the alter ego makes him stand up. As you anchor your feet into the floor, Butler sucks you right into the shoes of the protagonist. It's unclear who Butler is singing about: You? Me? Himself?
Alright, did you come around here looking for a fight?
Okay, cause boy you look like you got something to say
Well I just might, are you ready old man to say goodnight?
God be praised, now I'm locked in here
I'm just counting the days
It was always gonna be this way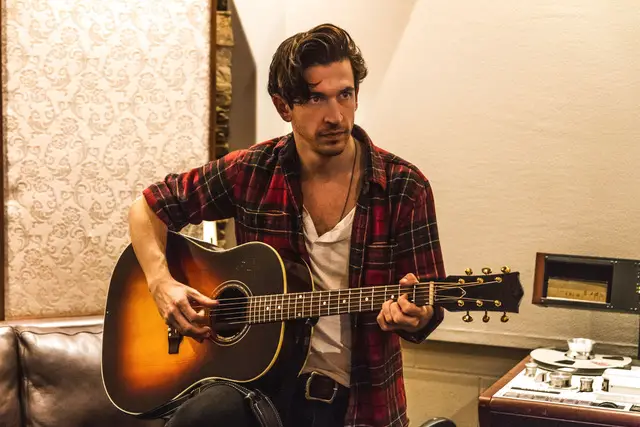 Butler's songs are rooted deep in hardship. For those who don't know Matt, he travels to prisons across the country; singing, sharing and engaging a locked-up community. These stories are so vivid that they bring a tear to your eye. Matt is compassionate and helps these people overcome through song. That effect is compounded on the average listener.
Moreover, when we last interviewed Butler he was on the brink of music school. Now that dream has come to fruition. "I actually produced most of this new track myself, been learning Logic and Ableton during quarantine," said Butler.
" [I] did a day of tracking vocals and overdubs in the studio and Rocky, the engineer, really helped get the sound. It's my first real genuine attempt at self producing."
---
Read More About Matt Butler on NYS Music
Matt Butler shows have an organic and mysterious quality. There are tears, but there is also laughter. Whether he's performing at a theater, a state prison or delivering a keynote for a mental health conference, Butler delivers an experience that engages and transforms his audience. Everyone ends up feeling a little more whole, more human, and more connected – often with a changed view of the world around them. Blending rock and folk styles with a few lingering hints of his punk roots, Butler's music shines a light into some of the darkest corners of our world. He paints vivid pictures of pain and truth while exposing the glimmers of hope that only exist in those raw moments where redemption is born.
"I was drawn to music for as long as I can remember, but music seemed very difficult and inaccessible… You have to risk being rejected and judged. That's part of the plan, that it's so scary. I think that whatever you're scared of doing most, that's probably what it is that you're supposed to be doing – on an evolutionary level."

Matt Butler – Vans Warped Tour Interview with Chuck DeFilippo
Read more at NYS Music…
Manhattan's own, Matt Butler took an early set on the Monster Energy Stage. The folky, singer-songwriter gave a refreshing outsider's perspective that pushed Warped fans outside of their comfort zone. Butler has gathered the sounds and stories of the road, shaped in 'Warped' roots; he grew up playing in punk and rock bands at CBGB's and Arleen's on the lower East Side. "My Favorite bands in high school were Nirvana and Fugazi… my favorite album was Ten by Pearl Jam," said Butler. "I got more into folk and songwriting because of a band called The Replacements and Bruce Springsteen [laughing]. That's always the bridge – as we say that in Boardwalk Hall, very appropriate."
Butler's set featured numerous tracks recorded this past March, but not yet released including soon-to-be single, "Tell Lucy That I Love Her." Butler wrote the tune inspired by a tour of state prisons, and at this point he has played around 200 jails in the past 16 months. The idea quickly boomed from a fan-funded endeavour to Butler securing his 501(c)(3) non-profit, to officially bring curated arts programs to jails and underserved institutions – a heart-wrenching inspiration and driver for his music. At certain times it can be as little as four people in a room where they collectively share stories, experiences and music. "It's a way to see the country, I'll tell you that. This new song (Lucy) comes from the perspective of someone incarcerated."
---
"Counting The Days" Lyrics
Sound of the flies buzzing like a drill
Blood pooling on the table with the beer he spilled
I was frozen still

Too hot outside to dig a hole in the sand
And too tired to hide the gun in my hand
There was never a plan
 
But when I saw him sitting there watching TV
I knew he wasn't planning on letting me be
One of us was always gonna end up dead
But he never saw it coming when he got up and said
 
Alright, did you come around here looking for a fight?
Okay, cause boy you look like you got something to say
Well I just might, are you ready old man to say goodnight?
God be praised, now I'm locked in here
I'm just counting the days
It was always gonna be this way
 
All summer long he was always around
Had a job painting houses in another town
But couldn't hold it down
 
So I'd go out at night and I'd come home late
He'd have the lights turned off but he was wide awake
He was happy to wait
 
But I didn't mind the hits I took
If it got my little sister off the hook
I can still hear the sound of her screams
And I can hear him shouting every night in my dreams
 
Alright, did you come around here looking for a fight?
Okay, cause boy you look like you got something to say
Well I just might, are you ready old man to say goodnight?
God be praised, now I'm locked in here
I'm just counting the days
It was always gonna be this way
 
I'll tell you right now I always knew I was gonna end up in these prison blues
And if I had a choice, I'd do it again
When I hear that voice I say Amen
 
Alright, did you come around here looking for a fight?
Okay, cause boy you look like you got something to say
Well I just might, are you ready old man to say goodnight?
God be praised, now I'm locked in here
I'm just counting the days
It was always gonna be this way