All good things must come to an end. For Phish fans, these eight weeks of Trey Anastasio and the Beacon Jams have been a shining light in the darkness deep. The previous seven shows had featured all sorts of stories, guitars, guests and strings and the eighth and final week of this journey was no different.
The finale was highlighted by an explosive "Carini," beautiful versions of "Pebbles and Marbles" and "Slave to the Traffic Light" and a touching "Liquid Time." Over 48,000 viewers flocked to Twitch for this final, free, live–streamed performance as donations poured into The Divided Sky Fund, which focuses on delivering quality care and compassionate treatment for those suffering from addiction, through Phish's Water Wheel Foundation.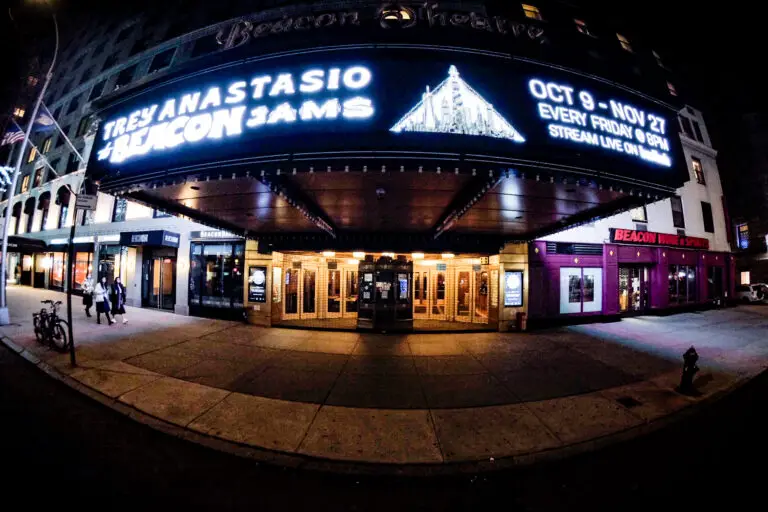 Earlier in the evening, Trey posted on Twitter for fans to tune in again at 7:50p EST for another installment of his pre-show video series with Page McConnell. This time they treated us to a brief but truly beautiful rendition of "Brian and Robert." McConnell's Wurlitzer added considerable depth to this duet as Trey's acoustic guitar danced around the notes that Page played. The song choice couldn't have been more appropriate as we've all been staring at our walls for the last three seasons and this past month and a half's worth of shows has certainly been a welcome relief for phans around the globe.
Deviating from the usual opening, the show started in the stairwell of the Beacon Theater with Trey Anastasio playing acoustic guitar, accompanied by James Casey, Natalie Cressman and Jennifer Hartswick. The foursome sang the first part of "Just A Touch," before moving with the camera onto the stage to join the entirety of the Trey Anastasio Band to end this debut with the new way to end any song these days: "Science!" The energy of the show ramped up immediately as the opening notes of "Carini" filled everyone's living rooms. Harnessing the power of every second set opener ever while adding the intensity of both horns and Cyro's energy knocked this song into 12th gear.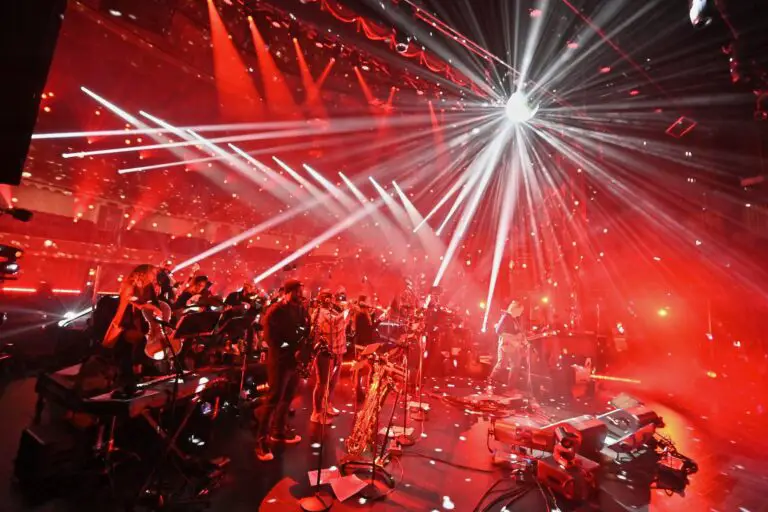 Trey started his audience participation portion by reading a "thank you" on behalf of firefighter fans, a comment about one fan's dog being scared by that monster of a Carini, and a comment about Cyro perhaps playing an empty pie tin from Thanksgiving as an instrument. This segued perfectly into "Mozambique." This short TAB favorite was followed up by "Burn That Bridge," a song written by Anastasio and his "Hands On A Hardbody" partner, Amanda Green.
It was only 30 minutes into the show when the donations hit $100K and Trey was visibly blown away by all of the support that had been shown, not only so far this evening, but throughout the entire Beacon run. Showing his gratitude to all those watching, the band went into a marvelous version of "Cayman Review," featuring Cyro jamming away on the washboard. The conversation then moved back to spatchcocking, to which Ray mentioned that he always hears his name when the topic comes up. (I think we'll be hearing him referred to as "Ray Spaczkowski" for years to come.) We also learned that Cyro is now officially a grandfather and that Trey now has a picture of his cat Joey on the headstock of his guitar. After these revelations, the band dove into "Speak to Me," a song that Trey says might be about organic chemistry, which became reality thanks to some new lyric changes.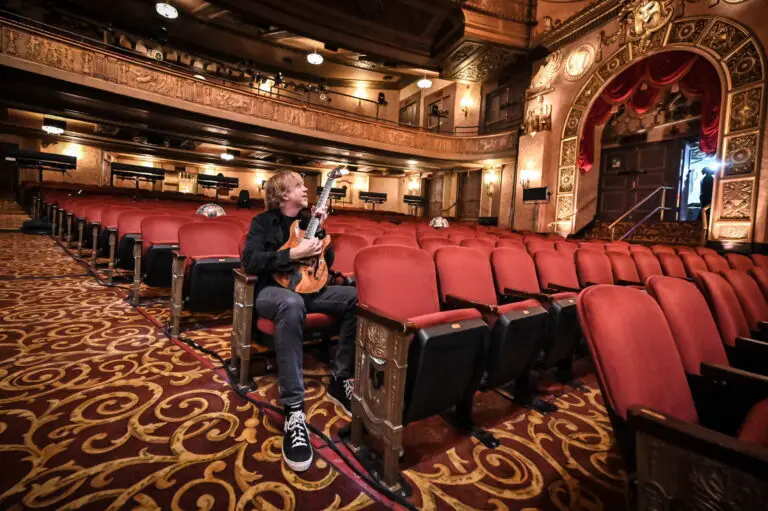 After a few heartfelt dedications and fan group donation shout-outs, Trey improvised a mini-song about Buzzetta before going into "Love Is What We Are," as the donations for the night surpassed $200K. Trey's chair and acoustic guitar came out as the Rescue Squad Strings arrived on the stage for the first time of the evening and the hearts of everyone watching leapt as Trey began to play "Pebbles and Marbles." This gorgeous rendition of the classic Phish song showcased the incredible level of detail that string arranger, Don Hart, has shown over this entire concert series. 
As the Rescue Squad left the stage, Trey wished Jimi Hendrix a happy birthday and shared that Tony Markellis had seen the guitar legend not once, but twice. This sort of banter has been just as exciting as the music that has been shared these last two months and will surely be missed by everyone who has tuned in. Trey led the band into classic versions of "Drifting" and "Night Speaks to a Woman" before going back into the fan comments and retelling a tale of a TAB performance in Utica at the Stanley Theatre where they had rocked so hard that part of the balcony fell, ending the show early. That infamous show was Cyro's first performance with the band and certainly speaks to the intensity of this lineup that we've grown to know and love.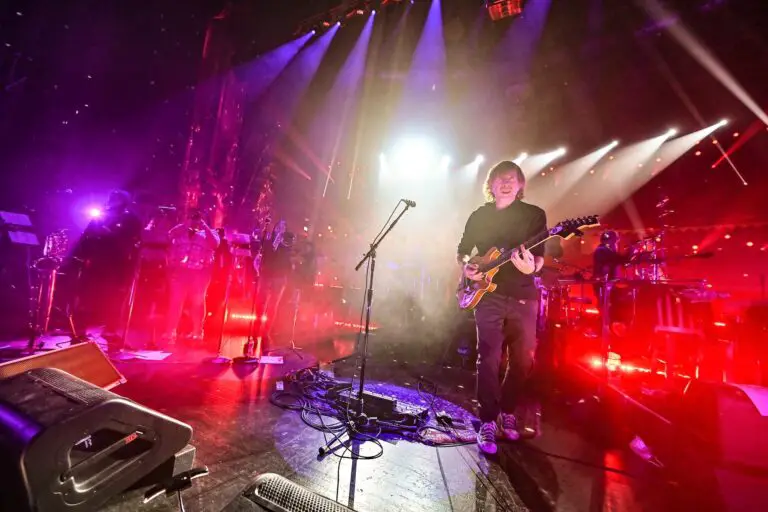 Trey interrupted "Liquid Time" less than a minute in to share that he wrote this particular song while under house arrest following his 2006 incarceration, reiterating to anyone that needs help to ask for assistance and thanking everyone again for donations for his treatment center before restarting the song. This was followed up by "Fast Enough for You," which was amplified by the backup singers that we've all been enjoying these last few weeks. By the time this song had completed, the nights donations had passed $300K, and after a couple more fan comments, the band jumped into "Shine," after which Trey came clean that it shared the ending to a Badfinger song. There's truly nothing better than Trey coming clean.
"Show of Life," another great example of a Phish song that's intensified by the horn players on stage, was dedicated to their drummer, Russ Lawton. This fantastic version segued beautifully into "Ether Sunday" and then a shred-full version of "Simple Twist Up Dave". Seemingly out of breath, Trey took to his acoustic guitar once more in order to dive into a phenomenal "Slave to the Traffic Light" with the Rescue Squad Strings before soaring into the ending of that masterpiece on his electric guitar.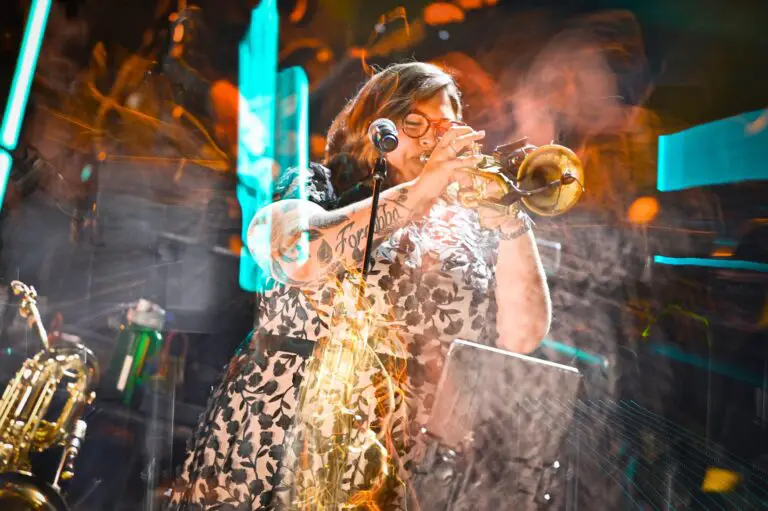 Before closing the night, Anastasio belatedly thanked the entirety of the lineup over the last eight weeks as well as the countless people who helped make this entire aural experience possible. The Beacon Jams were capped off in the best way possible, with "First Tube." The entire band and the Rescue Squad Strings were bathed in the mirror-ball light as Trey gleefully danced around, never missing a beat. Finishing the song with his guitar over his head, Trey ended the night with elbow-bumps to his band before walking out into the Beacon Theater seats to congratulate the staff with facemasks that said "LOVE."
But the percussion didn't end as the camera followed him into the Beacon Theatre lobby where over a dozen dancers grooved to the beat as Trey walked out the doors onto the New York City streets where the venue's marquee showed the immortal words: "Thank You Heather McDougal and to our Frontline Heroes for Everything You Do!"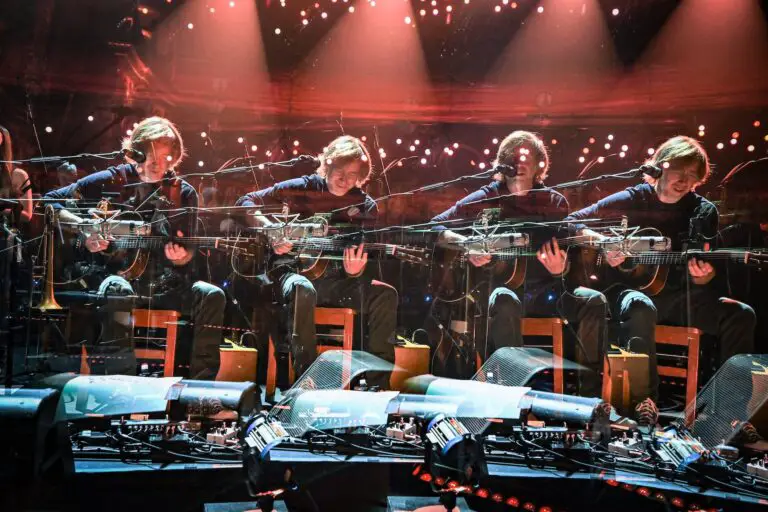 Setlist via Phish.net 
Set 1: Just A Touch [1], Carini [2], Mozambique, Burn That Bridge, Cayman Review, Speak to Me, Love Is What We Are, Pebbles and Marbles [3], Drifting > Night Speaks to a Woman, Liquid Time [4], Fast Enough for You[2], Shine, Show of Life > Ether Sunday > Simple Twist Up Dave, Slave to the Traffic Light [5], First Tube [6], Jam [7]
[1] Debut; began with Trey on acoustic guitar accompanied by James, Jennifer, and Natalie on vocals in a stairwell in the Beacon and finished with them on stage.
[2] Full TAB debut.
[3] Began with just Trey on acoustic guitar with The Rescue Squad Strings and the TAB horns before switching to electric guitar and the rest of the band joining in.
[4] Stopped for Trey to talk and restarted.
[5] Full TAB debut; began with just Trey on acoustic guitar with The Rescue Squad Strings and the TAB horns before switching to electric guitar and the rest of the band joining in.
[6] With The Rescue Squad Strings.
[7] Percussion jam with Trey exiting the Beacon.