The year is 2010. Every middle schooler has an armful of Silly Bandz, people still expect Avatar sequels within the next few years, and female rappers are all but extinct—enter Nicki Minaj.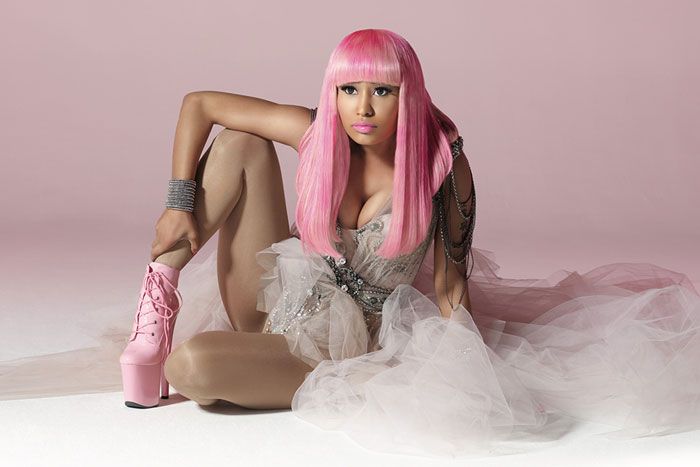 While the Lil Kim and Lady Gaga inspirations were immediately clear, Minaj was still unlike anything anyone had ever seen. Her eccentric accents, peculiar alter egos, and quirky wordplay made her an instant hot topic, sure to reignite the flame of female rap that had petered out with the retirement and incarceration of its biggest stars. It seems unfathomable in an era dominated by Cardi B, Megan Thee Stallion, Doja Cat and Minaj herself, but for a hot minute, she was the lone femcee in a boys' club.
It's also hard to believe Minaj's debut album Pink Friday came out a decade ago. While time has flown by, it feels strange imagining a world without her undeniable contributions to pop and hip hop. Since Pink Friday she's gone on to see higher highs (and lower lows), but it remains her most heartfelt and cohesive effort.
The Origins
Onika Tanya Maraj was born on December 8, 1982, in Saint James, Trinidad. Her father, who was a drug addict, burned down their house when she was five, which prompted her mother to relocate the family to Queens, New York. Maraj went to LaGuardia High School in Manhattan, the performing arts school that inspired the film Fame.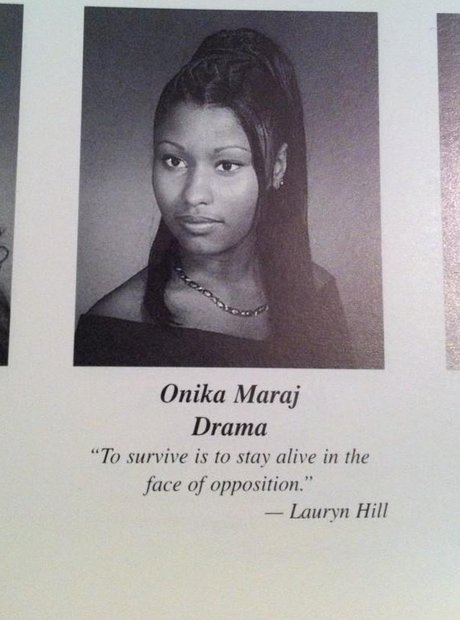 After gaining recognition from a trio of mixtapes in the late 2000s, Maraj signed to Lil Wayne's label Young Money Entertainment in 2009. One of her first appearances as the Nicki Minaj we know today was on "BedRock," a song from Young Money's debut collaboration album with Lil Wayne and Drake. Both have since become frequent collaborators, with Drake's star rising at the same time. Minaj soon got to work recording her debut album, Pink Friday, and quickly secured A-list cosigns from the biggest names in rap and pop alike. Eminem, Rihanna, Kanye West and will.i.am all appear on the standard version, but despite some great features, they never quite manage to overshadow her.
The Album
After a year of building hype through featuring on other artists' songs, Pink Friday was released on November 22, 2010. It debuted at #2 on the Billboard 200, reaching #1 a few months later, and was eventually certified triple platinum with over 3 million sales. It was also nominated for three Grammys, including Best Rap Album. Lead single "Your Love" sampled Annie Lennox's "No More I Love Yous."
Minaj's detractors might dismiss the suggestion of any depth in her discography based off of the raunchiness of "Anaconda" or "Stupid Hoe," but Pink Friday rarely approaches the subject. It certainly isn't family friendly, but besides a stray Eminem verse and swearing for braggadocio purposes, the album is surprisingly tame by her standards. The Nicki Minaj on Pink Friday is far more concerned with making history, endearing listeners to a likable underdog, and preparing for world domination. The album is a masterclass in versatility, with each track peeling back a new layer to who she is and what she's capable of as an artist. Besides mononymous performers with decades under their belt (think Cher or Prince), you'd be hard-pressed to find a better chameleon. She switches between budding queen bee and insecure ingenue with ease, leaving room for her best incarnation: provocateur Roman Zolanski.
His name has aged horribly in the post-Me Too era, but Roman Zolanski is far and away Minaj's greatest alter ego. A moody, flamboyant, and frankly bizarre character, Roman is essentially Nicki's evil twin from London. He's afflicted with Tourette's syndrome, prone to violent outbursts, and speaks in an exaggerated Cockney accent. During her feud with Minaj, Lil Kim compared Roman to Fire Marshall Bill, Jim Carrey's character from In Living Color. He's definitely an acquired taste, but he's responsible for some of the most creative insults in Pink Friday. Minaj wastes no time eviscerating her idol-turned-nemesis on "Roman's Revenge," and on "Did It On 'Em" she coins her now-famous catchphrase: "These girls are my sons."
Roman's incendiary trolling is only one side of Pink Friday, though. Breakout pop single "Super Bass" introduces Minaj as a bubbly, flirtatious, Pepto Bismol edition Barbie (today, her fans are affectionately called "Barbz"). Originally a bonus track, it went viral in early 2011 and is now Minaj's signature song. The lyrics speak of her prerequisites for romantic partners, most importantly the double entendre in the title. The hook is commonly misattributed to Nicki, but it's sung by uncredited co-writer Ester Dean. Minaj's guest spot on Kanye West's "Monster" makes a compelling case, but the opening verse of "Super Bass" is easily her most memorable. Just say the opening line "This one is for the boys with the boomin' system" to a group of Gen Zers, and watch them fill in the rest.
Although Minaj's cartoonish personas still breathe life into Pink Friday ten years later, the album's most charming aspect is her vulnerability. 2020 Nicki Minaj isn't remotely relatable, but she was once humble and outwardly insecure. Recorded on the brink of breaking out, she's happy to revel in her newfound success (see "I'm the Best" and "Blazin") but often grapples with self-doubt. On "Dear Old Nicki" she admits to missing her life before fame, while on "Here I Am," she struggles to separate her self-image from external approval. Minaj shows hints of weakness on later tracks ("Marilyn Monroe" and the haunting "Grand Piano"), but on Pink Friday she's at her most uncensored—emotionally, of course. The ridiculousness of Roman is absent here, but it still makes sense that they're paired together in the same project.
Minaj's follow-ups lean too far in either direction—Roman Reloaded gets lost in its absurdism, whereas The Pinkprint is a real downer—but for an early moment in time, she achieved perfect balance. Pink Friday masters pop and rap with ease, and it's simply fun to listen to. The writing is often laugh-out-loud funny, like on the Buggles-sampling "Check It Out," and surprisingly poignant to those only familiar with the shock value of her derriere ditties. While there have been better female rappers before and after, none are as multifaceted. Nicki said it best on Little Mix's 2018 song "Woman Like Me": "Uh, a million, I'm getting my billy on / Greatest of all time, 'cause I'm a chameleon / I switch it up for every era, I'm really bomb / These bitches really wanna be Nicki, I'm really mom."
The Legacy
A new wave of female rappers has since sprang up, and while she once saw them as competition, Nicki has learned to play nice. Just this year she achieved her first #1 on the Billboard Hot 100, a remix of Doja Cat's "Say So," after a decade of being clowned for not having one at her level of fame. Surprisingly, Iggy Azalea and Cardi B both beat her to the punch: previous mega-hits "Super Bass," "Starships" and "Anaconda" peaked at 3, 5 and 2 respectively. It's an impressive comeback after a short decline—Remy Ma's 2017 diss track "Shether" damaged Minaj's credibility, and her 2018 album "Queen" underperformed.
Almost every female rapper after Nicki would readily admit to idolizing and even copying her. While she's always been generous with her features, she's finally begun collaborating with her proteges. Besides "Say So," she's appeared on Megan Thee Stallion's "Hot Girl Summer" and Migos' "Motorsport" alongside Cardi B. Never mind that their alliance went down in flames—Cardi still paid her respects to Nicki in an Apple Music interview last August:
When I was six, seven, eight, there was a lot of different female rappers. And then, there was a time that there were no female rappers at all. I have to keep replaying songs from the early 2000s. I have to keep replaying it, replaying it, replaying it because for a while there wasn't no female rapper. And then there was one female rapper that dominated for a very long time. You know what I'm saying? And she did pretty good. She's been still dominating.
Last Friday, Minaj dropped a 10th anniversary complete edition of Pink Friday available for streaming. It includes all standard and deluxe tracks, as well as Young Money's "BedRock." Bonus track "Girls Fall Like Dominoes" could be Nicki's mission statement: the first verse is about converting male rappers' fangirls to devoted Barbz, and the second name-drops female music and fashion icons, most of whom Nicki has since worked with. It's remarkable in retrospect, and encapsulates the essence of Pink Friday: a woman ready to break barriers and celebrate her weirdness. Over the last decade, it's safe to say she's more than earned her title of Queen.
Listen to Pink Friday: The Complete Edition here: