Foo Fighters were the musical guest for the first post-election Saturday Night Live last night, which was also the record sixth consecutive show for the NBC late night institution.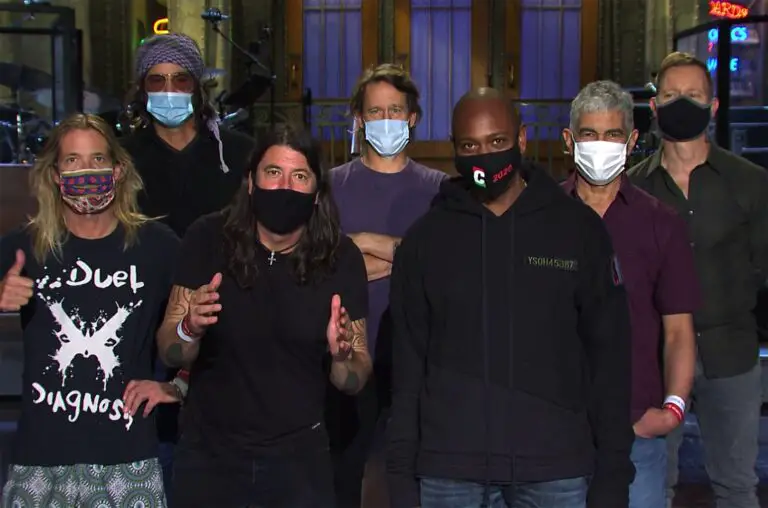 With comedian Dave Chappelle returning for the second time, the first since November 12, 2016, which was also a post-election show but one that had a much more somber tone to it. The tone for the election results this past week would be set by the master comedian, who offered up a lengthy, thought provoking, and hilarious intro monologue.
Foo Fighters have performed seven times prior on Saturday Night Live, and just before the show announced via Pitchfork that they are releasing a new album, Medicine at Midnight, due out February 5, 2021. They performed "Shame, Shame," a slow rocker that stands out as different than past Foo Fighters songs. Guitarist Chris Shiflett told The Brag, "It's definitely a little different than anything we've ever done before and it's a little bit different than anything else on the record, although the record has a lot of songs that are, you know, groove-based like this one is."
For their second song of the night, Foo Fighters went back to their 2002 release One by One for a fitting "Times Like These." The true-to-the-moment version, with lyrics that are nearly two decades old hold true in the wake of a monumental election, with Dave Grohl notably repeating with increasing emotion, "It's times like these you learn to live again."
I—I'm a one-way motorway
I'm the road that drives away
Follows you back home

I—I'm a street light shining
I'm a white light blinding bright
Burning off and on

It's times like these you learn to live again
It's times like these you give and give again
It's times like these you learn to love again
It's times like these time and time again

I—I'm a new day rising
I'm a brand new sky
To hang the stars upon tonight

But I—I'm a little divided
Do I stay or run away
And leave it all behind?
The first musical moment of the show, however, came in the cold open, featuring Alec Baldwin's President Trump, finding the lame duck sitting down at a piano to sing a sad version of The Village People's "Y.M.C.A." The musical moment was a nod to the first post-election show in November 2016 that had Kate McKinnon's Hillary Clinton singing an emotional version of Leonard Cohen's "Hallelujah," with Baldwin even saying a line similar to McKinnon's, "I will never give up, and neither should you." However, this time the performance by the losing candidate was met with laughs from the audience, and not a somber reception followed by ecstatic applause as was the case in 2016. Jim Carrey's Joe Biden and Maya Rudolph's Kamala Harris also closed out their celebration dancing to "Lose Yo Job" as the open wrapped up.