The fifth performance of Trey Anastasio's eight-week residency at New York City's Beacon Theatre took the exact form of one of his many recent side projects. From the opening zoom to the stage that soon showed backup singers and a different looking drummer, it was clear early on that tonight would finally be a variation of the core lineup from the first four weeks of The Beacon Jams. Tonight, Trey took his Ghosts of the Forest side project out for its first run in well over a year. If there was any rust on it, it was minimal.
Expectations for this evening started getting a little hyped up early on Friday, thanks to a nondescript Twitter post from Don Hart, Trey's longtime orchestral and arrangement collaborator. A warning shot like this will rarely go unnoticed within the Phish community.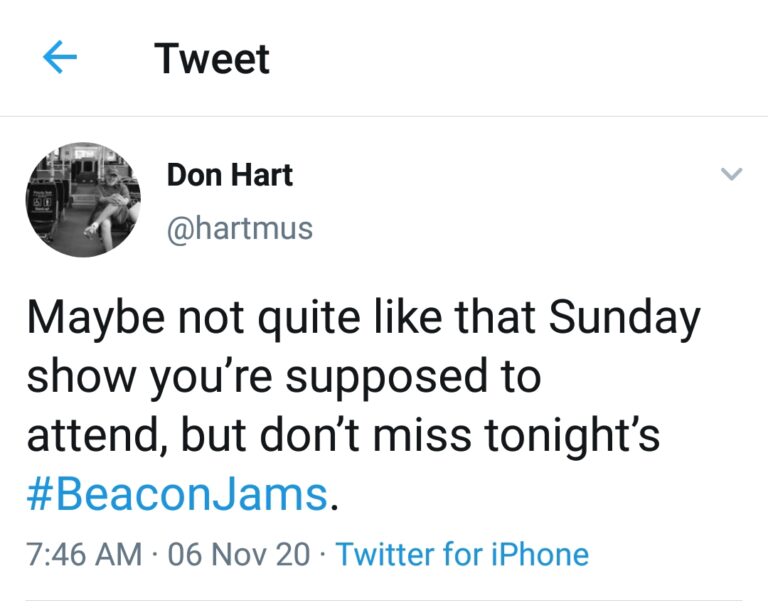 Immediately, hopes ran high with some sort of orchestral configuration of a Phish song or multiple songs. Perhaps an updated version of "Times Turns Elastic" or an elaborate run through of "You Enjoy Myself"? Apparently, per Trey, Mr. Hart was was still composing arrangements for this evening right up until 20 minutes before showtime, so anything was fair game.
Instead of traditional Phish canon, tonight's orchestration was directed to one of the more recent Anastasio solo efforts, his Ghosts of the Forest album that was performed a handful of times in early 2019. It's a complete album with more than 20 songs in all, written by Anastasio in the emotional wake stemming from the death of one his longtime friends, Chris Cottrell.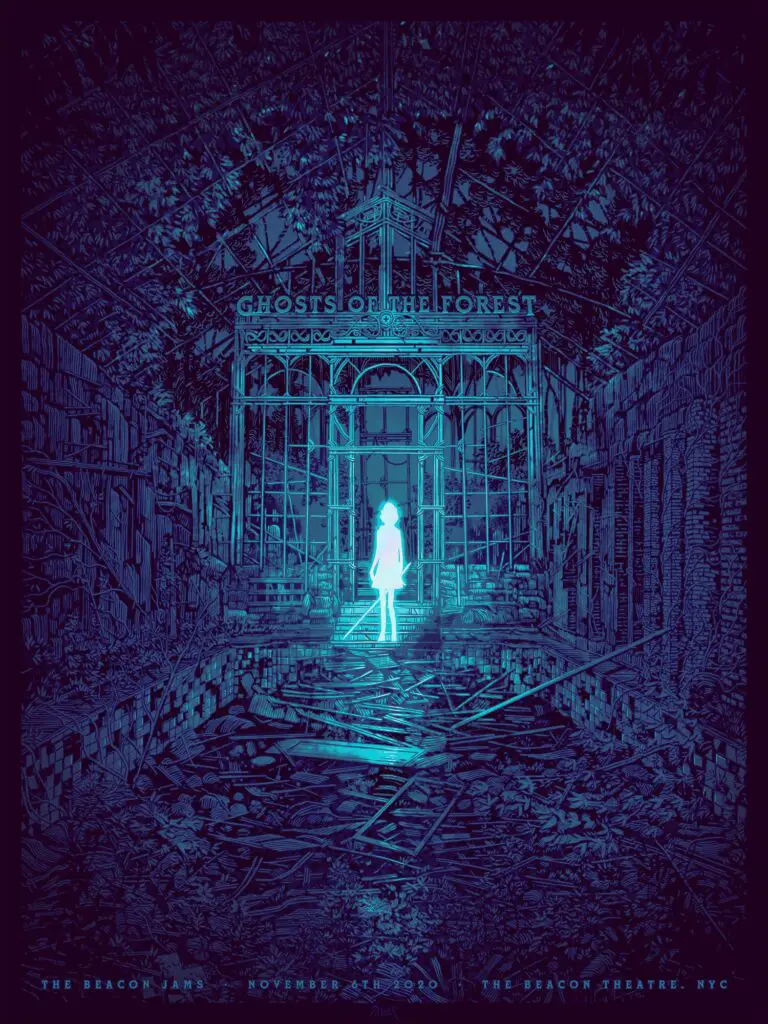 The opening zoom in to the stage immediately revealed a different lineup tonight. There were three backup singers visibly present: Celisse Henderson and Jennifer Hartswick, both from the original GOTF format, as well as "newcomer" Jo Lampert. The other distinct difference was a scruffy-haired Jon Fishman behind the drum kit this evening instead of Russ Lawton who manned it the first four nights. Together, with other Beacon Jam mainstays like Tony Markelis on bass and Ray Paczkowski on keys, this completed tonight's GOTF ensemble.
With the "new" Ghosts of the Forest lineup established, they wasted no time in going into the outfit's namesake song. Even though this was only the band and camera crew onstage, the fog and echo effects that accompanied this one were crowd-ready. "Drift While You're Sleeping" followed, with the backup singers directing the the bulk of the vocal effects this time. Another sophisticated reverb effect introduced the reggae-ish breakdown sequence and it was clear early on nothing was being held back production-wise.
After this impressive opening sequence, Trey took the time for a quick round of band introductions, including one for Fishman, aka "some guy he picked up hitchhiking," as well as new backup singer Jo Lampert. Trey made sure to remind folks that Lampert not only served as a clone in Phish's New Year's show at MSG last year, but also as one of the backup singers for their Ziggy Stardust musical costume from Halloween 2016. So she was certainly no stranger.
It wouldn't be a "Beacon Jam" without some sort of spatchcock reference and that's exactly what led into into the next GOTF song, "Friend." Instead of the traditional four-piece Rescue Squad Strings that had accompanied Trey the previous weeks, this one would be "spatchcocked" into a fuller and doubly richer eight-piece ensemble Trey's lead solo sounded even richer with the backing of the additional strings on this one.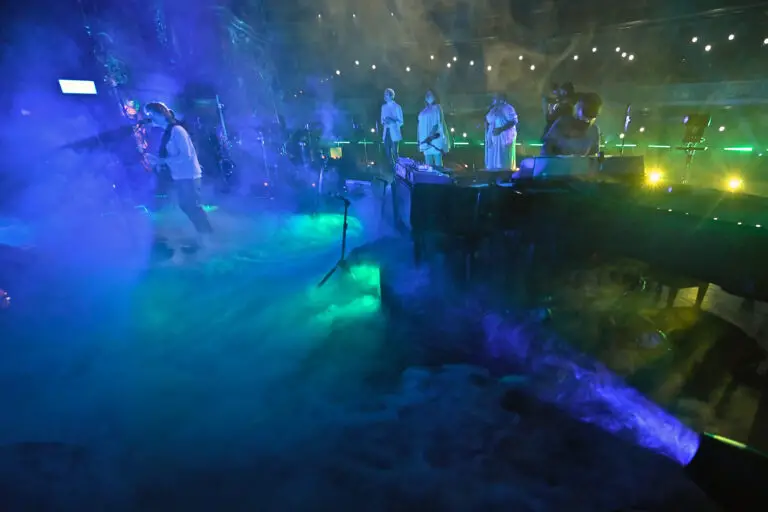 After a quick shoutout to the Phish Chicks Facebook group, the backup signers returned and then it was right into "Sightless Escape," complete with a "No Men In No Man's Land" tease and a monstrous vocal breakdown from Celisse at the end. Afterwards, Anastasio honestly confided they were "having too much fun" tonight. "Halfway Home" featured a slowly building and ascending jam topped off with another Trey solo and sterling backup vocal harmony. After this, it was a quick switch to the acoustic guitar for "If Again" which sounds like it could be the uptempo cousin of "The Inlaw Josie Wales."
Trey then took the time to give personal introductions to all eight members of tonight's Rescue Squad Strings, including one whose friend formerly dated Jon Fishman. The strings added a wonderfully delicate touch to "In Long Lines" as well as "There's A Path Above." Afterwards, Trey thanked and mentioned Don Hart's involvement, confirming arrangements were being completed right up to the last minute. Naturally, this somehow digressed to another spatchcock reference that ended with Trey telling Fish he plays a song quite regularly about this, "Split Open and Melt." This led into one of the few GOTF numbers that's seeped into the Phish repertoire, an electric "About To Run" with no strings or singes, just another ferocious Anastasio solo, capped off with an election and a "running for office" pun.
"The Green Truth" saw the backup singers return in a big way as they seemed to dominate the tail end of this one. "Beneath a Sea of Stars Parts 1 & 2" followed and featured a nice, drawn out opening sequence with Fishman taking lead on drums for a while. "The lights are flashing" line seemed to nod to the simple yet highly effective combination of flashing house lights and the minimal light rig used onstage. The Rescue Squad Strings then re-entered before "Mint Siren Dream." This delicate little number saw Trey in full crooner mode, using only the microphone to sing while being supported by the strings and timely fills from Ray on keys.
"Stumble Into Flight" featured more lively play from Paczkowski, that meshed with a distinct echo effect from Trey and powerful backing vocals to produce a notable jam that contained a "Pigtail" quote at one point. Immediately afterwards, with no hesitation, "Ruby Waves" started up, giving this two-song section of the evening a distinct Phish taste. Although no Alpine Valley version, this "Ruby Wavs" got plenty deep and developed another intriguing jam that grew organically, sounding by far the closest to anything purely Phish from "The Beacon James" so far, including the still impressive lighting display.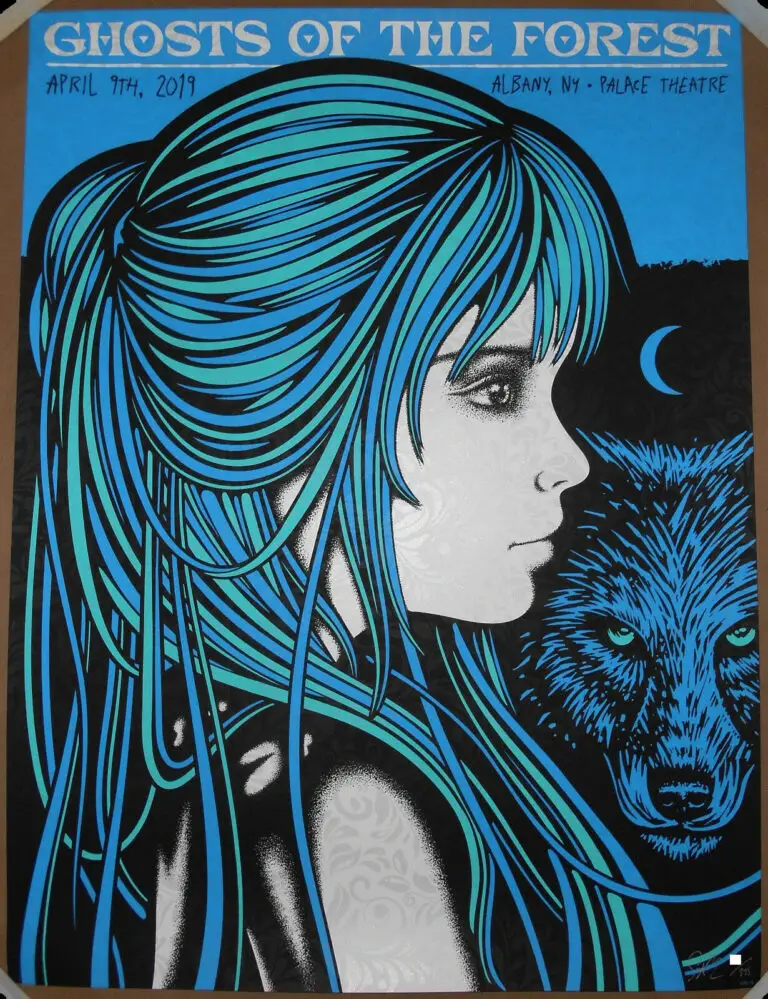 The strings ambled back on stage for "Shadows Thrown By Fire," a brief instrumental number with the backup singers adding airy vocals atop. "Wider" was another highlight of the evening, with heavy bass play from Markelis early on bass and a catchy "Gonna get wider when I die" lyric. More strong play on the clav and organ from Ray added to a bit of an extended jam.
Trey then gave the chat room one more nod, and noted that up to $400K in donations have been made to date towards The Divided Sky Fund. This elicited more heartfelt thanks with Anastasio advising a site for the proposed rehabilitation house has been found, and it's on track to open in late 2021.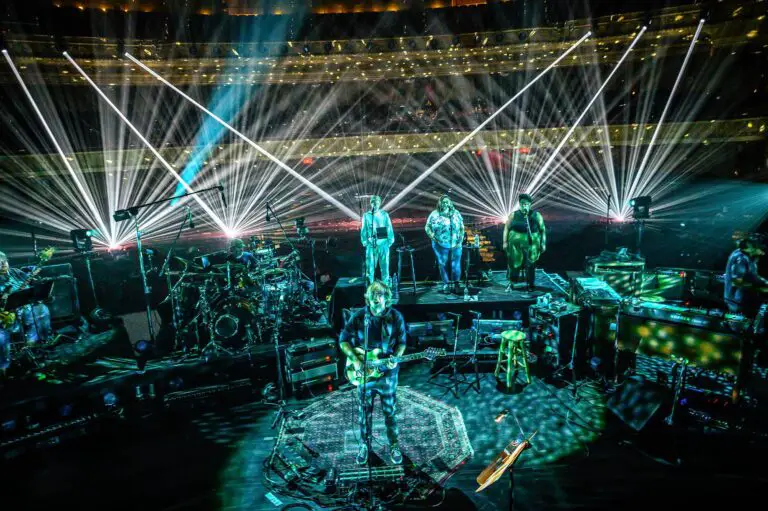 The strings returned once more for "Life Beyond The Dream," an appropriate song to follow talk of a rehab house with its "don't give up hope" lyrics. As expected, the string ensemble took this song to another level in a dazzling display of orchestration towards the end. "In This Bubble" followed, with its wishful "going home" lyrics and a melody once again driven by the backup singers who were all in great form all night. This immediately transitioned to the end of the "Sea of Stars" suite with "Beneath a Sea of Stars Part 3 (blue)" that was appropriately heavy on all available shades of blue house lights.
This effectively ended the set. The encore began with another spooky, echoey effect that bled into the beginning of the hauntingly somber "Brief Time," with Trey again on acoustic. "Pieces of the Machine" with more "Ghosts of the Forest" vocal teases finished things for the evening – a complete performance of Ghosts of the Forest exactly as it had been played in its handful of performances earlier last year. Or, in other words, just another Friday night at The Beacon for Trey.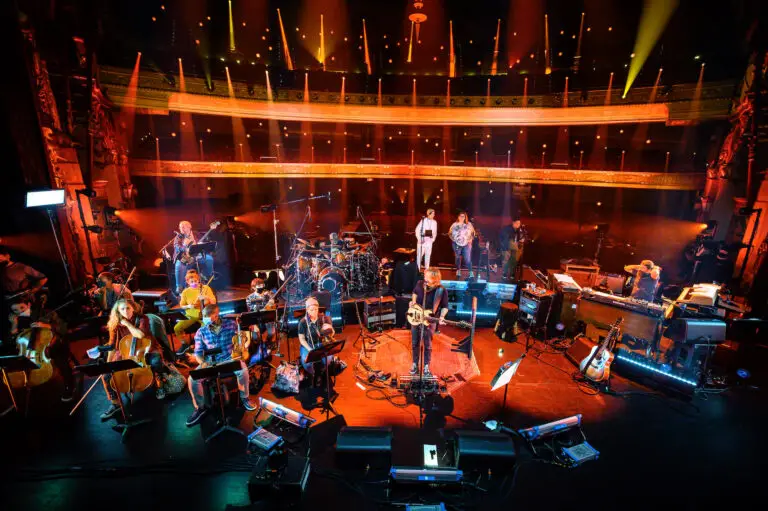 Trey Anastasio "Beacon Jams" Beacon Theatre – New York City, NY 11/6/20
Setlist via Phish.net
Set: Ghosts of the Forest > Drift While You're Sleeping, Friend [1], Sightless Escape, Halfway Home > If Again, In Long Lines [1], There's a Path Above [1], About to Run, The Green Truth, Beneath a Sea of Stars Parts 1 & 2 [1] > Mint Siren Dream [1], Stumble Into Flight > Ruby Waves, Shadows Thrown By Fire [1], Wider, A Life Beyond The Dream [1], In This Bubble > Beneath a Sea of Stars Part 3 (blue)
Encore: Brief Time [1], Pieces in the Machine
Notes: [1] With The Rescue Squad Strings : Katie Kresek, Maxim Moston, Phil Payton, and Mary Jo Stilp on violin, Monica Davis and Rachel Golub on viola, and Eleanor Norton and Anja Wood on cello
All photos by Jake Silco