The Syracuse Area Music Awards announces dates and criteria for their 2021 award show. The Syracuse Area Music Awards or more commonly known as the Sammys will be taking place on March 5th and will stream free on their website here. The awards show ceremony will stream live from SubCat Studios and will include musical performances by area artists and bands.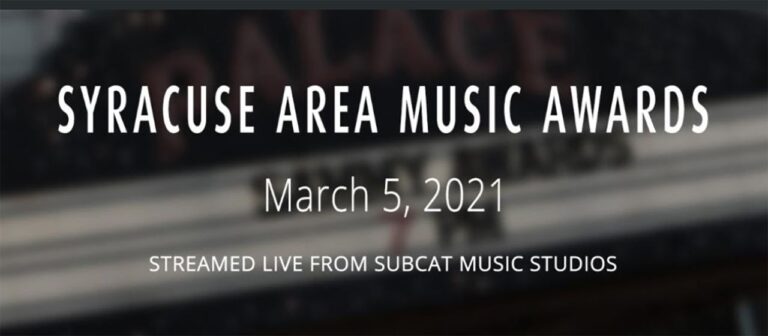 The Sammys was first held back at the Landmark Theater in 1993. The Sammys award show has become the number one local music award event in the Central New York Area over the years. SubCat Studios was founded back in 2001 as a DIY project studio in Skaneateles, NY. It now resides in Armory Square in Syracuse, NY and is owned by Ron Keck who has been working with digital recording since 1989. Today the studio is known for it's high-quality studio recording, remote recording, audio mixing and mastering.
There will be a number of awards that will be presented this year. There will be 12 recording categories, there will be 4 People's Choice awards categories, the Brian Bourke Award for Best New Artist, the Jack O. Bocchino Spirit of the Sammys Award, and the Community Spirit Award.
Submission rules will be a little different this year starting with all artist recorded submissions be accepted online only. Recorded submissions will begin December 1, 2020. Furthermore each artist must select one category they wish to be judged in and their recorded work can only consist of commercially released albums or EPs, released between January 1 – December 31, 2020 by artists in the Syracuse area are eligible. All entries must be available on Apple Music, Spotify or Tidal. No physical recordings will be accepted. Categories subject to change at the discretion of the judges. Entry form will be available here and must be submitted by January 6, 2021.
There are a lot of supporting sponsors of the awards show for 2021. The sponsored include: The Rebel Rocks, Bridge Street, SubCat Music Studios, CNY Alive!, Dinosaur Bar-B-Que, KMASE Productions, Joshua Johnson Design, Skinner & Associates Realty, American Vintage Productions, NYS Music, News Channel 9, 95X, 93Q, and 92.1 The WOLF, and 315 Music.
For more information visit the Syracuse Area Music Awards website.