Today we celebrate the memory of one of New York's true musical icons, Lou Reed. Seven years ago today, Reed died from liver disease, leaving behind an incredible library of music that's been so influential to so many artists. His work with the Velvet Underground as well as his solo efforts continue to enthrall people even today, showing just how timeless his music can be.
Lewis Allan Reed was born on March 2, 1942 in Brooklyn in what is now known as Brookdale Hospital. He spent his youth and formative years growing up in Freeport Long Island in a Jewish household. Lou attended Freeport Junior High School, where his musical career truly began. His doo-wop band The Jades, where he played guitar and contributed backup vocals, was offered studio time for a recording in response to a talent show performance in 1958. This single, "So Blue," didn't quite make the charts but it would be Reed's first ever radio airplay.
Lou would stay in state to further his education at Syracuse University, studying journalism, creating writing and film directing. However, during his first year there, he was brought back home after allegedly having a mental breakdown of sorts. According to his sister, he was "depressed, anxious, and socially unresponsive" for a while. This ultimately led to his parents consenting to electroconvulsive therapy (ECT) as a treatment option after doctors' recommendations.
After treatment and recovery, Reed resumed his studies at Syracuse University, even hosting a radio show on WAER called Excursions on a Wobbly Rail. At Syracuse, he would study under the poet Delmore Schwartz, who would be an early mentor for Reed. It was also here that he would meet Velvet Underground guitarist Sterling Morrison for the first time. Morrison was visiting the older brother of eventual Underground drummer Maureen "Moe" Tucker.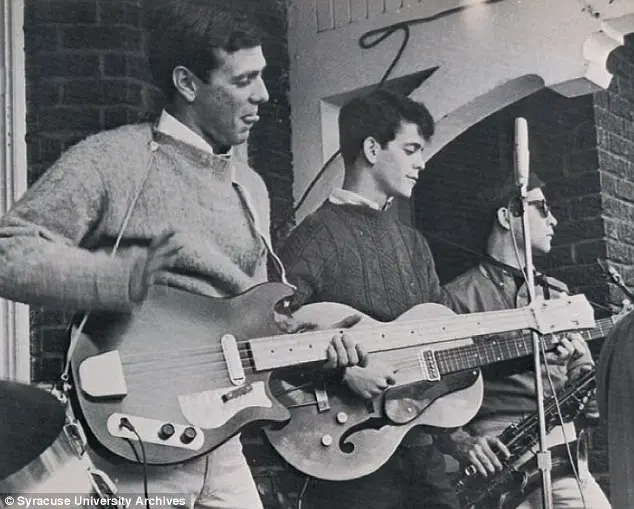 After graduating with a B.A. cum laude in English in 1964, Reed moved to New York City where his career would blossom. As an in-house songwriter for Pickwick Records, it was here that he would meet fellow musician John Cale and form a lifelong partnership of sorts. The two lived together on the Lower East Side and would eventually recruit Reed's college acquaintance Morrison and Cale's neighbor Angus MacLise who played drums to form the first iteration of The Velvet Underground. MacLise wound up quitting the band right before their first paid gig and was replaced by Tucker.
Although they never reached commercial stardom or widespread fame at the time, the Velvet Underground would go on to become one of the world's most influential bands, providing a public image for the bustling New York City underground and alternative rock scene. They would eventually catch the attention of Andy Warhol who would serve as their early manager and quickly instituted them as the house band for his Explosive Plastic Inevitable multimedia events held at his Manhattan studio that was known as the "Factory."
It was Warhol who would urge the band to hire the German former model and singer Nico. Their debut release, The Velvet Underground & Nico, would only peak at No. 171 on the US Billboard 200. However, Rolling Stone would much later dub it the "most prophetic rock album ever made." The overall sound was propelled by Reed and Nico's deadpan vocals, Cale's droning viola, bass and keyboards, Reed's experimental avant-garde guitar, Morrison's often R&B– or country-influenced guitar, and Tucker's simple but steady and tribal-sounding beat with sparse use of cymbals.
Nico and Warhol soon parted ways with the band with the former quitting and the latter fired by Reed, both against Cale's wishes. The two co-founders were beginning to butt heads musically as well. Cale favored a more experimental, avant-garde style while Reed was trying to steer the band towards a more pop-driven style. It would result in Reed firing Cale from the Velvet Underground and replacing him with Doug Yule who played keyboards and bass guitar. This new version of the band would only record two more albums: The Velvet Underground in 1969 and Loaded in 1970. Shortly before Loaded's release, Reed would quit the band and by the end of 1971, the Velvet Underground was a thing of the past.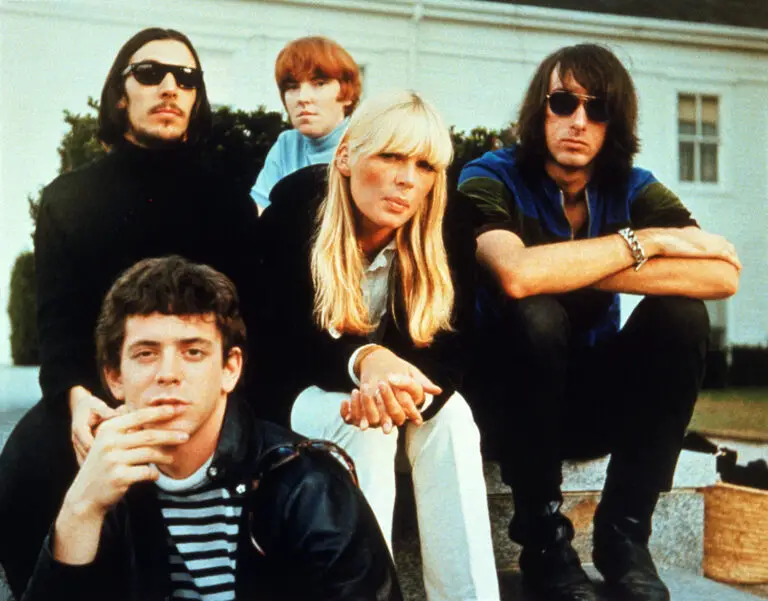 Reed then set out on his solo career, signing a recording contract with RCA Records. His first release, Lou Reed, contained some unreleased material that never made it onto Loaded and didn't receive much attention. This didn't come until 1972's incredibly successful Transformer release that was co-produced by David Bowie and Mick Ronson. The album's hit single "Walk on the Wild Side" introduced Reed to a much larger audience and worldwide acclaim. It would peak at No. 16 on the Billboard Hot 100 singles chart, by far his most commercially successful record. Transformer also features other Lou Reed classics like "Perfect Day" and "Satellite of Love."
Berlin, his next solo release in 1973, is described as a concept album about two junkies in love in the city. Perhaps uncoincidentally, he also married his first wife Bettye Kronstad this year. Although it appears to be mislabeled as Velvet Underground, check out Lou singing "Berlin" below to a spellbound audience.
Some of his later solo projects would go in a completely different direction. 1975's Metal Machine Music is an hour's worth of modulated feedback and electric guitar effects. It was widely panned by critics and seen, by some, as an effort to get out of his contract with RCA. He would later sign on with Arista Records and his first release for them, Rock and Roll Heart in 1976, features "A Sheltered Life," a song with roots going back to 1967 and the Velvet Underground era.
A live album recorded at The Bottom Line in Greenwich Village titled Live: Take No Prisoners also came out this year with Rolling Stone describing it as "one of the funniest live albums ever recorded," comparing Reed's monologues with those of Lenny Bruce. Lou was certainly never afraid to speak his mind and reveal his true feelings, a true New Yorker in that sense.
Throughout the 1980s, Reed would continue to pump out new music and maintain a public persona. He collaborated with guitarists Chuck Hammer and Robert Quine on Growing Up Public (1980) and The Blue Mask (1982), respectively. 1984's New Sensations even saw Reed back on the charts for the first time in six years. He even played a solo set at the first Farm Aid concert held in Champaign, IL in 1985. The decade would end with another one of his more successful solo efforts, appropriately titled New York, released in 1989. It not only netted him a GRAMMY nomination for best male rock vocal performance, but also served as his public commentary on contemporary issues like AIDS, crime and civil rights.
The 1990s would feature even more solo releases from Reed as well as a brief Velvet Underground reunion. Andy Warhol's funeral in 1987 would bring John Cale and Reed together for the first time in decades. It would ignite a new collaboration between the two, 1990's Song For Drella, a song cycle about Warhol. This eventually led to a brief Velvet Underground with one benefit show in France that year and a brief tour of Europe in 1993 that featured a performance at the Glastonbury Festival. Sadly, plans for a North American tour were scrapped after another disagreement between Cale and Reed.
In 1996, the Velvet Underground finally entered the Rock and Roll Hall of Fame, with an induction speech given by another musical icon of New York City, Patti Smith. Unfortunately, original guitarist Sterling Morrison passed away the night before the ceremony. Reed, Cale and Smith would later sing "Last Night I Said Goodbye To My Friend" in tribute.
For the rest of his life, Lou Reed continued to find new ways to express himself and grow as an artist. In 2000, he collaborated with Robert Wilson on POEtry. This would lead to a CD release under the same name years later that featured songs written by Reed and spoken-word performances of reworked and rewritten texts of Edgar Allan Poe by actors, set to electronic music composed by Reed. In October of 2001, the New York Times even published a poem of Lou's titled "Laurie Sadly Listening" that was written in response to the recent 9/11 attacks. He would also go on to release three books of photographs, the second one released in 2006 was titled Lou Reed's New York.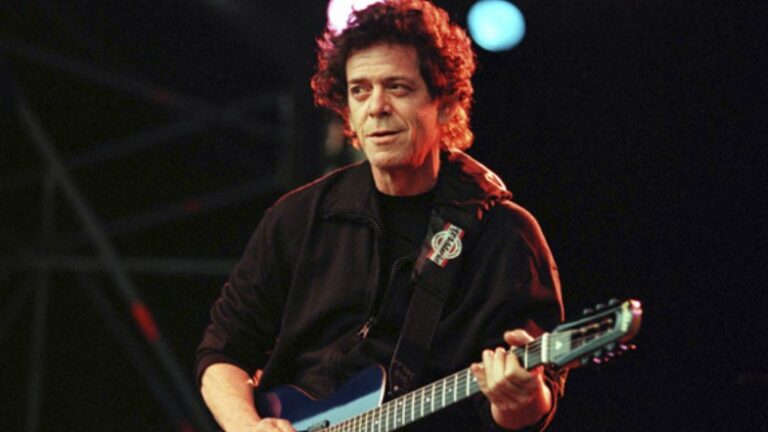 Reed would also go on to revive his Berlin and Metal Machine Music projects in live settings. He also wound up collaborating with modern day acts like Metallica, Gorillaz and Metric. Unfortunately, health issues caught up to him in 2013 and after a transplant in May, he succumbed to liver disease on October 27. Almost instantly, the outpouring of respect from other musicians began. Bands like Pearl Jam, The Killers, My Morning Jacket and Phish all dedicated either original or cover songs played that evening to the late guitarist's memory.
Although he may be gone, Lou Reed's legacy lives on and then some. He was posthumously inducted into the Rock and Roll Hall of Fame, this time as a solo artist, with another speech from Patti Smith. Lou Reed: A Life, a biography by Anthony DeCurtis was published in 2017. And an archive of his letters and other personal effects was donated to and can be viewed at The New York Public Library for the Performing Arts. More importantly, Lou Reed and his extensive musical catalog and stylings continue to influence and inspire new listeners and will continue to do so for the rest of time. Not too shabby for a kid from the city.