Trey Anastasio returned to New York City's Beacon Theatre on October 23 for Week 3 of his Beacon Jams residency. This show came hot on the heels of Phish's Halloween Dinner And A Movie announcement and excited fans got another incredible show highlighted by a silly version of "Windora Bug" in addition to jaw-dropping versions of "What's The Use" and "The Lizards" featuring the Rescue Squad Strings.
Over 30,000 viewers flocked to Twitch again for this free live-streamed performance, with donations encouraged to The Divided Sky Fund, which focuses on delivering quality care and compassionate treatment for those battling from addiction, through Phish's WaterWheel Foundation.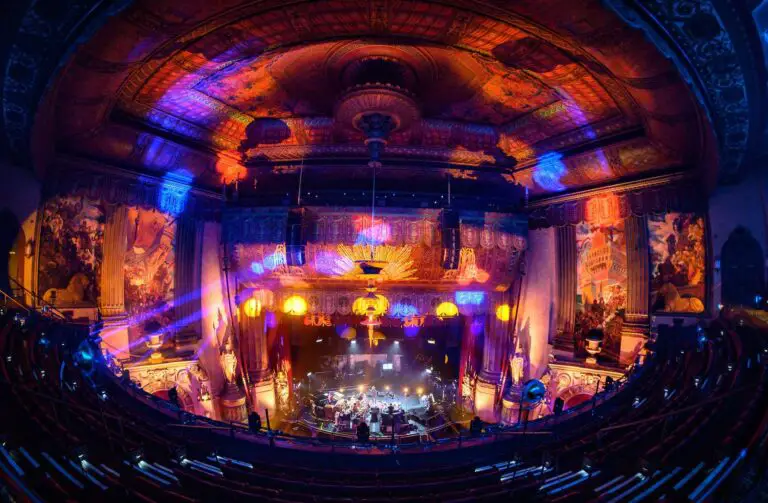 Ten minutes before the start of the show, fans were treated to a special video message from Page McConnell, wishing he could be in NYC with Trey and congratulating him for his work so far on the Beacon Jams. Page stated that he and Trey got together a while back to play together and a minute later a video started with a masked Anastasio helping a masked Page carry his keyboard out onto the deck of the Barn, subtly recreating the album cover of their Colorado '88 release. The duo shared a previously recorded version of "Evening Song" that was absolutely beautiful. Trey's acoustic guitar and Page's Wurlitzer meshed wonderfully as they both sang this duet. Before long, the video faded out to start Trey's evening of live music.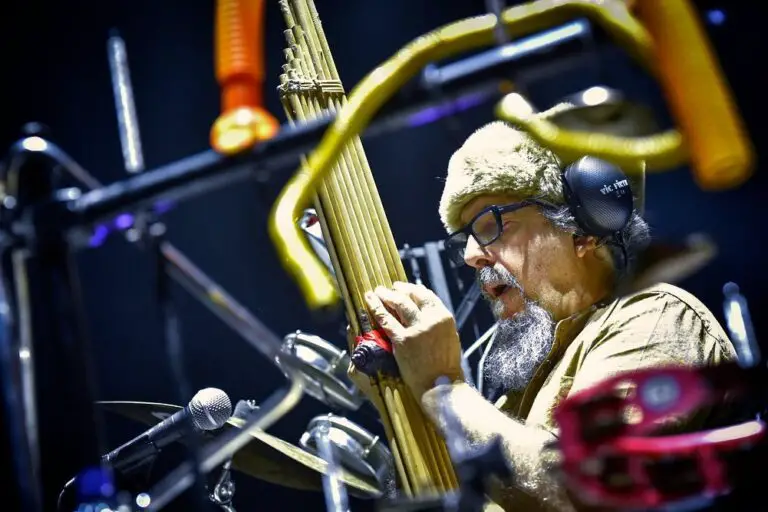 The planned night of music started in usual form at 8:04pm EDT with members of the Trey Anastasio Band on the Beacon stage with our favorite Ginger, consisting of Ray Paczkowski on keys, Tony Markellis on bass, Russ Lawton on drums and Cyro Baptista on percussion. Cyro's toying with "Zamfir and his Pandemic Flute" brought us into the stream as Trey started things off with "Stealing Time From The Faulty Plan" before diving into his usual crowd banter with a couple of birthday wishes to Tom and Uncle Kevin. He dedicated the next song, "Party Time," to Kevin up in Burlington and it's safe to say that Kevin got quite the birthday treat with this noodley, fun version of the tune.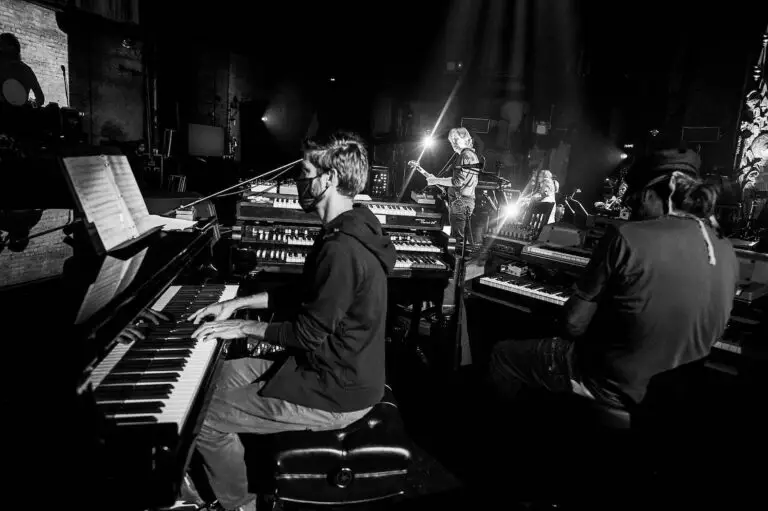 Things got a bit funkier as Trey thanked the Poster Nutbags Art Group for their generous donation last week, dedicating "The Way I Feel" to them. The ensuing smooth, slow, funk jam from Trey's 1998 One Man's Trash had him smiling the whole time, grooving to the entire band. When asked online by DillyBean what his favorite snack was, he replied saying, "Anything you can spatchcock. You can spatchcock anything." Trey continued diving into his solo work with "Sweet Dreams Melinda," followed by his eighth quarantine song, "Shaking Someone's Outstretched Hand."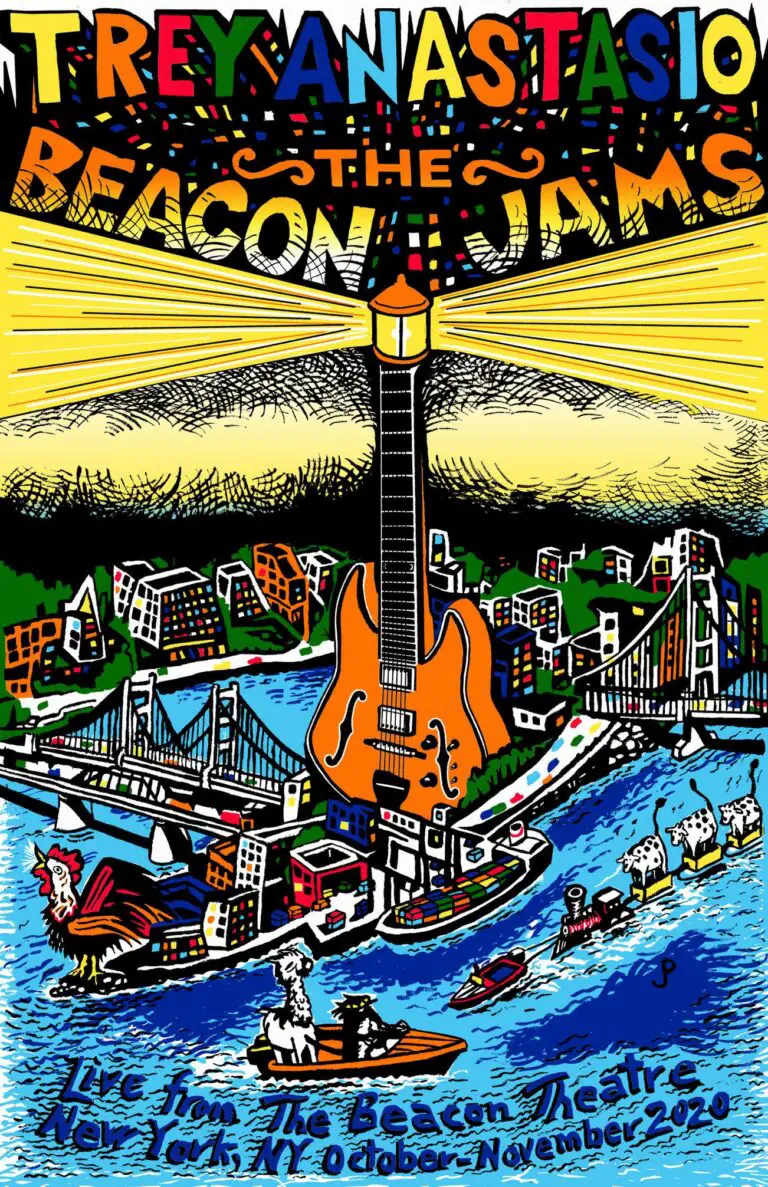 Cyro, the man who "wears a skunk on his head," helped a speechless Trey thank everyone for their donations so far and gave us another taste of Zamfir's (clang!) Pandemic Flute before the band dove into "Andre the Giant" and a jammed-out "Spin."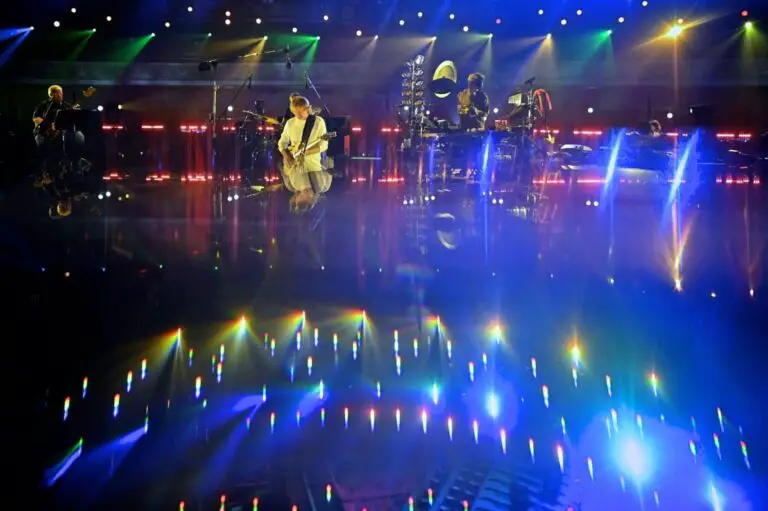 Trey took out his acoustic to play "Turtle In The Clouds" before picking up Old Reliable/Mar Mar again to join the Rescue Squad Strings and Jeff Tanski on piano for a breathtaking version of "What's The Use." Trey continued on with the Rescue Squad Strings to share beautiful versions of "Brian and Robert" and "If I Could," commenting between them that he likens the Beacon Jams to an extended band practice, something he has always enjoyed, and stating, "When life hands you a pandemic, make pandemic-ade."
The recent NYE song "Rescue Squad" was teased by Trey as the TAB members returned to join the string quartet for a gorgeous rendition of "Leaves" and a squirrelly, harmonic version of "The Lizards" that had Trey smiling the entire time and certainly putting a smile on the face of everyone watching. As the strings departed, the good times continued with a rousing "Mr. Completely" ending with Cyro playing a bug-sounding instrument. This led the band to dive into a rather goofy "Windora Bug," featuring alternate lyrics about the "Corona Bug" and references to fans folding laundry while watching the show.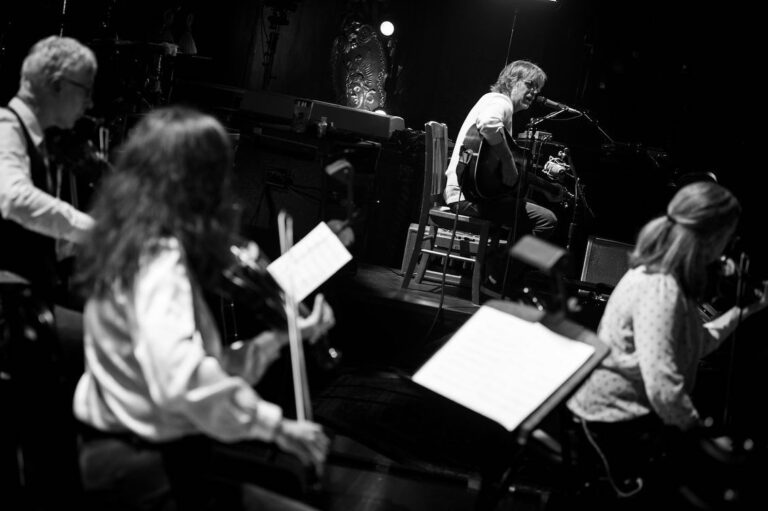 The show continued on with a bouncy, spatchcocked version of "Possum" followed by a soaring "A Case of Ice and Snow" into a killer "Last Tube." Having raised over $92,000 tonight, Trey ended the night with a song he called "Folding The Laundry" and "When Your Dryers Broken," but you might know it better as "Twist."

Trey Anastasio returns to the Beacon Theater again next Friday for another round in which he has promised to "rock out!"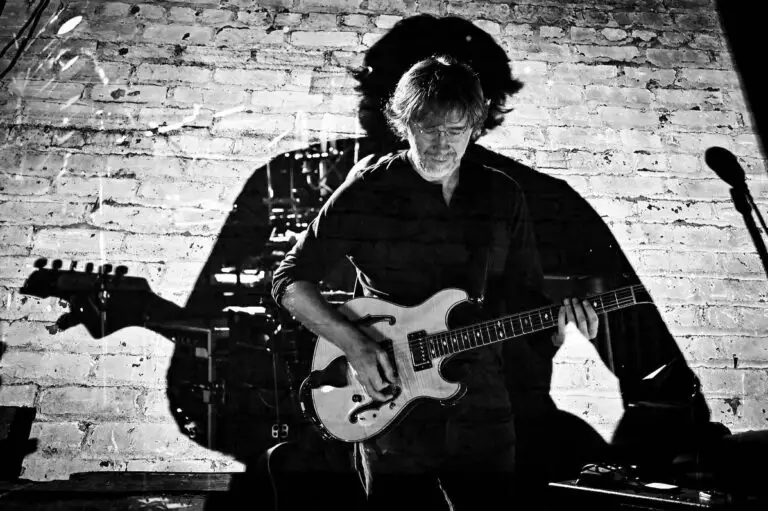 Setlist via Phish.net

Set 1: Stealing Time From the Faulty Plan, Party Time, The Way I Feel, Sweet Dreams Melinda > Shaking Someone's Outstretched Hand [1], Andre the Giant, Spin, Turtle in the Clouds [2], What's the Use? [3], Brian and Robert [4], If I Could[4], Rescue Squad [5], Leaves [6], The Lizards [7], Mr. Completely > Windora Bug [8], Possum, A Case of Ice and Snow > Last Tube, Twist

[1] Debut.
[2] Trey solo acoustic.
[3] Just Trey with The Rescue Squad Strings and Jeff Tanski on piano.
[4] Just Trey on acoustic guitar and The Rescue Squad Strings.
[5] Trey solo acoustic; first acoustic performance by Trey.
[6] TAB debut; Trey on acoustic guitar and The Rescue Squad Strings.
[7] Full TAB debut; with The Rescue Squad Strings.
[8] With Corona references.