The Capital Region's OmniZen Studios has announced a brand new album from founder Shane Morris. Dubbed Memories of Life, an album release party is set to occur at the historic remodeled Madison Theatre in Albany. The show is free with the purchase of food on October 24 from 6 p.m. to 9 p.m. Joining Morris will be Capital Region songwriter Corry Loveday.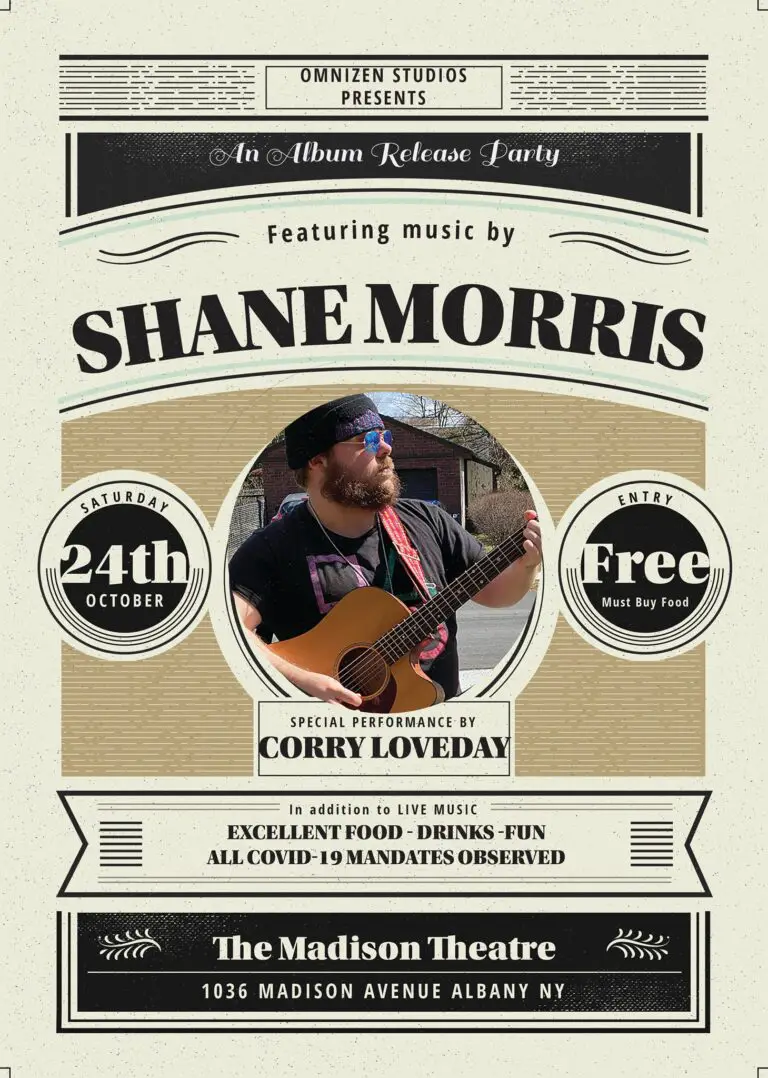 Memories of Life is Morris's first album in nine years. Previously he had released Waves of Inspiration in 2011 while a student at the College of Saint Rose in Albany. Since graduation numerous musical ventures have taken place for Morris including the formation of OmniZen Studios in 2017. NYS Music spoke with Shane Morris on how life has changed for OmniZen particularly during the pandemic.
Jessica Sherman: What pulled on you to create music?
Shane Morris: The thing that really got me into music was the guitar. A childhood friend and I would listen to his mother play the guitar. So one day I told my mom that I really wanted a guitar for my birthday. They got me guitar lessons from a music shop in Walden, NY and off we went.
In two years I went through two guitar teachers with the latter turning into a future jam buddy. Then I started singing in choir during middle and high school. Through conversations with my choir director I realized that having a career as a musician was plausible.
Now I own OmniZen Studios with a Latin Grammy nomination under the name, thanks to work completed with Alex Torres y Su Orchestra in 2018.
JS: What drove you to record the album?
SM:The inspiration for this album actually came from the feelings and experiences I had during COVID-19. Specifically, during this time I actually fostered a new friendship. Six of the songs on this album are based on this friendhsip. I also chose to re-release a few of my older songs from my previous album, 'Waves of Inspiration'. This album came out after my graduation from The College of Saint Rose in 2011.
JS: How do you think the pandemic has affected the music industry specifically?
SM: I think COVID has impacted the music industry in, honestly, one of the worst ways imaginable. My business has taken an approximate revenue loss of about 50% during this time period when compared to last year. It put me in a few really uncomfortable positions, and I've had to make some tough choices along the way. Usually during the summer months I'm out doing live sound reinforcement for festivals and shows while my other employees produce music back at the studio. With COVID, that side of my business basically doesn't exist.
For example, it took OmniZen Studios three venue changes just to put on a fundraiser for my friends whose house burned down in June. The two venues I was considering in Albany for the fundraiser eventually just ran into too much red tape to host my event, and I came to the decision that the best place for it would be Stable Gate Farm and Winery in Schodack, NY.
JS: Any dream collaborations in the future?
SM: I'm always very open on who I collaborate with! It's actually part of my musical philosophy that music is part of the human spirit, and it helps us all to connect to each other. I love to host jam sessions in my space and make music with whoever is really interested in what we're doing. One of the main focuses of OmniZen from its inception was to bring an open forum and space to the musical community where lower income artists can come together and help raise up and promote the entire Capital Region music scene.
Some of my favorite collaborations include a roots/reggae album produced for Joseph Fleuriot, also known as Papa Joe, and most recently, my re-recorded version of "I'll Be There Soon", featuring the super talented Stephanie Gettys on backup vocals, which is also included on 'Memories of Life'. In the future, I really hope to collaborate with some of the up and coming hip hop artists such as area native Freedom Stratton, who recently released his album titled The Future.
JS: What does the future hold for OmniZen and Shane Morris?
SM: That is really an open ended question at this point. COVID has brought me to a point where I'm currently re-organizing the way my business operates to make sure it's still profitable in the future, which involves taking on more remote and voice over type work.
Also, I'm currently enrolled in a certificate program with the NYU Clive Davis Center for Recorded Music. After that is complete, I'm planning on applying to masters degree programs. I might even end up on the west coast in the next year or so. Of course, OmniZen will still exist in some capacity.