"Point of No Return" is one of three singles released by Diana Zinni in 2020. The song touches upon a certain dichotomy when it comes to love and loss: vulnerability and self-assuredness. She is willing to get to the point of no return in her love, but she also doesn't want to get to a point where there is no return and her love isn't reflected back to her. She is self-confident yet insecure about these feelings of love, loss, regret.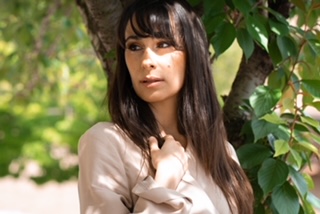 With a soulful voice reminiscent of Kate Bush or Rilo Kiley, Diana Zinni is poised to make a splash on the independent music scene. For "Point of No Return," she had David Lizmi on bass, David Heilman on drums, Matt Chiravalle on lead guitar, Lucas Saur on Cello, Rob Clores on organ, and Lilly Katz tap dancing. Diana saw Lilly at a dance event performing a modern piece and spoke to her afterward, where Lilly mentioned that she always wanted to be in a band as a tap dancer. Diana was looking for "out-of-the box percussion," and asked Lilly to perform on this track.
Diana counts Paul Simon, Steve Winwood, and Bob Dylan among her influences, and you can hear their writing styles come through on "Point of No Return." Diana currently resides in Jersey City, NJ where she manages a studio, after moving across the river from Brooklyn. She had hosted an open mic tonight pre-Covid, and has continued to do so via Zoom.
Zinni also produced an outdoor show with a bunch of friends earlier this year, and would like to continue doing similar things, weather-permitting. Keep an ear out for future singles to be released in 2021, hopefully on her next album The Vault. Her debut album, Fire & Water, can be found on Spotify.