During an incredibly busy year for the band, the Grateful Dead did carve out a little time for Buffalo and Upstate New York in the fall of 1981. After a thorough summer run at mainly Midwest and West Coast Venues, there were a handful of East Coast shows scheduled in the end of September. Immediately afterwards, they would be off to Europe again, their second jaunt over there this year.
These few shows would serve as more than adequate tune-ups. On September 26, the Dead would play Buffalo Auditorium for the fifth and final time, serving as an end to an era of sorts. For the remainder of their shows in the Queen City, cavernous Rich Stadium and its 80,000 seats would serve as host.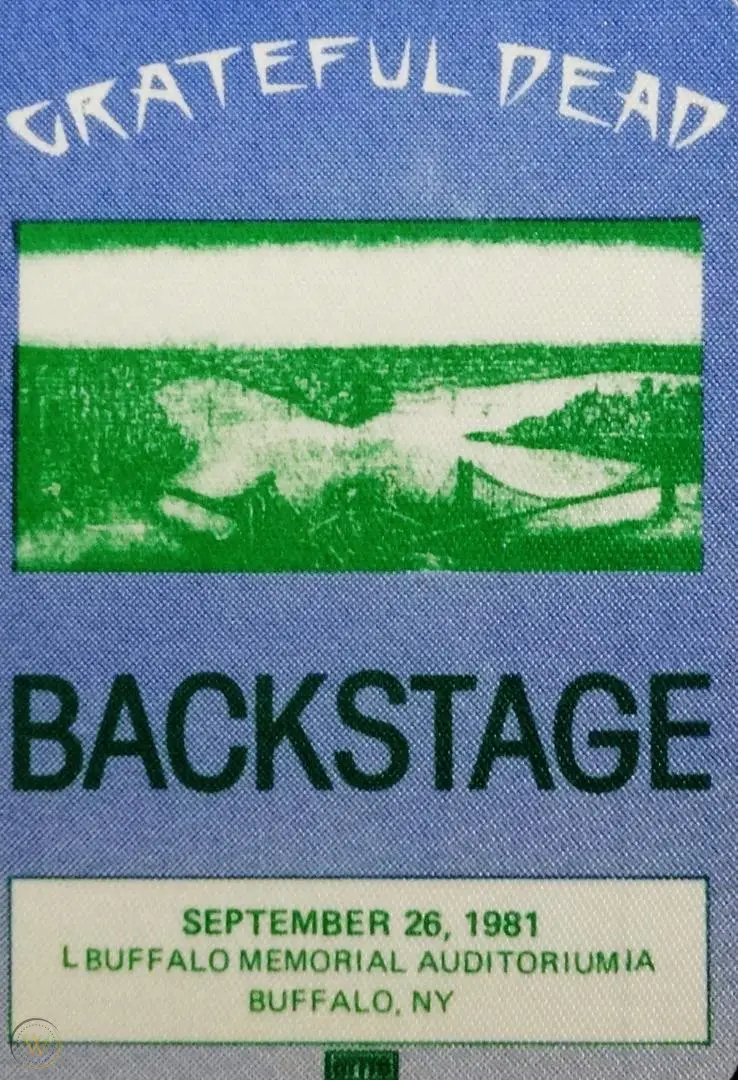 A somewhat sluggish "Shakedown Street" starts the show and seems to rely on the certainly palpable crowd energy for momentum. If anything, this recording paints a vivid picture of the effusive Upstate fervor that's present early. The crowd almost seems to get even louder each time they're told to "Tell me this town ain't got no heart." Before you know it, they easily stretch it past the ten-minute mark with a typically funky groove in tow.
After a brief lull, the first set energy seems to pick back up with a thunderous version of "Cassidy" that's spearheaded by the harmonies of Bob Weir and Brent Mydland. This carries right over to a raucous "Jack-a-Roe" with some splendid fills from Mydland on electric keys.
The "Ramble On Rose" that later follows gets furious at points with a clearly vibrant Garcia manning the lead vocals effortlessly. Mydland again makes his presence very much felt with some more intimate keyboard fills. There's a fairly quick transition to "Looks Like Rain" that has now firmly established the first set pattern of Garcia and Weir going back and forth on lead vocals. Seems to be Jerry – Bob switching back and forth throughout the first set with lead vocals. The crowd once again audibly gets back into it with some rhythmic clapping prior to the apex of "Rain."
The vibrant first set vibe fueled by the rather "percussive" audience this evening continues right on into and through the "Brown Eyed Women" that follows. Garcia, once again, rises through the crowd of sound and delivers an ebullient guitar solo early on that fuels the remainder of the tune.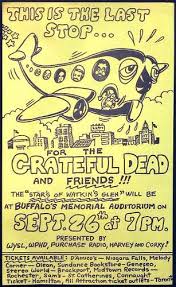 Weir once again takes the vocal baton from Garcia as the band continues to burst full steam ahead with a somewhat aggressive "Let It Grow" that fits in perfectly in this late early set position. The rhythms equally supplied by the dual guitars and vocals on this one are a true first set highlight.
Weir holds onto and keeps running with the baton as the second set begins with an exuberant "Playing In The Band" that seems to literally piggyback on the end of the first set's emotions. An early excitable jam leads into some blissful Garcia-supplied guitar licks before it explodes into a full group effort. Some pure, joyous tones lead right up to the beginnings of "Bertha," somehow marking the last one of only four East Coast performances n 1981 for this live Dead staple.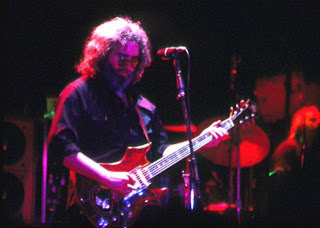 Upon its finish, the band wastes no time in launching into an epic "Estimated Prophet" with all the Bob Weir-led vocal bells and whistles. The Buffalo audience sounds enraptured as the band eases through one of their classic second set standards.
However, instead of easing into an ambient or "Space"-type section immediately afterwards, the familiar rhythmic guitar into of "Goin' Down The Road Feeling Bad" picks up and the room is off and running again. Normally placed later in a second set, this slots in perfectly earlier in this set as the Dead's version of an American folk classic maintains the high standards of this show.
After typical "Drums" and "Space " segments, the slow, rhythmic start of "Not Fade Away" starts up, signaling the beginning of the final hurrah for this final indoor Buffalo show. This one doesn't get a chance to stretch too far as it quickly peters out and dissolves into the beginning of a poignant "Morning Dew" that gets the crowd back on its collective feet.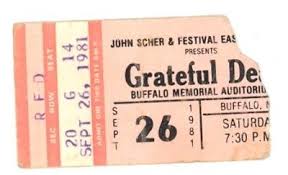 Afterwards, the band collectively toys around with the "Playin' In The Band" theme before settling into a brief reprise. Normally, this would be more than enough to end the set but "One More Saturday Night" takes care of that as Weir leads the group through one last rockin' number to end the set.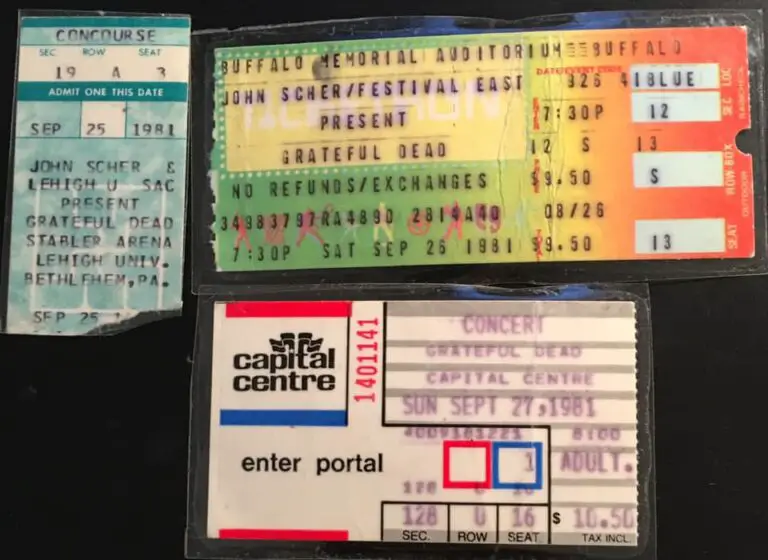 This being Chuck Berry's birthday, a quick dedication from Weir precedes the fitting "Johnny B. Goode" encore. And with that, the Dead's last indoor show in Buffalo comes to a close. The next time they would come through town, five years later in 1986, Rich Stadium would take over hosting duties.
For a full listen to all Buffalo and The Grateful Dead had to offer this evening: click here.
Grateful Dead Buffalo Auditorium – Buffalo, NY 9/26/81
Set 1: Shakedown Street, CC Rider, They Love Each Other, Cassidy, Jack-A-Roe, On The Road Again, Ramble On Rose-> Looks Like Rain, Brown Eyed Women-> Let It Grow-> Don't Ease Me In
Set 2: Playin' In The Band->Bertha->Estimated Prophet->Goin' Down The Road Feeling Bad->Drums->Space->Not Fade Away->Morning Dew->Playin' In The Band (reprise)->One More Saturday Night
Encore: Johnny B. Goode