United By Dance: A Camping, Art, Music, and Drive-In Event is set for Sept. 26 from 4:00 p.m.-9:00 a.m. at Yasgur Farm in Bethel, NY. The festival will start in the daytime and continue into the night with an overnight camping option for guests. With safety protocols in effect, fans can camp in their car or rent a camping plot to enjoy a sunrise filled with music.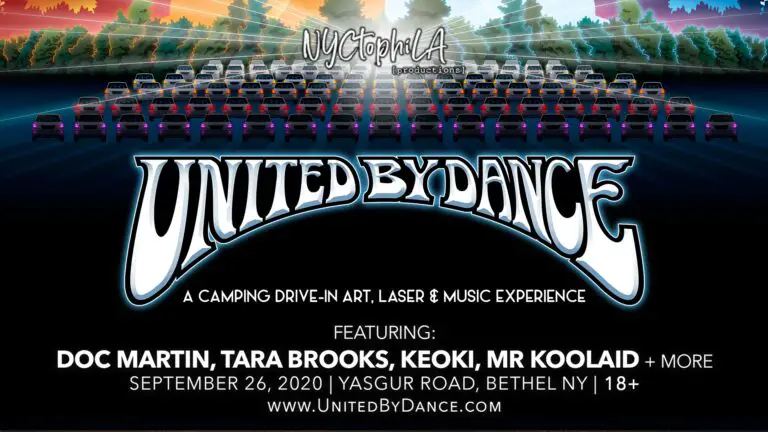 The Drive-In event will take place at the same location as the historic Woodstock Festival, with a maximum capacity of 600 guests and 150 car parking slots. In addition to music, attendees will have access to art installations, food, and merch vendors. Attendees can expect a laser show later in the night as well. The lineup for the United by Dance event includes music from house, techno, and tech-house artists.
The complete list of performers includes:
Doc Martin
Tara Brooks
DJ Keoki
Mr Koolaid
Dean Mickoski
DANK
Lady Verse
DJ IDeaL
Gavin Stephenson
Iman Rizky
BBT
DJ Fetish
DJ Finner Fresh
Fans can purchase tickets for the United By Dance Drive-In here. United by Dance will enforce CDC guidelines including social distancing with marked walkways and car parking spots marked 6 feet apart. Attendees must wear their masks when they leave their designated car spot. United By Dance plans to use their events to provide a sense of unity through music, art, and dance by welcoming everyone with no restrictions.
We had to be aware and cautious about all the regulations. The new norm has made us adapt and find new options, but has also allowed us more of an opportunity to create diverse events like our drive-in.

Tomas Serrano, CEO of United by Dance