Borderland Music & Arts Festival announces their The Borderland Broadcast event. The broadcast will stream audio from former Borderland Festivals and will take place for two days in September on the 19 and 20 on Buffalo.FM.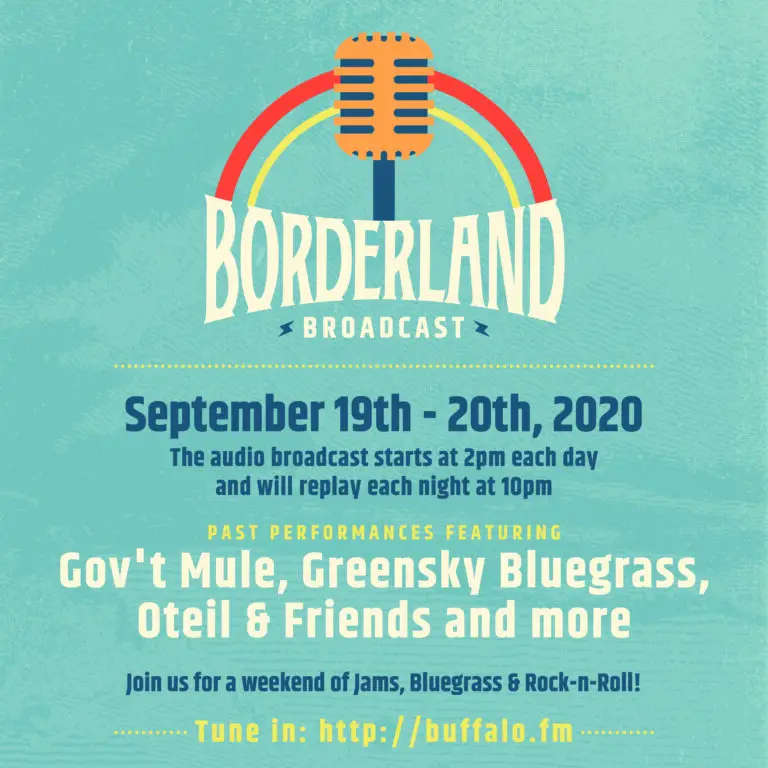 The Borderland Broadcast will be taking place on the same weekend the Borderland Festival was originally supposed to take place this year. The festival itself had to be postponed to 2021 due to COVID-19 restrictions taking place across the country. The festival generally takes place at Knox Farm State Park just outside of Buffalo, New York. 
Since the festival can't take place this year it's organizers along with their friends at Buffalo.FM created The Borderland Broadcast. They curated a weekend of music with streaming audio from previous festivals, featuring live sets from Gov't Mule, Keller WIlliams Grateful Grass, The Infamous Stringdusters, Oteil & Friends, Sam Roberts Band, The Sheepdogs and many more.
Jennifer Brazill who is the owner of Borderland Festival elaborates on the reasonings behind The Borderland Broadcast saying,  "We wanted to be able to give our fans a way to connect to Borderland this weekend, to take us back to the feeling you have when you're watching live music. Myself and my team feel a huge void in our lives and in our hearts without the festival happening this weekend, and we know that music is a great healer. We hope that fans of Borderland tune in with us for some very special live sets from the last two years." 
On Saturday the day will kick off with Sister Sparrow and The Dirty Birds from 2PM-3PM, The Sheepdogs from 3PM-4PM, The Infamous Stringdusters from 4PM-5PM, Sam Roberts Band from 5PM-6PM, Gov't Mule from 6PM- 7:30PM, and Oteil + Friends wrapping the day up from 7:30PM – 9PM.
On Sunday the day will kick off with Fruition from 2PM -3PM, Ghost Light from 3PM -4PM, Sam Bush Band from 4PM-5PM, The Wood Brothers from 5PM-6PM, Keller William's Grateful Grass featuring The Infamous Stringdusters and Oteil Burbridge from 6PM-7PM, and Greensky Bluegrass wrapping things up from 7PM-9:30PM.
People interested in tuning in can go to Buffalo.FM on September 19 and 20 at 2PM EST each day when the music starts or can catch the replay of the day at 10PM EST. 
People interested in attending the 2021 Borderland Festival on September 18 and 19 can visit the festivals website: www.borderlandfestival.com for information on  2-day GA and VIP Tickets which are currently on sale. 
For more information visit the Borderland Festival's website and Buffalo.FM's website.