On Sept. 8, 2018, Ozzy Osbourne played to a soaking wet crowd at Jones Beach Theater, but once The Prince of Darkness hit the stage, nobody seemed to mind. Ozzy himself came out first before the rest of band and told the crowd, "The crazier you get, the longer I'll remain on stage." That's all it took to get the sold out crowd of 15,000 plus going f—–g crazy!
At this point it was freezing cold and had been pouring for the last few hours, especially during opening act Stone Sour's set, and the floor was a foot deep with water seeping in from Zach's Bay where the venue stands. Regardless, Ozzy sounded just as good as I have ever heard as he kicked off the show with "Bark at the Moon."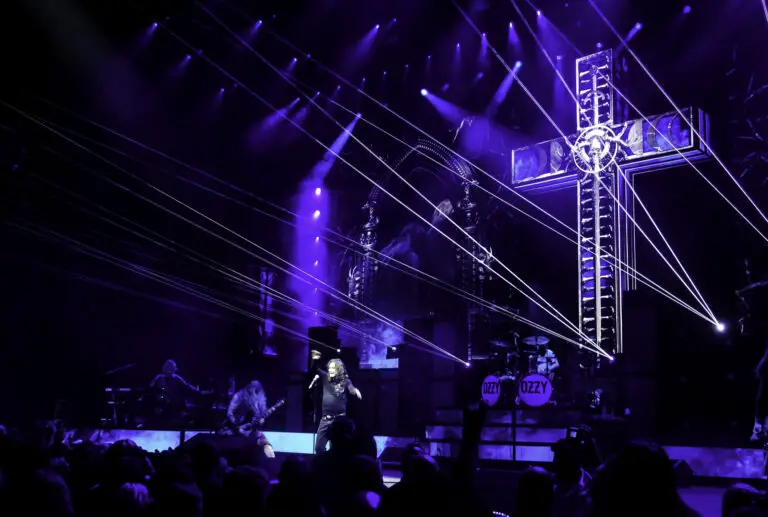 Zakk Wylde was back in the lineup on guitar along with Blasko on bass, keyboardist Adam Wakeman and drummer Tommy Clufetos. The stage backdrop was highlighted by a giant cross made up of screens projecting extraordinary imagery and at times looking like a medieval sculpture.
Ozzy's solo hits made up most of the setlist including "Mr Crowley," "Suicide Solution" and "No More Tears," but he also slipped in a little Sabbath like "Fairies Wear Boots" and the epic "War Pigs."

Black Label Society frontman Wylde was giving his own 20 minute showcase during the show at which time he made his way into the audience playing a medley of songs. He was tearing it up as he played with the guitar behind his neck and even with his teeth at times. He is one of the best metal guitarists the genre has ever known so it was good to see him play alongside Ozzy again. He was even wearing a custom Ozzy denim vest.

Ozzy Osbourne closed the main part of the set with, in my opinion one of the greatest metal songs ever written, "Crazy Train". The show concluded with an encore of "Mama I'm Coming Home" and Black Sabbath's "Paranoid."
Setlist: Bark at the Moon, Mr. Crowley, I Don't Know, Fairies Wear Boots (Sabbath Cover), Suicide Solution, No More Tears, Road to Nowhere, War Pigs (Sabbath Cover), Guitar Medley: Miracle Man/Crazy Babies/Desire/Perry Mason, Drum Solo, I Don't Want to Change the World,
Shot in the Dark, Crazy Train
Encore: Mama, I'm Coming Home, Paranoid (Sabbath Cover)