Labor Day weekend is a weekend to enjoy the last remnants of summer, catch up with friends and family. For most Labor Day weekends since 2000, moe. fans found themselves heading to Turin (or Mohawk), NY for the end of summer festival, moe.down.
We're taking a look back at moe.down this weekend and reminiscing on the lineups, the incredible bands that were discovered, and of course, moe. But one aspect of moe.down that was always unpredictable were the special guest sit-ins, if not the weather. Explore these 10 choice sit-ins, presented in random order, for this weeks installment of moe.mondays.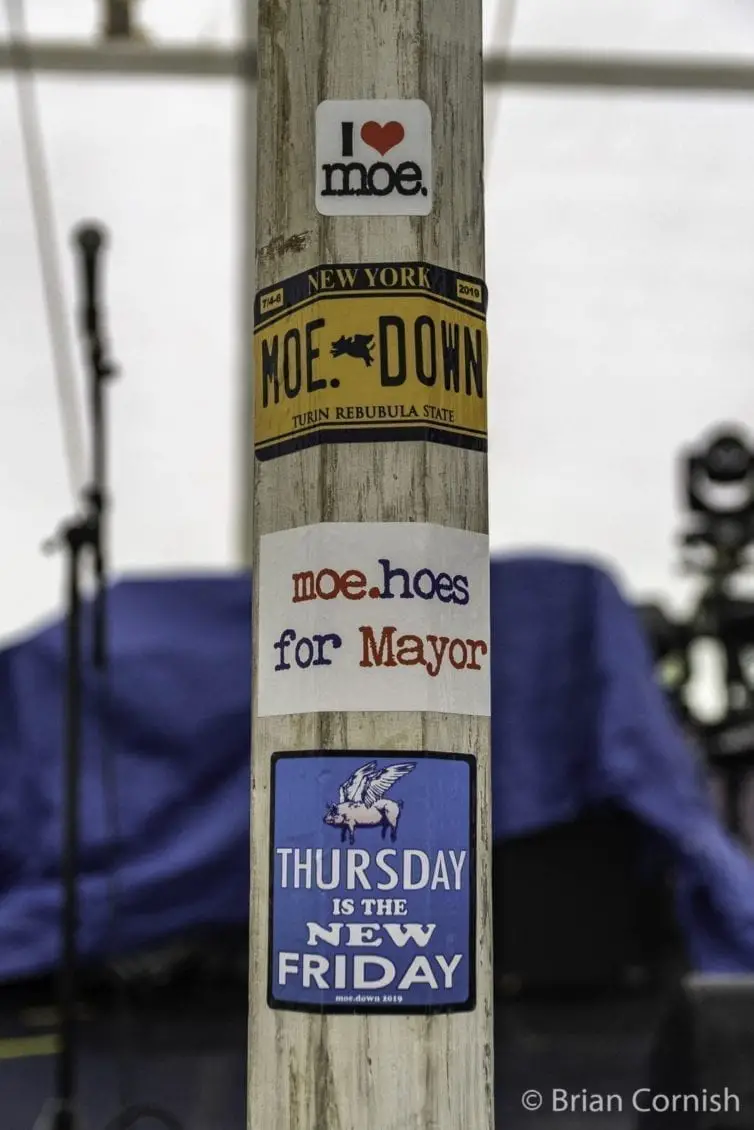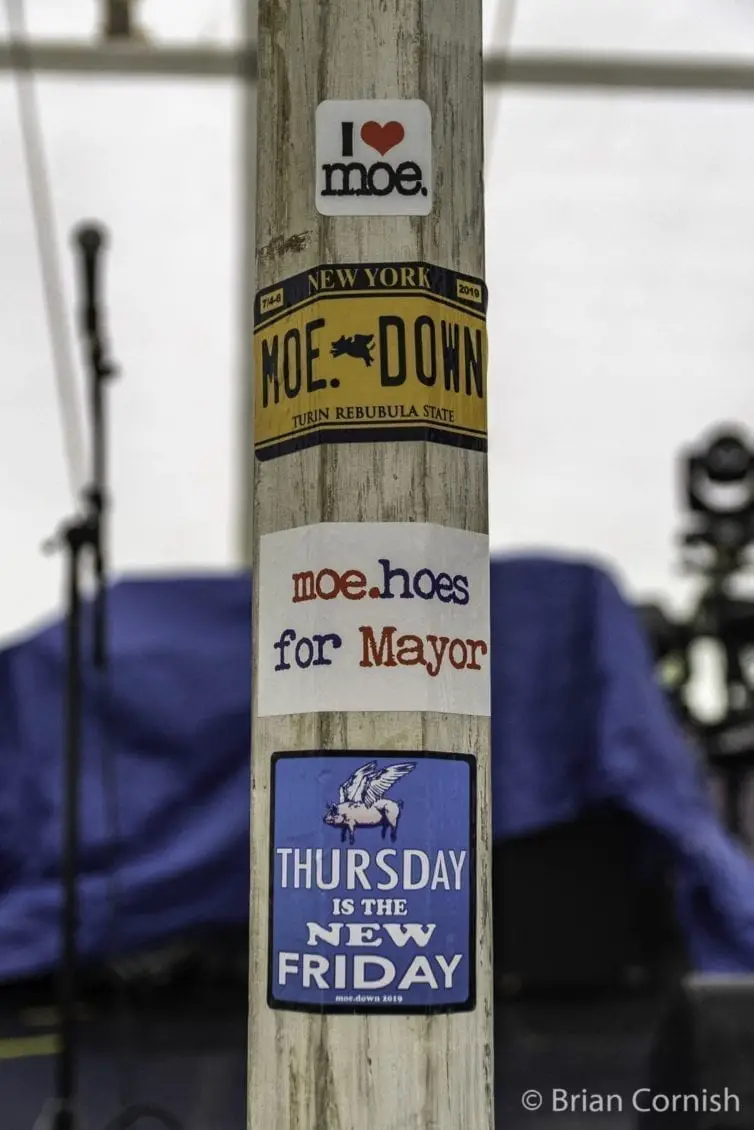 We'll start with something for the children, literally. moe.down 8 started out with an afternoon set that featured the Kids Tent joining the band on stage. That year's theme for the kids was 'Year of the Pig' so naturally, "Buster" was the perfect song to invite the kids up to sing. With parents close by, 20+ kids took the stage and sang "Pig can fly!" alongside moe., for a spectacular start to the day's music.
moe.down 8 indeed had more than its fair share of guests, and as the Saturday afternoon set came to a close, Meat Puppets Curt Kirkwood joined moe. for a shredding ~19 minute version of "Mexico."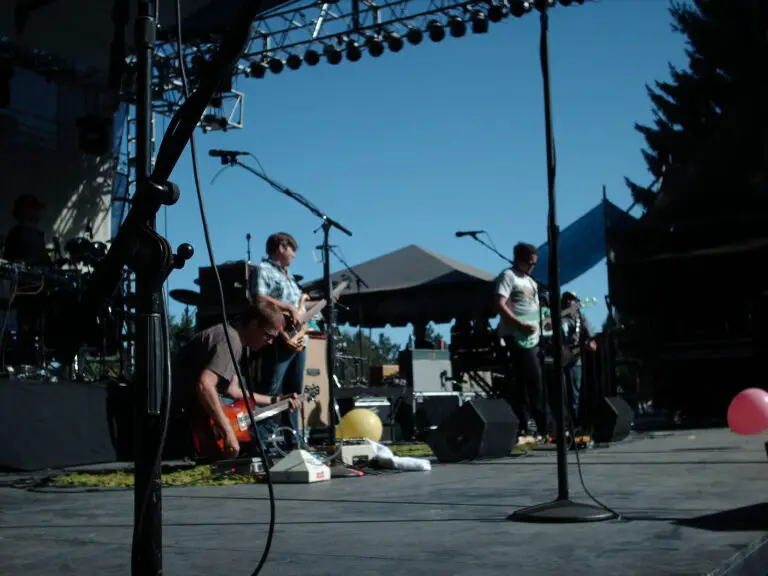 Jumping back to moe.down 4, and moe. took a unique spin on their improv-friendly "Rebubula" by playing it for an entire set – nearly an hour in length. Listen below or check out an AUD on the Internet Archive.
For two years (2010-2011), moe.down relocated to Mohawk, NY and performed on the Gelston Castle Estate, and brought out some heavy hitting names in the process. Bob Weir was a special guest with Levon Helm's band, and Weir joined moe. for "The Other One" > "Smokestack Lightning" > "The Other One," Dylan's "Stuck Inside of Mobile With the Memphis Blues Again" and a set closing "Feel Like a Stranger."
Of course, Weir has performed earlier in the day with Levon Helm's band, and sang (among many others) one of the Dylan songs that The Band and Grateful Dead had in common, "When I Paint My Masterpiece."
moe.down 6 was held over Labor Day weekend 2005, as the remnants of Hurricane Katrina soaked the crowd throughout the weekend. Keller Williams joined moe. for "Stairway to Watchtower" through the pouring rain.
Umphrey's McGee, who first caught the attention of moe. when Brendan Bayliss sent Al Schnier a demo of their cover of "Rebubula," have appeared at multiple moe.downs, not to mention 20 Summer Camp Music Festivals together. Watch Umphrey's join moe. for Pink Floyd's "Time" from moe.down 13.
Earlier that day, Umphrey's McGee welcomed Stanley Jordan for part of their set, including a "40's Theme" -> "Hajimemashite" > "40's Theme," allowing Jordan's guitar skills to shine.
More recently, moe.down 17, held over July 4th weekend 2019, featured Blackberry Smoke, Fishbone, Railroad Earth, Ryan Montbleau, Twiddle, and Mike Dillon Band, who welcomed moe. percussionist Jim Loughlin for their set. moe. would return the favor by bringing up Otto Schrang from Mike Dillon Band for "McBain," adding a second percussionist on Coughlin's vibraphone.
Rounding our our list, let's go back to moe.down 8, which had a deep lineup as many moe.downs have. When Ryan Adams had to back out at the last minute, the festival was blessed with the founder of Lollapalooza himself, Perry Farrell and his Satellite Party. Few complained about this lineup swap, and after Farrell and his party worked through all the hits, moe. welcomed Farrell to the stage for the only hit not played yet – "Ocean Size." After some banter behind the Mayor of moe.ville competition, the band broke into the Jane's Addiction arena rocker.
Did we miss any? Let us know in the comments!