JazzFest White Plains announced virtual festival dates. The virtual festival will take place September 8-11 and will host a variety of artists. The 9th annual JazzFest White Plains will be streamed on Zoom and on Facebook.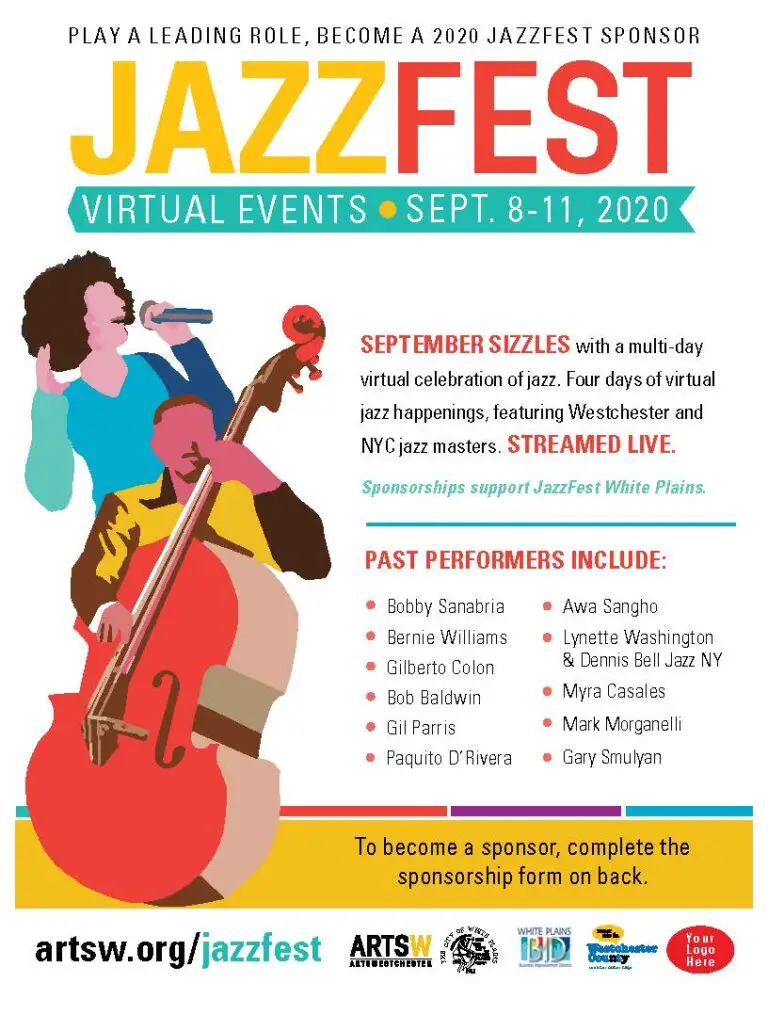 The four days of Jazz will include not only performances but conversations as well. It will feature a mixture of artists at the forefront of jazz and rising stars. From Westchester jazz talent to jazz masters the festival will be something spectacular for Jazz enthusiasts. JazzFest White Plains are teaming up with the spirit of Arts Westchester's annual ArtsBash. 
The festivities will start at 4:30 – 5:30PM on September 8 with the  "ArtsBash Virtual Mixology" event making Jägermeister cocktails and live jazz music by The Rico Jones Trio. Then at 6PM there will be a "presenting Jazz in the time of COVID-19" conversation. At 8PM the night will wrap up with "Westchester Jazz: Then and Now" featuring Art Bennett on sax, Kathryn Farmer on piano and vocals, Kenny Lee on trumpet, and Rocky Middleton on bass.
The second day will start at noon on September 9 with a performance form "Isabella Mendes & Flavio Lira Duo." At 6PM there will be "Jazz Education in Westchester" conversation. Wrapping up at 8PM the "Jazz, From One Generation to the Next" event will happen featuring conversations and performances by Alexis Cole and Lucy Wijnands, Bobby Sanabria and Gabrielle Garo, and Ulysses Owens Jr. and Aaron Jennings.
On the third day September 10 the fun will start bright and early at 8AM with "Jazz at the Intersections" performances featuring Amir ElSaffar with an Arabic music and jazz combination, Jomion & the Uklos with a West African/Carribean music and jazz combination, and Pablo Mayor with a Columbian music and jazz combination. 
On the last day September 11 the festival will wrap up at 8PM with "Jazz's Rising Stars" featuring performances of Connie Han on piano, Matthew Whitaker on piano, Veronica Swift on vocals, and Alicia Olatuja on vocals. There will also be a moderated discussion about what it's like to be a young rising star in jazz today which will be moderated by Keanna Faircloth, WBGO.
The festival is free to the public but is accepting donations online here. People wanting to register for certain events to get the zoom link can do so on JazzFest White Plains' website. The events will also all be live streamed on Arts Westchester's Facebook Page. 
For more information visit JazzFest White Plains' website.