South Farms in Connecticut plans to host socially distanced concerts and Comedy shows starting in late August and running through October. These socially distancing shows included upcoming performances from Grace Potter and comedian Nikki Glaser and are a beacon of hope for live music on a regular basis in these trying times. 
The Farm will operate in the safest ways possible. People attending will be met by a staff member once inside and they will escort people to their grid placement. People will be required to wear a mask at all times they aren't in their grid.  Tickets will be sold using a "grid" system, with 250 marked-out 8-foot squares available, each square holds two people, for purchase between $100-$160. Each square is surrounded by an additional grid for social distancing and flanked by aisle spacing. Grids can't be combined with adjacent spaces. to create larger areas.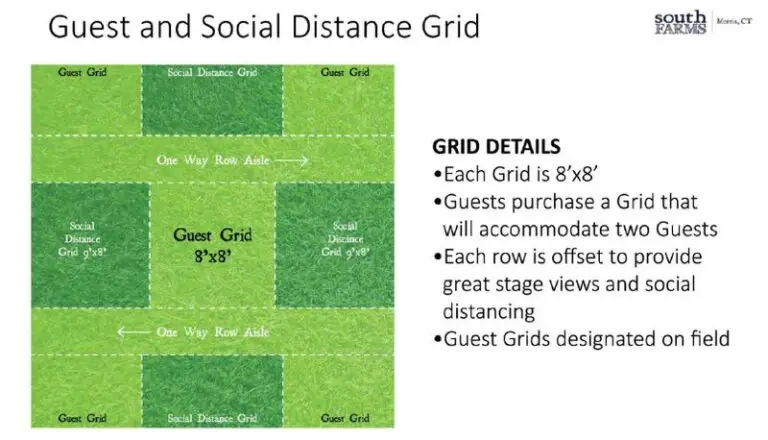 South Farms will include food trucks, a full bar serving alcohol, water and soft drinks and several satellite stands with ground markers indicating where patrons should stand while waiting in line. People can bring lawn chairs and blankets to make their grids more cozy. 
Keith Mahler, president and CEO of Premier Concerts, spoke about the concerts saying, "Our primary concern is the safety and comfort of our audience." This concern for safety will be taken seriously by staff members. They will enforce safety protocols, such as the use of masks and social distancing, using a "one strike and then you're out" system, similar to if you were spotted smoking a cigarette. Hand sanitizing stations will be located throughout the venue.
These concerts are being launched by Premier Concerts/Manic Presents and the Paletsky family which owns the 150-acre family-run South Farms and event space in Morris, Connecticut.  The upcoming concerts will represent a new model of low-capacity, all-outdoor venues, designed specifically to host concerts in the pandemic era. This model can be emulated all over the world to bring back live music. Hopefully New York can follow the lead of South Farms and bring back some live local music. 
Several outdoor concerts are already scheduled to take place in August in Ridgefield, including two Grace Potter solo performances at Ballard Park on August 15 and back-to-back nights featuring Nick Fradiani and Javier Colon in the field next to the Ridgefield Playhouse on August 28-29. Tickets can be bought here.
For more information can be found on South Farms website here.