Zappa, the new documentary on the life of Frank Zappa is coming to Magnolia Pictures. The film will be available to the public for Thanksgiving weekend on November 27, 2020 in select theaters, as long as theater viewings are available by then, and on demand.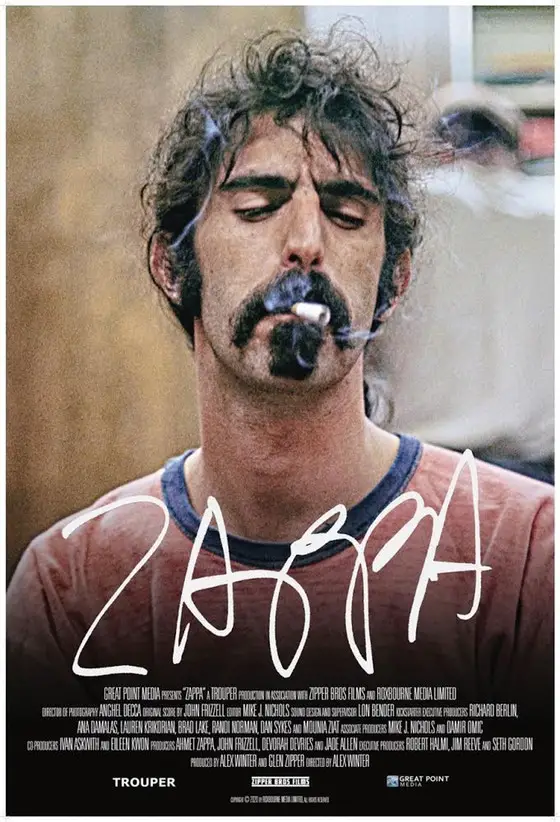 Zappa will be an intimate and expansive look into the life of the iconic — and iconoclastic — musician and artist Frank Zappa.  The documentary was made with access to the Zappa family trust and all archival footage. The film will explore the private life behind Zappa's career including his knack for being involved in political turbulence at the time. The documentary is directed by Alex Winter known best for playing Bill S. Preston in Bill & Ted's Excellent Adventure. 
Magnolia Pictures' President Eamonn Bowles spoke on the film saying, "Alex Winter has created an amazing documentary. Zappa is an incredibly nuanced and compelling look at the visionary iconoclast and the environment that formed him."
The documentary will feature appearances from Frank Zappa's widow Gail Zappa and several of his musical collaborators.  People on the docket include Mike Keneally, Ian Underwood, Steve Vai, Pamela Des Barres, Bunk Gardner, David Harrington, Scott Thunes, Ruth Underwood, Ray White and others.
Alex Winter spoke on the documentary saying, "This is the most ambitious project I've ever worked on, with a couple years of archival preservation in addition to several years to make the film itself. This isn't your typical music doc but rather a multi-faceted narrative that aims to bring this complex artist to life. Magnolia, with its long and distinguished history of platforming great cinema, is the perfect home for Zappa."
For more information on the documentary visit Alex Winter's website.