The Greyboy Allstars have re-released their 1994 debut album, West Coast Boogaloo and their surprise new album Como De AllStars. West Coast Boogaloo features Fred Wesley will be reissued on vinyl Friday, Aug. 7. The recording will also appear for the first time digitally on all streaming and download platforms.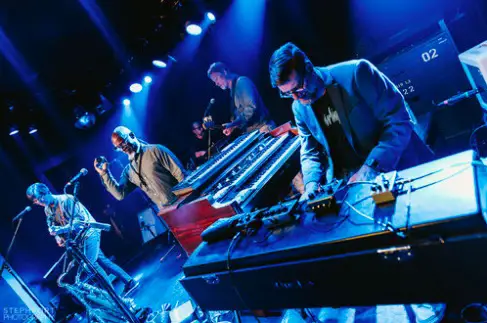 The band was quickly embraced by the Grateful Dead and Phish audiences before there even was an actual "jam scene." The Greyboy Allstars have paved the way for a new generation of bands to play jazz-based improvisation as dance music in rock venues.  The Greyboy Allstars consists of saxophonist Karl Denson, guitarist Elgin Park, keyboardist Robert Walter, bassist Chris Stillwell and drummer Aaron Redfield. They are known as some of the most revered players on the modern funk and soul jazz scenes.
When The Greyboy Allstars self-released West Coast Boogaloo in 1994, its eight tunes felt both anachronistic and urgent. But their song, "Fried Grease" centered on an irrepressible new horn riff, bejeweled by wild organ runs and strutting guitar. Built with commanding drum breaks, an itchy bassline, and pensive keys, the song "Gravee" felt like a state of mind that could last forever.
The quintet's latest album, Como De AllStars is their first in seven years and was released on July 3. It's 25 years later, and the band is still at it—all while individual members have their own successful careers. Karl Denson plays in The Rolling Stones and his own Tiny Universe, Mike Andrews scores films, most recently The King Of Staten Island, Robert Walter leads his own 20th Congress and plays keys in Phish bassist Mike Gordon's solo band and Chris Stillwell and Aaron Redfield are an in demand rhythm section with credits stretching from Elton John to Charli XCX. Como De Allstars is a stirring and timely testament to the revolutionary origins and powers of jazz, funk, and their boogaloo blend—and the Greyboy Allstars' continual ability to deliver them.