When COVID-19 hit New York City in March, the music, as Jim Morrison crooned, was over. But one place it never stopped was at Soapbox Gallery, one of Brooklyn's most unique and eclectic performance venues.
Soapbox Gallery is not the brainchild of a veteran promoter, profit-seeking barkeep or musician, but a music-loving sculptor with a true D.I.Y. spirit, Jimmy Greenfield.
A native of Poughkeepsie, Greenfield moved to NYC's SoHo in the mid-1970s to pursue a career in art. While there, he drank in and was inspired by the loft jazz scene percolating at homey little venues like Sam Rivers' Studio Rivbea. Like many visual artists, Greenfield became friendly and collaborated with the adventurous musos on that scene. And like many a SoHo artist, he was eventually priced out of the tony neighborhood and helped pioneer a new scene with a move to Brooklyn in the early 1980s.
Greenfield came to the street-level space at 636 Dean Street that would become Soapbox in 1996. He utilized it for years as his sculpture studio, with the street frontage being dedicated to installations by visual artists he loved.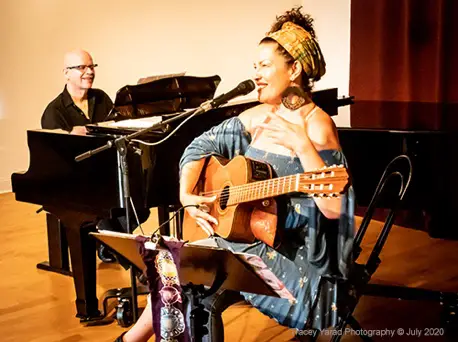 "The gallery was inspired by the idea of a soapbox, the humble stage that one stands upon to deliver a message, a narrative story, that can start a movement that can perhaps change the world," says Greenfield. "It functioned that way for our art shows and, since 2014, with our escalating program of musical events."
Music became a part of Soapbox Gallery in 2014, when Greenfield made his venue the home to periodic shows by critically acclaimed Brooklyn Raga Massive, a collective of world class musicians dedicated to furthering the understanding of Indian classical and Raga forms. Within a couple of years, Greenfield decided to move his sculpture studio to another location and, over time, convert Soapbox into a full-time performance space.
"The idea was to create an intimate space, a sanctuary that was almost like a mini-concert hall," adds Greenfield. "I wanted the best sound and atmosphere, so we completely renovated the space, with soundproofing, a dropped ceiling with acoustic tile, high-end sound mitigation and amplification. We wanted the room to be a draw, the perfect acoustic environment that would attract the very best musicians."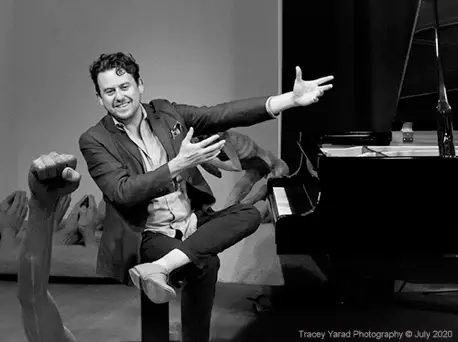 It was serendipitous that Greenfield tapped his neighbor, filmmaker Dave Power, and his brother, the sound-painting saxophonist Hayes Greenfield, for advice on cameras and sound, and to execute all the physical labor.
"Our intention was to create not only a world-class performance space of intimate size, but a top-of-the-line production center as well," adds Greenfield. "We designed where the camera drops would be, where the computers and controls would be, even a system to move the sound around the space and the stereo spectrum, all anticipating the era of streaming. So we were ready for what has, unfortunately, become the performance model of today."
Another thing Jimmy did to attract a top-flight coterie of performers was purchase the world-class piano, the lightly used Yamaha C7 that is the physical centerpiece of the space.
"My friend Ludwig found that for us, a 1998 Yamaha Grand that was barely used," continues Greenfield. "It was another stroke of good luck in the collective, all D.I.Y. effort to build this space and scene."
The scene started to gain critical mass in 2019 with Soapbox Gallery's weekly Piano Hangs, organized with David Berkman, noted pianist, author and director of the Jazz Department at Queens College.
"Every Saturday, we would invite four to five pianists to perform and discuss their work," adds Greenfield. "The series attracted high-caliber talent from the worlds of jazz, classical and beyond, like Fred Hersh, Chano Dominguez and Bruce Barth."
Into 2020, Soapbox Gallery continued to expand its palate of performances. Greenfield added small groups like jazz trios, classical quartets, a virtual fest with the New England Conservatory Jazz Lab, and solo performances by notables like electro-jazzer Adam Neely, looping violinist and vocalist Natie, singer/songwriter Tracey Yarad and many more.
Hayes Greenfield Electro-Acoustic Looping Musician 4 parts from Hayes Greenfield on Vimeo.
One mainstay of the space has been Jimmy's renowned musician-brother Hayes Greenfield and his Immersive Surround Sound Experience. Here, Hayes employs his saxophone, flute, kalimba, harmonica, voice and a plethora of delays, synths, effects pedals and loopers to create meditative sound environments reminiscent of Brian Eno's ambient works. With the assistance of Hayes' sponsor, Eventide, Soapbox Gallery has been outfitted with a system that produces true 3D sound that can be moved around the space and within the heads of stream listeners.
When COVID-19 closed down NYC's live performance venues in mid-March, Jimmy and Hayes were quick to provide a sonic salve for the quarantined masses, in New York and wherever there was a broadband connection.
For weeks after the shutdown, Hayes performed his Sound Meditations nearly every day at 3 pm from the Soapbox Gallery, more than 30 total events and counting. As soon as WNYC's Greene Space began streaming in early April, Soapbox Gallery began programming more events, from its space and the homes of some of its coterie of musicians.
Since May, Soapbox Gallery has been presenting live-stream performances six days a week from Greenfield's former sculpture studio. Its state-of-the-art, three-camera system provides a great view of the action, and video overlays are increasingly a part of the performance equation, providing a unique multimedia experience.
One notable upcoming event that will make the most of the technology is Soapbox's three-day Sonic-Vision Looping Festival, August 26– 28.   The event will include adventurous performances by noted percussionist Will Calhoun (Living Colour, Pharoah Saunders), Hayes Greenfield and the ambient guitar duo, Guitars A Go Go, who will perform their hypnotic improvisations to fractal videos.  
2020-07-19 19-15-44 from Soapbox Gallery on Vimeo.
Also not to missed are the latest installments of its on-going "Couples in Harmony" series, curated and hosted by Tracey Yarad, which presents real-life couples in performance, often for their first artistic collaborations. On Sunday, August 16, Soapbox Gallery will feature jazz vocalist and bassist Teri Roiger and John Menegon; on August 23, singers/songwriters Lisa St. Lou and Tor Hyams.
For a list of upcoming performances, visit soapboxgallery.org