CashorTrade announces it's new streaming service CashorTrade Streams​ which will be a platform to help support artists, venues, and festivals. The new streaming platform will focus on generating revenue online for venues, festivals and artists prevented from conducting normal business by the COVID-19 pandemic. The streaming service was launched on July 21. 

CashorTrade is a site that sells resale tickets at face value. Their pivot into the live-streaming continues the brand's mission to democratize live music. CashorTrade's innovative platform covers both live streams and archival footage, delivering curated content to their dedicated community of music lovers directly from artists, venues and festivals. People can follow channels to get notified of upcoming streams and participate in the stream via live chat. Performers and promoters can choose to include a very clear call-to-action to donate alongside each stream, making CashorTrade Streams into a powerful tool for live streamed fundraising events as well. The platform includes free promotional tools and a finance manager to arrange splits and guarantees between performers and promoters, just like a traditional booking setup.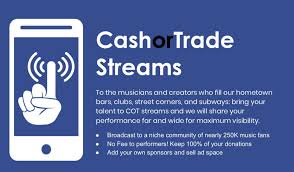 Prior to its formal launch CahorTrade launched several hundred streams on the platform, including a simulcast of the live stream benefit called Hug Your Farmer, featuring performances from Dave Matthews, Grace Potter, Martin Sexton and Chadwick Stokes from Dispatch that generated over 20,000 for farms and food security in Vermont. They also simulcasted Justice Comes Alive, a virtual festival for equality that generated over $55,000 and saw performances from Phil Lesh, Umphey's McGee, Antibalas, Lettuce, and over 3 dozen other bands. 
"Everyone and everything we love in music needs our support: individual performers, touring bands, our beloved venues, and really festival culture itself," says Brando Rich, Founder and CEO of CashorTrade. "The pandemic has put up unprecedented roadblocks between fans and live music. Our streaming platform supports artists while bringing music straight to the people again." The new streaming services creates the possibility for bands to easily ask for donations from viewers right during the stream which isn't as doable on platforms like Facebook.  
For more information visit CashorTrade's website.