21 years ago this weekend, the festival calamity known as Woodstock 99 took place at Griffiss Air Force Base in Rome, NY. If you know anything about Woodstock 99, you likely know about the festival-ending fires and mild rioting that took place in the concert grounds, built out of a weekend of frustration with festival pricing and lack of an adequate infrastructure.
Over Friday and Saturday, the festival seemed to be your typical late 20th century festival – bands playing mostly on schedule, an amalgam of various groups of music lovers, basic amenities and little in terms of technological infrastructure. This was a time where cell phones were a luxury item and resembled Zack Morris' brick phone.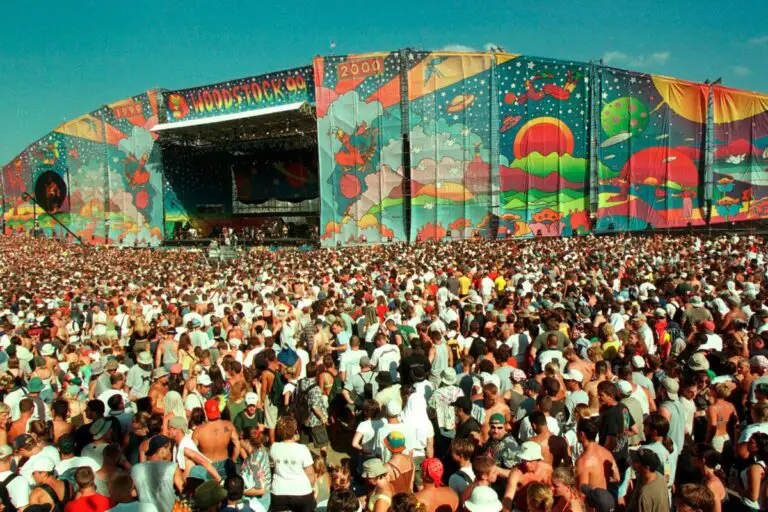 There was the giant plywood wall that surrounded the grounds, which gave you a feeling of being trapped inside, with only two or three entry points where you'd be searched at security's leisure. Once inside, prices were high, even by today's standards. Four dollars for a bottle of water, eight dollars for a hamburger, nine dollars for a cheeseburger, ten dollars for a chicken sandwich and twelve bucks for a small personal pizza. If you were lucky, you found a lemonade stand where the drinks cost only two dollars, but if you wanted alcohol, you had to drink it in the beer garden, which was devoid of shade or quality sound, and put you in a direct line of fire from people slinging mud through the chain link fence.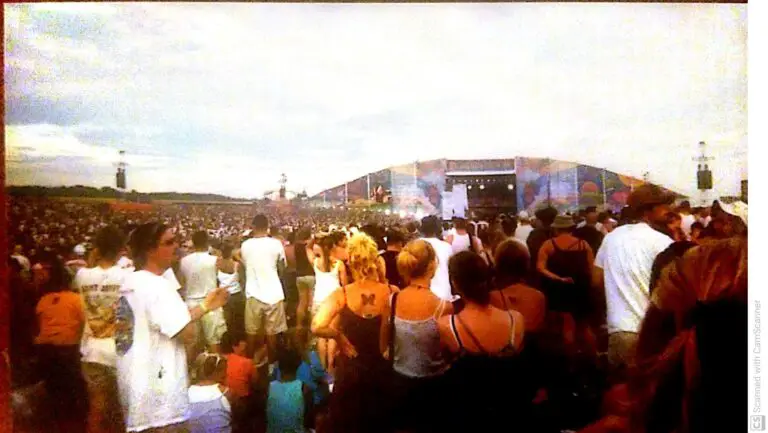 The musical lineup was as solid as it could be for 1999. In alphabetical order, you'd be able to catch Bush, Chemical Brothers, Creed, Sheryl Crow, Dave Matthews Band, DMX, Everlast, Guster, Ice Cube, Korn, Jewel, Limp Bizkit, Live, Los Lobos, Megadeth, Metallica, moe., Alanis Morissette, Willie Nelson, The Offspring, Rage Against the Machine, Red Hot Chili Peppers, Rusted Root, Sugar Ray and The Tragically Hip, among many others
Two stages that were a long, long walk from each other separated the acts. If you wanted to see someone on the West Stage, you'd be sacrificing a great deal at the East Stage, and vice versa. The schedule was staggered, but surely this could have been organized better. At least moe. got a set.
Governor George Pataki is rumored to have said of the Woodstock weekend,
"It seems to me the whole reason Woodstock '99 failed was because of the kids. Kids from all over came to Rome and had no sense of authority, and did not care about anyone but themselves. The promoters should be held to blame, but also the irresponsible people who attended. It seems a strange contradiction. The week before Woodstock 99, 120,000 people gathered in Oswego, New York to see the rock band Phish. The event was in more cramped quarters, and was just as hot, and to my understanding no major problems were reported. Maybe if people behaved like they did at the Phish event this wouldn't have happened."

Pharmer's Almanac, Volume 6
While Pataki's remarks are off by around 90,000 'Camp Oswego' attendees, it does highlight the weekend prior where similar conditions of oppressive heat and humidity did not lead to the same circumstances as they did in Rome from July 22-25. How can two festivals, 80 minutes apart, be so diametrically opposite? You'd have to factor in an audience from mixed walks of life, many of whom may not have been to a multi-day music festival prior to this, and festival promoters who came up short in every single area – from bathrooms to food, safety to water, and layout to operations.
Skip ahead to Sunday, July 25, and on the main East Stage, you'd catch Al Green, Willie Nelson, Brian Setzer Orchestra, Everlast, Elvis Costello, Jewel, Creed, and Red Hot Chili Peppers. Genre-wise, in order, you could catch gospel/soul, country, swing, rap, rock, pop, 'hard' rock and pure rock 'n' roll from the Chili Peppers. Quite a variety to see in one day.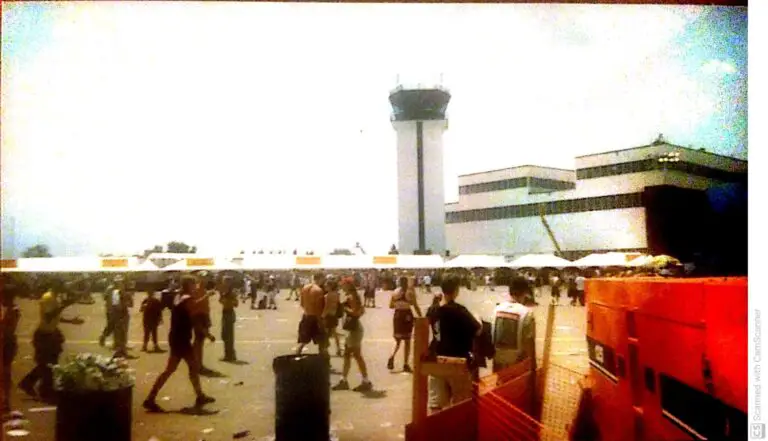 Long lines at the limited vendors that had food to serve coupled with very long lines for water, overflowing portos and litter seemingly everywhere, finally hit a tipping point. Add in the aforementioned oppressive heat and humidity plus a complete lack of shade, and a powder keg was ready to burst. The plywood fence around the venue was already being torn down casually throughout the day by concert-goers taking out their frustrations, which led to more seeking a piece of memorabilia.
During the day, in an odd bit of cosmic irony, anti-gun violence group Pax (now the Center to Prevent Youth Violence), distributed candles to those who stopped by their booth during the day. The original intent was for a candlelight vigil during "Under the Bridge," but instead some used the candles to start bonfires, and when coupled with the thousands of empty water bottles that littered the East Stage field, there was plenty of fuel to light the grounds on fire from stage to stage.
At some point towards the end of the Chili Peppers set, the audio tower caught fire, and the fire department had to be called in. The festival was over thankfully, and many had left during the day, but for the thousands needing to vacate the grounds while emergency personnel were arriving, the scenario had to be frightening. CBS News reported:
The three-day concert climaxed into a frenzy about a quarter mile from the main stage when several concertgoers set fire to twelve parked tractor-trailers.

Several people pulled cases of soda and merchandise from the trucks and fed the flames with debris. Others toppled light stands and speaker towers, while another group tried to destroy a radio station truck.

via CBS News
As a result of Woodstock 99, it would be a number of years before a festival with pop bands reaching a broad audience would take place. Jam festivals were already on the rise, and while the lineup for Bonnaroo 2019 looks little like that of Bonnaroo 2002, the key to the festival formula was in building a lineup for a defined audience, not gathering an audience towards a known lineup.
And while Woodstock 50 never even got off the ground and Woodstock 99 was a stain on music festival history, the original and even the 1994 edition bear the torch for a name still synonymous with peace, music and love.
The nine-episode podcast Break Stuff: The Story of Woodstock 99 from The Ringer gives a detailed breakdown of the festival. Listen here.