Wu Tang Clan have long been innovators within hip hop culture, whether it came from their music, style, or their lingo. Before the masses draped themselves in popular streetwear like Supreme, V-Lone and Bape, Wu Wear occupied that space within the streetwear community. Always the trendsetters, this was the first of many clothing lines by rappers. Its impact was worldwide, as each article of clothing was designed to showcase the most iconic logo in the history of hip-hop, the infamous Wu Tang Clan "W" which combined their love of kung fu and hip-hop.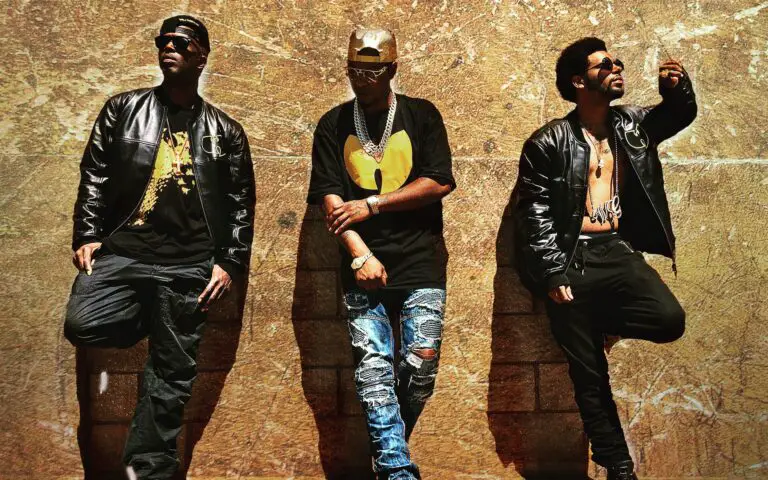 A unisex clothing line, Wu Wear offered a variety of fleece jackets, long sleeve t-shirts with graphics, crew necks along with sweatshirts — all of which donned the iconic logo. While RZA is regarded as the group's de-facto leader, the idea for Wu Wear stemmed from Oliver "Power" Grant, a close associate of the groups who has executive produced every Wu-Tang Clan album.
In 2008, they faced a counterfeiting scandal, hurting the brand's credibility. Consumers were under the assumption that they were getting ripped off with fake clothes that they were paying a lot of money for. The brand has since bounced back and has made a relaunch to their website. Partnering up with the likes of Nike, ALIFE and other popular clothing brands.
To recognize the brand's cultural significance, RZA recorded a song titled "Wu-Wear: The Garment Renaissance." which was included on the High School High soundtrack, as well as RZA's greatest hit album. The record also features Wu tang affiliate Cappadonna and Method Man.
Method Man's laid back and rhythmic hook (along with his charisma and style) gave the record much needed flavor that balanced RZA's scientific flow and lyricism.
"Ain't what you want baby

It's what you need baby

Ain't what you want baby

It's what you neeeeeeeed"
Setting a calm and relaxed tone (which was needed) before RZA began his verse. The famed producer begins the record with a breakdown of what makes Wu garments unique, and why it had been deemed a renaissance for streetwear.
"Yo,  diamond crystal rings sharp like icicles, nickel plated pistols

official Wu-Wear covers my physical"
RZA begins his verse describing the jewelry and diamonds that cover his body, concluding with Wu Wear as a way of associating the clothing brand with the valuable jewelry he dons.  
"You can detect the true and living God from the score

Keep your sword straight, maintain your weight

But he ate too much monosodiumglutumate, and polysorbate

and drug rate concentrate, with sodium benzoate

By the chicken thighs and tryglycerides

And this bitch advertised her breast size

Eighty-five didn't realize, til the truth opened up his eyes"
He begins to breakdown all the things that is poisonous to body and wellbeing of his body and of others. He is also referencing the "five percent" teachings when he speaks on searching for the God within. The five percenters focus on how the Black man is the original man and how they are Gods on the earth. That's why it's important to keep and maintain your health from many of the substances in this society that destroy your mental and body, which RZA references while also discussing his recent wealth. He refers to is as "chicken" that fattens his thighs which in tun, leads women to show their "breast size," a clever play on words. He finished the bar off by letting the masses know that  he was once one of the 85% until he searched for his own truth.  
"Then he became highly civilized,

and spent time amongst the wise,

went through a garment renaissance

and stopped wearing Benetton, Tommy Hill, Perry Ellis, Nautica,

or Liz Claiborne, Ocean Pacific, Fila, Bill Blass and leave fitted

Quit the Armani sweaters with the Gucci wool knitted

Mecca, Pelly Pell, 88, North Q, Bear and a few others

For the new year, strictly Wu-Wear
Once he opened up his mind, he spent time with wiser men and gained a greater understanding of his purpose. His garment renaissance came when he stopped wearing name-brands clothing and focused his efforts on the success of Wu-Wear and other Black owned clothing brands. With the renaissance signifying 
While the theme remained the same, Cappadonna's verse was much more straight-forward, relying less on philosophical references.
"The Century 21 son, the new portfolio dunn

Now it's my time, Asian Wu-Wear, Cap and fleece wear

One wear plaids the Don will hold the best for all wear

plus blue wear, Wu-Wear, what's going on

We're the best of this year, Wu-Wear and fleece wear"
While RZA focused on the meaning behind his beliefs, Cappadonna spent more time detailing his exploits as a well-dressed man, aligning Wu Wear with other recognized name-brands. 
"Just hold your own baby

and just rock on baby

I got this wine on my mind

feelin fine darlin

Now all you see baby

ain't what you need baby

I wanna know just how low it goes

Official nasty asses, straight shots in dirty glasses

Wu-Wear fleece for you and your stinkin piece

Hard time and killer tactics"
Known for having more crossover appeal, Method Man took a took a different approach to his verse. Unlike the others, he demonstrated how the allure of the clothing line can be used to allure women, a major point of contention for most men. 
The record sampled The Soul Children and their 1972 single "Don't Take My Kindness For Weakness," spending 17 weeks on Billboard charts and peaking at number 20. While it served as great promotion for the clothing line, it also showcased the diversity that made Wu Tang Clan so iconic. There's knowledge-of-self and wisdom from RZA, "fly talk" from Cappadonna, and the smooth slickness of Method Man. 
Wu-Tang having their own clothing line and iconic logo has been ingrained in the fabric of hip-hop since the brand came out. They were innovators taking their interests and creativity outside of music and making it into a business to profit off of other than just recording music. You can say this was the model for artists such as Notorious B.I.G and Bad Boys records, Jay-Z and Roc-A-Fella records, rapper Camron and his Dip Set clothing line and Kanye West with his Yeezy brand.
Companies have also used rappers to promote their companies clothing lines such as the rap group Clipse with Bape and the late Tupac Shakur with Versace. All of this can be traced bac to the Clan and their influence on the culture.