On the heels of a successful Live at the Drive in Lockport this past June, Aqueous and Buffalo Iron Works have announced two evenings of live performances at Silver Lake Twin Drive In in Perry, NY. The shows on August 7 & 8 will feature a socially distanced set up for cars, providing respite for live music fans in Western New York.
Gates will open at 3:30 each day and Aqueous will be live, on stage, in front of screen one at 4:30. Tickets will go on sale Thursday, July 16th at 10am. Ticketing details are as follows: 
General Admission Car Passes: 2 Car Pass: $80, 3 Car Pass: $120, 4 Car Pass: $160, 5 Car Pass: $200, 6 Car Pass: $240.
VIP Admission Car Passes – Included Ticket to Show and Limited Edition Poster: 2 Car Pass: $160, 3 Car Pass: $240, 4 Car Pass: $320, 5 Car Pass: $400, 6 Car Pass: $480.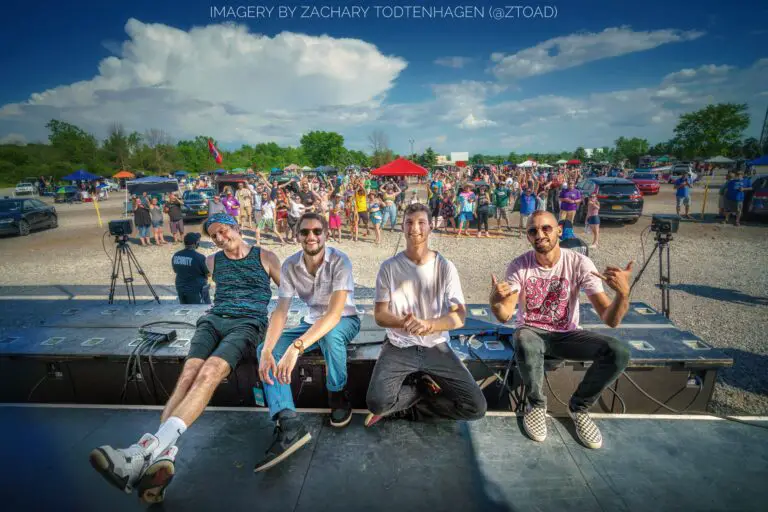 Each "Car Pass" ticket is priced for a vehicle with the stated number occupants. All ticket purchases will be internet pre-sale only until the day of the event. If your vehicle has extra seats available, you are allowed to bring additional people to fill the vehicle and they can pay for their individual ticket at the gate on the day of the show. Extra people cannot exceed the car's capacity and security will be ensuring this at the door. Please be respectful for the benefit of all parties. 
All parking is designated by Drive-In Security. VIP parking will be in the first 2 rows of the Drive-In theatre. General Admission vehicle parking will be on a first-come-first-park basis behind the first 2 rows. To help with the obstruction of guests' view, vans, trucks, and SUVs will be asked to park on one side of the snack bar or in the last three rows of the theater.
To comply with social distancing guidelines, all vehicles must park at least 6 feet away from neighboring vehicles. Once parked, do not move your vehicle. If you choose to leave in your vehicle, you will not be permitted to re-enter the theatre. Management has final authority over where you may park. 
Patrons are asked to remain in or near their vehicles except for trips to the bathroom, snack bar (limited to 10 people a time), Charcoal Corral restaurant, dog walks and smoking in designated areas. All guests must wear face masks whenever they are in a public area within 6 feet of other guests until further notice. 
Perry, NY is located about 1 hour ESE of Buffalo and 1 hour SW of Rochester. Silver Lake Twin Drive-In is located at 7037 Chapman Ave in Perry, and produces weekend film features on two outdoor screens with a casual restaurant, mini-golf & more on-site. 
Aqueous recently released a stream of Live at the Drive in its entirety on their Facebook page. Watch below for a taste of socially distanced live concerts at its best.