Brooklyn-based indie rock band Gooseberry has released their new single "The Protagonist." The four-piece band met through mutual friends in the Brooklyn music and comedy scenes. After months of intermittent jam sessions in a makeshift apartment studio the Gooseberry Band became official in Fall 2019. The band consists of Asa Daniels (guitar/vocals), Colin Ashen (drums), Sam Rappaport (keys, vocals), and Will Hammond (bass).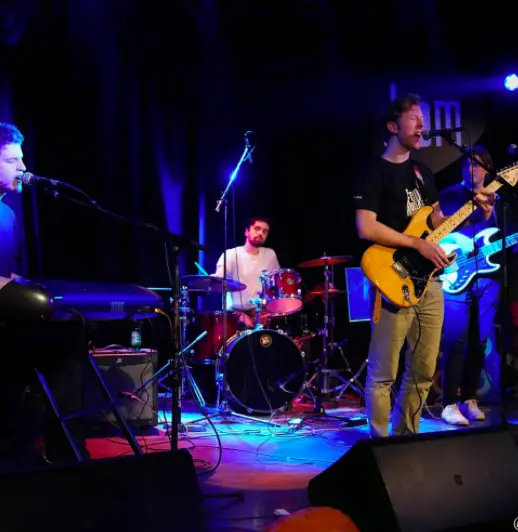 Their mix of indie rock, blues, and R&B captures each member's interests. Sam Rappaport brings the R&B flavor, inspired by the greats like Donny Hathaway, Stevie Wonder, and D'Angelo. Will Hammond leans more towards the indie scene, rock and folk. Asa Daniels bridges the gap in-between, having grown up playing jazz and blues and learning licks from heroes like Thelonious Monk, Eric Krasno, and Stevie Ray Vaughan. He has been pursuing music for nearly a decade, having had some early success with his band, Baked Goods. 
Their first single "Berkshires" (listen below) goes back to major influences like D'Angelo, Donny Hathaway, and Stevie Wonder, while their newest "The Protagonist" showcases a more alternative/indie sound in the styles of the Foo Fighters, Courtney Barnett, Arctic Monkeys, and Spoon. Before the pandemic, Gooseberry had a biweekly residency at Harefield Road in Brooklyn, where they were steadily growing a devoted audience around their live shows. They had been gigging fairly regularly in and around New York City, running the full gamut of venues from The Cobra Club to DROM to house shows across the boroughs. 
Asa Daniels shares his story on how he came up with "The Protagonist":
This song started out as a little earworm that I couldn't quite shake. I'd sit in my apartment in my little makeshift studio and play for hours and end up back on this tiny melody, and each time it would grow. A little more power here, a little distortion there. Before I knew it, there was this thing, this song, and the lyrics just fell into place. The Protagonist is a little about how we are all the lead actors of our own movies, and a lot about smiling as you lose control. The song's title is tongue-in-cheek, but I've always been fascinated by points of view, the idea that we really are all the centers of our own universes, and so on. There's a joke that those close to me know I always make. It usually comes after an impassioned speech from a friend, a major cultural event, or just a story told by someone else. It's most effective after there's a lull of awkward silence. I'll usually think pensively for a moment, then look at someone and say, 'Right, but how does this affect me, the protagonist?' While I'm generally looking for laughs when I say that, underneath the statement is a question that I think a lot of folks are grappling with right now as the country is rife with pandemic, civil unrest, and political rancor. We may each be our own protagonist, but the story is empty if it involves no other characters. It's important to care for one another, speak out for one another, help one another. Especially as things spiral, often beyond our control.