After debuting atop the Billboard Hot 100 chart last week with new song "TROLLZ," New York rappers 6ix9ine and Nicki Minaj have broken the all-time record for biggest fall from number one. Dropping to #34, the duo doubles the previous record-holder, The Weeknd's "Heartless," which fell to #17.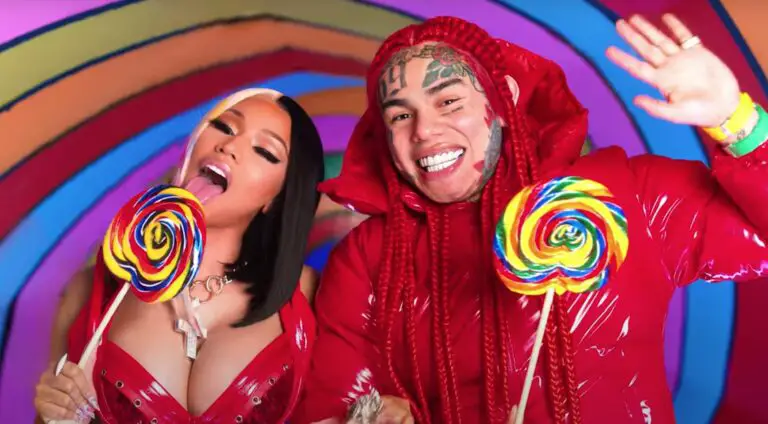 "TROLLZ" marked 6ix9ine's first number-one single, and Minaj's second. Earlier this year, she hopped onto a remix of Doja Cat's viral hit "Say So" for her first. The success of "TROLLZ" has been historic in many ways: after spending the late 2010s mired in controversy and overshadowed by new talent, Nicki became the first female rapper to debut at #1 since Lauryn Hill's 1998 "Doo Wop (That Thing)," and 6ix9ine beat the odds despite being blacklisted from radio as well as playlists curated by Spotify and Apple Music.
The accompanying music video, filmed at 6ix9ine's home while under house arrest for racketeering, drug trafficking, and firearms offenses, has almost 160 million YouTube views and counting, and the single has sold 116,000 downloads, the highest figure since Taylor Swift's "ME!" Both rappers took to Twitter to gloat about the successful debut:
Without industry support, "TROLLZ"'s number-one debut was almost entirely a fan-driven operation. This is admittedly impressive, but on second thought it bodes bleak for the future of chart-toppers. While never an indication of a song's quality or cultural impact, going number-one once meant having the most popular song in the nation for a week or more.
Now, a devoted fanbase could theoretically get their idol's song to the top of the chart without anyone else beyond their ranks actually listening to it, only to nosedive into oblivion the next week without having made its mark on popular culture and the general public. While claiming the coveted crest of the Hot 100 has historically been a prestigious accomplishment, this arguably causes the feat to lose its luster.
Discounts, merchandise bundles, and multiple versions are increasingly popular methods of boosting sales, and fan practices such as employing bots and VPNs to manipulate a song's performance have potentially made the Hot 100 less representative of the masses' tastes than ever before. While the latter has only been rumored in this instance, 6ix9ine and Minaj employed all of the former tactics: "TROLLZ" was discounted to 69 cents, sold alongside CDs, vinyls, and hoodies, and released with explicit, alternate, and clean versions.
Although 2020 is only halfway through, the year has already seen five Hot 100 number-one debuts, some of which proved to be similarly frontloaded: Travis Scott and Kid Cudi's "The Scotts" fell to #12 the following week, and Ariana Grande and Justin Bieber's "Stuck With U" plunged to #13. Since Billboard is constantly amending its rules amid the ever-evolving musical landscape, none of these artists or fanbases are technically 'cheating' by pulling out all the stops to ensure a number-one.
They still obtained the necessary sales, streams, and radio play (provided they aren't blacklisted) required to top the chart. Unlike payola, the practice of record companies paying radio stations to play a song without disclosing the agreement, it's perfectly legal for artists to go to 6ix9ine and Minaj's lengths to top the Hot 100. But will those songs be remembered a year from now? Next week, even?