The annual Festival International de Jazz de Montréal will take place virtually from June 27-30 due to the ongoing threat of the COVID-19 virus.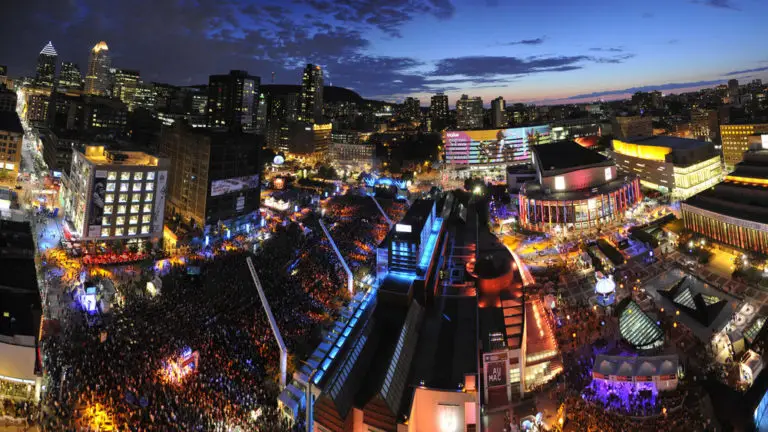 Le Festival International de Jazz de Montréal is an annual event and draws millions of visitors to the city of Québec each Summer. It holds the Guiness World Record for largest jazz festival. Unfortunately, the festival cannot be held in person this year; however, recordings of live performances will be available for free online. Thanks to support from TD Bank Group and Rio Tinto as well as public partnerships with the Government of Canada, the Government of Québec, and the City of Montréal, the Montréal Jazz Festival will reach more than ever before.
In order to keep everything up to the Festival's standards, all performances will be filmed with high-quality production value in a specially made studio in Montreal's L'Astral catered specifically for these online performances. Director Maxime Théoret-Bissonnette will manage these recordings and ensure that they will be of the highest quality. These live recordings will be free to view for anyone anywhere, making the Festival more accessible than it has ever been. If you can't catch the performances live, they will be available for free on demand afterwards as well.
The Festival will kick off on Canadian Multicultural Day, June 27, with a lineup that will showcase Canada's rich and diverse talent. The show will begin with the Apéros SAQ, a mix of live performances from some of the Festival's favorite artists. Up next are the Sessions TD and Rhymes Rio Tinto, sessions that will be enjoyable for all fans. The Festival will also showcase recordings of performances from past Festivals. The opening night will finish with the Fin de Soirée Loto-Québec, a virtual party for everyone who wants to join.
The Festival will continue for three more days and wraps up on June 30. Although the full schedule has yet to be announced, the lineup includes the top local luminaries and artists of the city. Some notable performers who will be featured are Charlotte Cardin, Jean-Michael Blais, The Barr Brothers, Dominique Fils-Aimée, Elisapie, Jordan Officer, and many more. 
The Festival's General Manager Jacques K. Primeau expresses that it is extremely important for the Festival's team "to bring the jazz Festival to the people." He also expressed that the Festival "is thrilled to be able to offer an innovative solution to get the music out to the fans" even with such difficult challenges. 
The Festival is only taking place thanks to the leadership of Primeau and Laurent Saulnier, the Festival's team, the artists, and the Festival's generous sponsors. Primeau remarks that "#JazzTogether is truly a community and a family affair" even in the hardest of times.