This Saturday night, at the Capitol Theatre, bluegrass diehards and fans of live music, in general, will come together to celebrate a true musical luminary, the one and only Del McCoury. The Port Chester rock palace will host the Del McCoury Band for an eightieth birthday celebration that will feature special guests like David Grisman, The Infamous Stringdusters, Andy Falco, Leftover Salmon's Vince Herman, and more.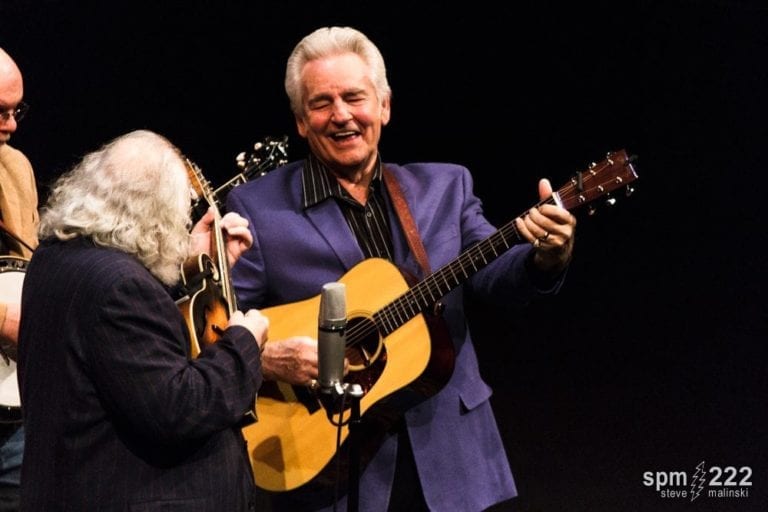 A groundbreaking and genre-defining flatpicking guitar master with one of the most recognizable voices in the history of bluegrass, McCoury has done it all—left an impression on them all. From his many years fronting the Del McCoury Band, to his time sharing the stage with other bluegrass giants like Bill Monroe, John Hartford, and more, the Grammy-winning singer and songwriter has had quite the looming career. In our excitement for the show Saturday night, we're revisiting some of our favorite live moments from the man's career.
Del McCoury + Bill Monroe: Two Days At Newport

Bill and Monroe and Del McCoury are like the Socrates and Plato of American bluegrass history— teacher and pupil contemporaries and often compared masters of the craft. In the formative days of his career, McCoury came up as a member of Monroe's band along with other giants like Bill Keith, Kenny Baker, and more. Two years before Newport Folk Festival exploded in infamy after Bob Dylan's electric set, the group recorded this still-lauded live album.
Del McCoury + David Grisman: FreshGrass Festival 2017

It wouldn't be a proper tribute to Del if legendary mandolinist David Grisman weren't on the scene. For the past several years, Grisman and McCoury have toured regularly as Del and Dawg, presenting an intimate style, anecdote-rich, two-man show that is just so special. Watch the two put the charm on FreshGrass Festival back in 2017.
Del McCoury + Preservation Hall Jazz Band: The David Letterman Show

Back in 2011, The Del McCoury Band and Preservation Hall Jazz Band linked up to record an entire album together and perform a great cross country tour in support of the album. Legends of different styles of American roots music came together in a beautiful, and musically hot, way. Watch the two amazing bands light up Letterman in this awesome video here.
Del McCoury + Friends: Winterhawk AllStar Jam 1996

While Colorado has always had Telluride, New York has had Winterhawk, a historic weekend event started in 1984 that continues to run every year and that has seen performances from just about every bluegrass player ever. McCoury has graced Winterhawk, which is now known as Grey Fox, with his presence many times. Check out this clip from 1996 which has McCoury picking alongside titans like John Hartford and Vassar Clements, but also some younger talent like Jerry Douglas and members of the Del McCoury Band.
Del + Trey Anastasio Band: DelFest 2017

We don't have to say much about this one—the smiles between Del and Phish frontman Trey Anastasio say it all. This fan-shot clip shows the pair at McCoury's self-hosted event DelFest in 2017, and it's actually not the first time by any stretch that these guitar gods have performed together.
Del McCoury Band: NPR Tiny Desk Performance

The appeal of NPR's TinyDesk video series comes in showcasing historically influential and generally mega-popular artists in their intimate, academic-like setting, and it's no wonder that the Del McCoury Band got their time to shine there last year. The band's three-song set opens up with a great take on "That Ol' Train."
Del McCoury Band + Chris Thile: Live From Here
Another great honor awarded to McCoury and his band over the past year was to be featured as guest performers on Chris Thile's "Live From Here" events. Now, if you know bluegrass, you definitely know Del. But if you know bluegrass you probably also know Chris Thile, arguably one of the most masterful mandolin players in the world currently. Listen to these guys rip up "Baltimore Johnny" at the one and only Ryman Auditorium from last April.
Del McCoury Band + Billy Strings: GreyFox Bluegrass Festival 2019

In 2019, Del McCoury sounds as fresh as ever, not only continuing to tour and write new music but making sure to pass the torch on to the next generation of greats. That's right, it was only a matter of time before Del and the young gun Billy Strings found themselves on stage next to one another, which is a number of times by now. Del and Billy crooning together in this clip from Grey Fox this past summer is a thing of honorable beauty.