Brooklyn-based funk band Turkuaz, who recently dropped their roygbiv colors as well as their new EP Kuadrochrome in November, will perform at FTC Warehouse in Fairfield, CT on Thursday, December 5. The show (with special guest Great Time) marks the first of 9 shows in December, which finds the band travel from the Northeast to Colorado, where they'll perform in Boulder on New Years Eve.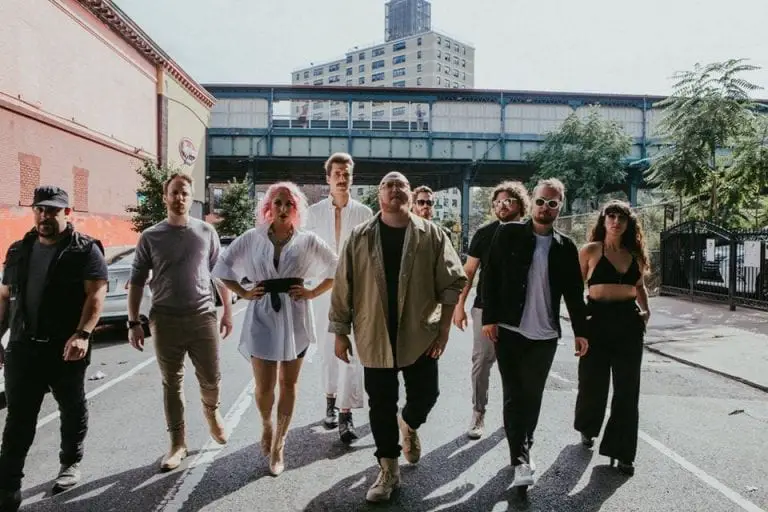 Dave Brandwein, one of the founding members of Turkuaz, produced the tracks that were recorded at Galaxy Smith Studios. Available for download on all major services, the 4-song EP is also set to be released in limited-edition vinyl LP that will include special instrumental versions of the tracks.
Alluding to a more cohesive sound while sticking true to the band's fusion of funk with elements of R&B, psychedelic pop, gospel, Afro-pop, New Wave, and classic rock, Kuadrochrome is designed to get people dancing. This is evident in the visualizer video released last week for the studio rendition of "Heat Drop." As many fans are already aware, the "colors" era is forever encapsulated in the band's feature concert film, None's a Ton, slated for wide release sometime this winter. 
"We're stripping back to our basics a bit with this release," explains Brandwein. "We're revisiting some of the old school elements of funk and soul that we've veered away from in recent years. It's fun to change it up every once in a while and we feel it's important for us, as well as our fans to keep things fresh. Although we're playing some different material and sporting a new look — it's still the same Turkuaz energy, with plenty of material from our whole catalogue. This is just the beginning. Kuadrochrome is the first of many steps into a new and exciting future in the world of Turkuaz."
To celebrate a new era for Turkuaz they will kick off a short winter tour on December 5 at FTC Warehouse in Fairfield, CT. Touring across the United States they will also be joined by several other bands. Philadelphia native funk/alternative band Great Time will be on stage in Fairfield, CT and Philadelphia, PA at the beginning of the tour. Starting in Kalamazoo, MI, Brooklyn duo Paris Monster is set to rock the stage for three nights. Hailing from Portland, OR, Swatkins and The Positive Agenda will be sure to bring a good time during the middle of the tour before Chicago native Neil Francis and his evolutionary soul-funk sounds from a bygone era finish up the last nine of the tour's stops.
Find a full list of upcoming dates below and head over to the band's website for tickets.
Turkuaz Tour Dates:
Dec. 5 – Warehouse – Fairfield, CT *
Dec. 6- Theatre of The Living Arts – Philadelphia, PA *
Dec. 12 – Bells Brewery – Kalamazoo, MI ^
Dec. 13 – The Vogue Theater – Indianapolis, IN ^
Dec. 14 – Exit/IN – Nashville, TN ^
Dec. 27 – Aggie Theatre – Fort Collins, CO #
Dec. 28-29 – 10 Mile Music Hall – Frisco, CO #
Dec. 31 – Boulder Theater – Boulder, CO #
Jan. 7-12 – Jam Cruise – Miami, FL 
Jan. 15 – Saturn – Birmingham, AL ~
Jan. 16 – Victory, North – Savannah, GA ~
Jan. 17 – Lincoln Theatre – Raleigh, NC ~
Jan. 18 – Georgia Theatre – Athens, GA ~
Jan. 23- Songbirds  – Chattanooga, TN ~
Jan. 24 – Madison Theater – Covington, KY ~
Jan. 25 – Jefferson Theatre – Charlottesville, VA  ~
Jan. 30 – High Noon Saloon – Madison, WI  ~
Jan. 31 – Park West – Chicago, IL 
Feb. 1 – Fine Line Music Cafe – Minneapolis, MN ~

* w/ Great Time
^ w/ Paris Monster
# w/ Swaktins & The Positive Agenda
~ w/ Neal Francis