Meet Witty Tarbox. The funky surf-rock jam band hailing from Buffalo, NY that just packed the Town Ballroom to celebrate the release of their debut album, Origins of Schmitty. Comprised of Cody Tarbox (bass), Bryan Williams (guitar/vocals), Alex Khoury (guitar/vocals), Seth Bykowski (saxophone) and Colin Gray (drums), this band has quickly made a name for themselves in the WNY music scene. This year they made their debut at Night Lights Music Festival, and have opened for notable bands such as Consider the Source and Litz.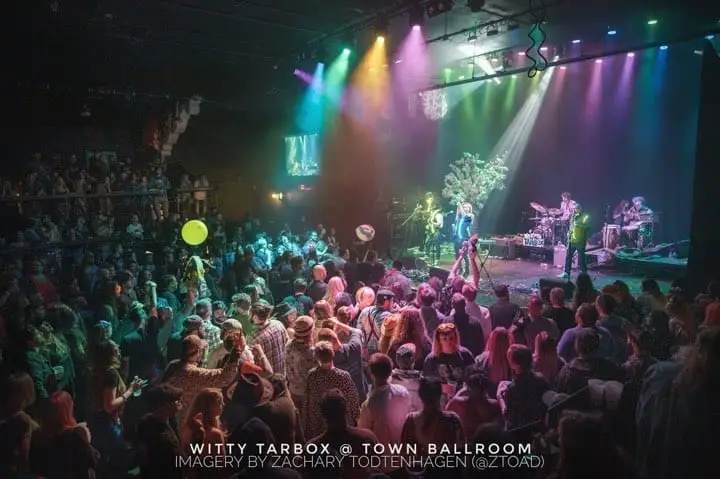 How this band came to be is a perfect representation of Witty Tarbox – spontaneous and weird. One night, Bryan and Alex were at Nietzsche's bar in Buffalo and after a drink or two, Bryan asked Alex if he wanted to start a band, and Alex said "Yeah!" After that Bryan got up for a few minutes and came back to say "Awesome, just booked us a show here, it's in three weeks, we need a band." They called up their friends from college, Cody and Colin and they opened up for a sold-out Delicate Steve show with a setlist composed of about 90% covers, including the Arthur theme song, and the first original song they played together, "Trevor." 
As Witty Tarbox started to gain momentum, they met Seth, who was playing with another local Buffalo band at the time. They asked Seth to sit-in with them and after that Seth found himself sitting-in on almost every show for about a year, until he was asked to officially join the band. 
From there, the band has become a staple in the WNY music scene. Their shows are always high-energy, fun and most importantly, weird. One thing you will hear walking through the crowd at any Witty Tarbox show is "Wow these guys are really good, but they're weird!" As a band, they pride themselves in that. For their album release party they asked everyone to wear costumes and go all out weird, and all out weird it was. Their performances bring a fun new take to the jam band scene. See for yourself in this video of 'Prepare To Launch' from this past weekend at Riverboat Bar in Alexandria Bay, NY.
Witty Tarbox released their debut album, Origins of Schmitty, just over a week ago. Schmitty is a character that has been in the Witty-verse for some time now, as the band uses characters to tell stories with their music. The album tells a story of heartbreak, debauchery, and healing; the story of Schmitty. It starts off with a deep acoustic song, "Group Therapy," which was never actually recorded in the studio. When they went to record it, the band felt that they couldn't capture the same feeling they had when they recorded the video of Alex and his guitar one late-night in Cody's living room. So, the audio on the album is actually ripped from that original iPhone video.
"Prepare to Launch is probably one of my favorites [to perform] because the monologue that Alex does and watching like the front row of people, who probably have mostly never seen us before, and just watching their faces and tapping their buddies like 'What the … what is going on?' "

Cody Tarbox
If you have seen Witty Tarbox live before, you might recognize a few of the songs, such as "Fa Napoli" and "Goodbye, Jackie." Both songs, which were debuted under different names, evolved as the band experimented with new jams and finding new elements to try in the songs. Cody makes his debut on vocals in "A Universal Feeling or Two," which has also been in rotation for about a year and a half under a different name, without lyrics. When the lyrics were introduced, Colin hated them, but once he heard Cody record it (in one take no less), it quickly became one of his favorite songs off the album. Well, either that or "Norman," which is a favorite among the Witty team. The album ends with "Kokiri," named after Colin's favorite place in his favorite video game, and features Mike Gantzer of Aqueous. You can give the whole album a listen below. 
He's a cool guy, cool attitude … and I think [Aqueous] likes to support Buffalo and the music scene here, and just in general, everyone is kind of really supportive of each other. I like how everyone works together in Buffalo, because it's so small and there is this sense of comradery here that's really nice and it helps everybody grow.

Alex Khoury, on working with Mike Gantzer and the Buffalo music scene.
Witty Tarbox had an extremely successful summer, and they owe a lot of it to their team. They are incredibly grateful to their management, Tim Merrill and Jes Tarbox, for keeping them on their toes and keeping them focused. Another big part of the Witty team is Brandon Kempisty, who collaborates on a lot of their costumes and props for shows that help keep it weird. Together they've created this wonderful Witty-verse that fans have fallen in love with.
We wouldn't be where we are now without everyone else. It takes a village as they say.

Cody Tarbox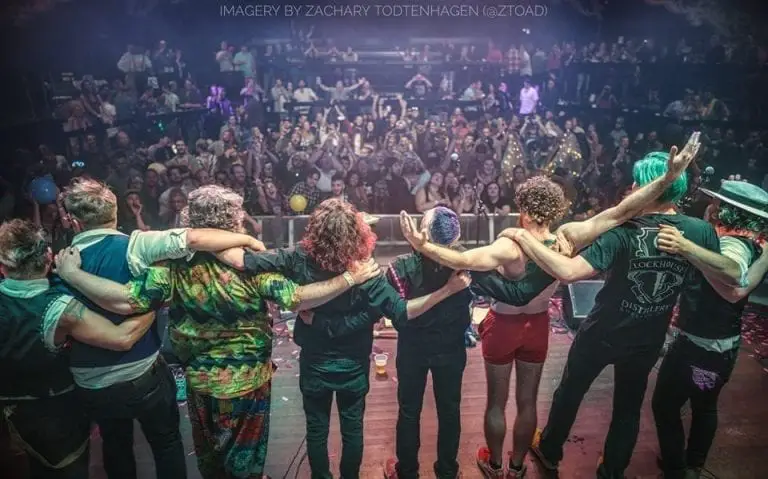 Check out their upcoming shows below, and visit their website or Facebook page for more information and even more exciting announcements for this fall/winter.
---
Upcoming Shows
October 6 – Folkface's Fest – Darien Center, NY
October 26 – Brick Bar – Oswego, NY
November 2 – King's Rook club – Erie, PA
November 15 – Unofficial moe. After Party – Nietzsche's – Buffalo, NY