There is a festival where volunteer staff wear t-shirts that read "La Famiglia" and what better way to encapsulate a feeling of family. Many festivals claim to provide a feeling of family, but none better provides a sense of true community than the intimate Mazzstock Music Festival, where founder Lee Mazzola has graciously opened his back yard for music lovers like himself.
On August 8-11, 2019 the uber-affordable Mazzstock Music Festival took place at Mazzstock Field in Marlboro, NY, within the picturesque and bucolic Hudson Valley Region. Conveniently located 1.5 hours from New York City, 2 hours from Hartford, 3 hours from Philadelphia and 4 hours from Boston, Mazzstock celebrated its 12th year (5th year as a 3-day fest) and drew soaring crowds with another very strong lineup.  
With the motto "3 days, 2 stages, 1 love, no worries," Mazzstock Music Festival is something special. It is so intimate and friendly, one feels that they will meet and get along with any one of the smiling faces on the dance floor, in tent city or at concessions. This year included a variety of strong ascending artists. Festival favorite and Mazzstock veteran Zach Deputy returned as a headliner; while Flux Capacitor, Dark Side of the Hudson, Gratefully Yours, Escaper, Cousin Earth and Hayley Jane are just a few offerings from the festival's varied lineup – which also featured a number of stylized and talented DJs for a very popular late-night silent disco.An impressive set from Kingston DJ, Joey Hernandez, who brought up-tempo house musings. 
The weather was perfect throughout and there was no cell service so patrons were connected without any distractions. Another bonus was that one could clearly hear each set clearly from their campsite! Lee, Vinny and the rest of the organizing team provided a seamless experience with impeccable amenities including clean porto-potties with stocked toilet paper, always – all weekend.
Dave Reiss and I Anbassa proved they are a fun band to watch; Flux Capacitor showed why they are invited to play so many festivals, Tom Clancy and Dave Heinzinger led a feisty Sky Daddy set that ignited a tight "Fire on the Mountain." Will Hanza guided his ascending band, Escaper, to some monster jams while festival mainstay, Alpha Male Gorillas, brought a heavier but contagious groove.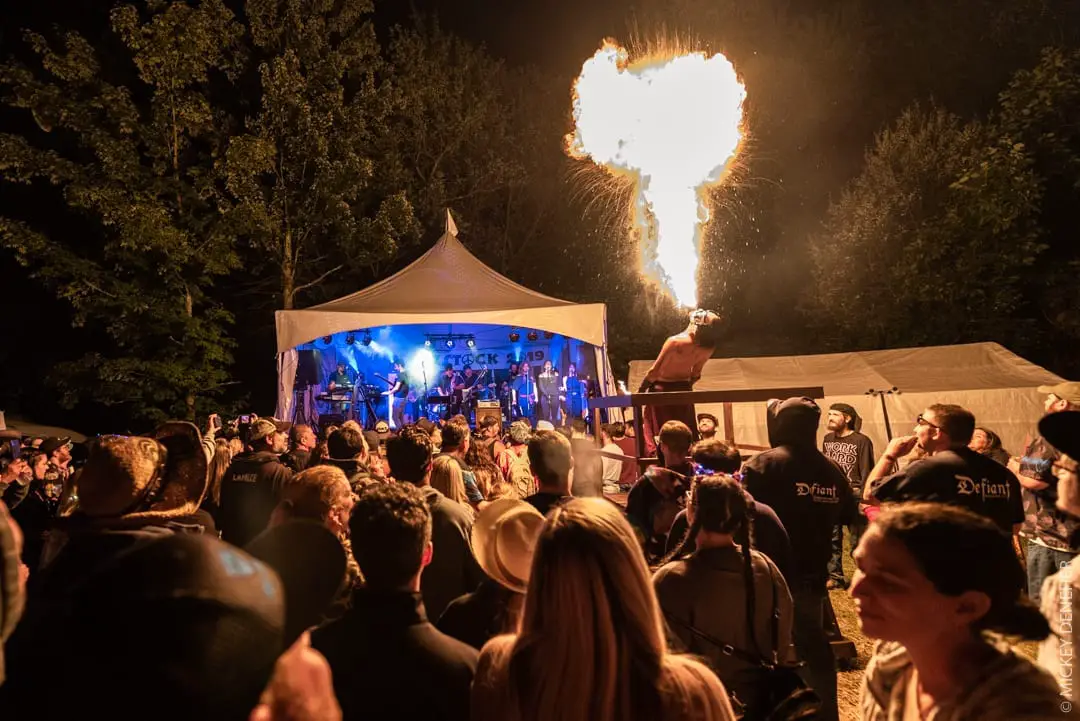 Tigerman brought the funky rhythms, and stellar guitar work was showcased by ShwizZ Himsef while he adorned a tiger onesie. Dark Side of the Hudson demonstrated they are a premiere Pink Floyd experience with a professional cover rendition of the album Dark Side of the Moon and an exquisite vocal solo on "Great Gig in the Sky." There were six artists at large, but those from Nyack (ShwizZ Himsef, Natasha May DiMarco, Dan Rappaport, Danielle Sheri Wasserman) shined brightest throughout their plethora of appearances; the bonfire jams were comforting with many bringing voices and instruments of choice for the familiar festivities.
Highlights of the festival included Cousin Earth, Cosmal and Zach Deputy!
---
Cousin Earth  :: East Stage  :: Friday 6:35-7:35pm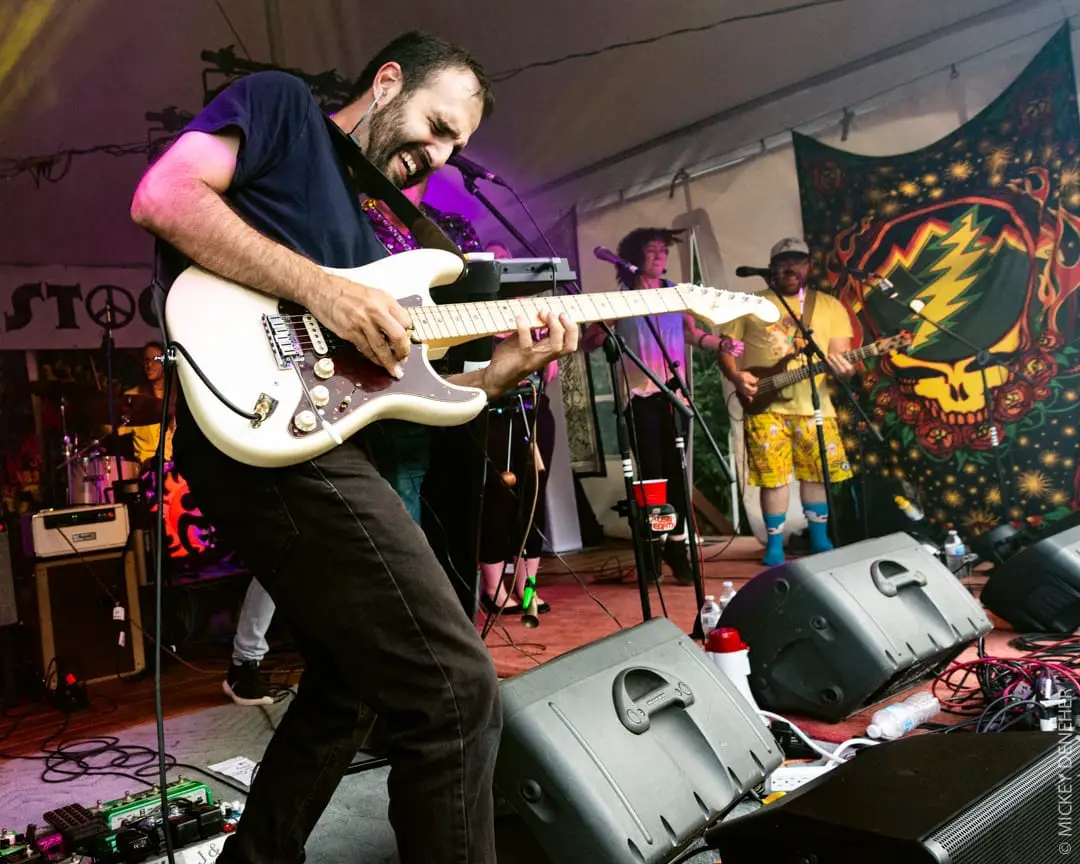 Cousin Earth were a pleasant welcoming committee to the many fans that arrived late Friday evening during the set. Formerly Ukelelian, the quintet has been touring hard over the past year, even doing a vast Southern run, spreading their energetic and innovative sound.  The NY based band, (a member of the Jam Band Syndicate), consists of Terry Brennan (vocals/keys/percussion), Melissa Raye (vocals/percussion), Corey J. Feldman (bass/vocals), Joey Calfa (ukulele/vocals) and Nate Searing (drums). The band was a breath of fresh air with their eclectic songwriting and hard to predict delivery. They are a band to watch as they ascend the ranks of our scene with more visibility.
The Mazzstock set was electric – fuelled by soaring harmonies and moments of beautiful jam improvisation. "Can You Get to That" was buoyed by the virtuoso guitar work provided by guest ShwizZ Himsef (Ryan Liatis) and his presence on stage with Calfa, who possesses monster chops, was a music lovers delight. "Super Laser Beams" remains a show staple and for good reason– it really showcases the band at its full power with intricate time signatures, blended melodies and trippy surreal solos as part of a musical package that lures attendees in like a laser beam. A recent release, "Don't Kill Us" is the song that could be a hit as a released and promoted single. Raye's vocals lead a pleasurable auditory attack with a seriously addictive chorus on a fantastical lyrical romp.    
Set List:  Pancakes, Burning Up, Window Video Game, Super Fun Laser Beams, Can You Get to That, Please Don't Kill Us, Fleshy Car/Spain, Capricorn on the Cob
Cosmal  :: West Stage  :: Friday 12:45-1:45am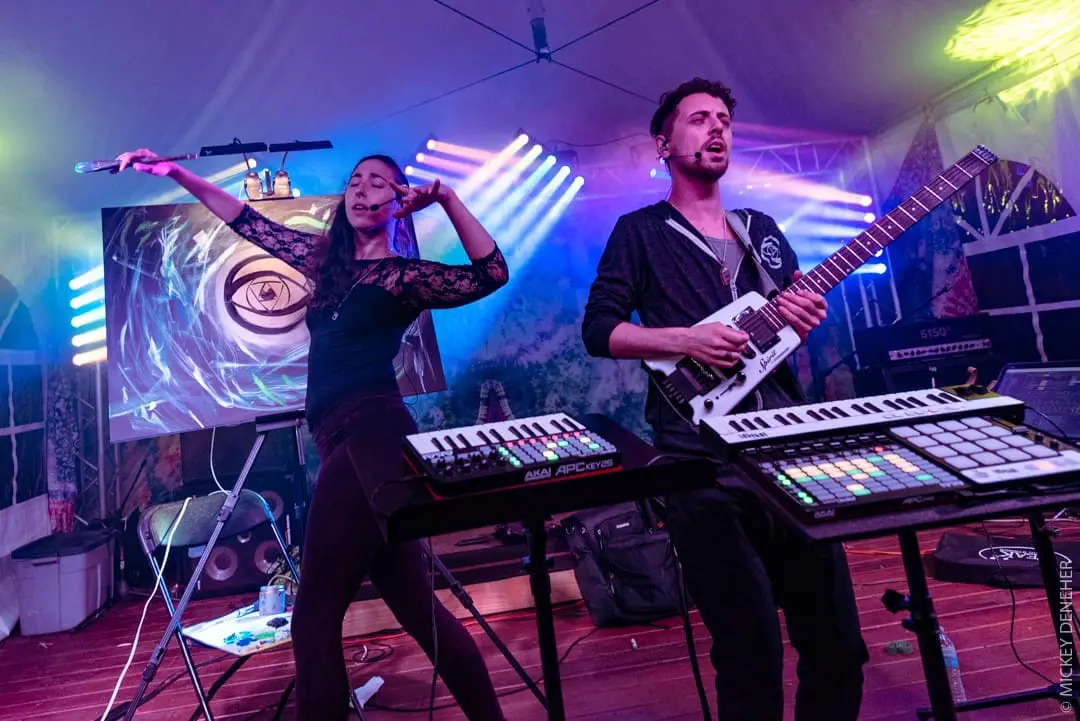 Hailing from New Paltz with over a decade of experience, Cosmal is well known to music aficionados in the Hudson Valley and beyond. Ryan Coyle (guitar/vocals) and his wife, Ali Laz (vocals/live painter), have partnered to unleash a musical experience like no other. A surreal and trippy exploration to the unknown, the dynamic duo has truly mastered the sharing of downtempo moods. Laz is relatively new to sharing her vocals on stage, but performs like a seasoned pro. She has become the consummate frontwomen – sexy, prolific and with a smooth vocal delivery.
Laz is also an accomplished live painter who creates one of a kind masterpieces on canvas that fans share much adulation for.  The Wizard of Cosmal though is Coyle, who harnesses his brilliance to compose a myriad of uniquely contagious and infectious original sounds. The new song, "Snake Charmer" is meticulously crafted with solid guitar fills. However, it is "Caliente" that takes down the house as the highlight of the gig. Laz sultry sings, "I love the way you touch me" with relentless beats supporting the groove and it really delivers a euphoric vibe ala Gilberto in "Girl From Ipanema." The song isn't about sexual lust, but rather the yearning to feel someone's entire soul. Cosmal are a quickly ascending band that I expect many more pleasant surprises from in the immediate future.
Set List: Sumatra, Caliente, Ancient Future, Drishti, Realize, Snake Charmer, Final Gear, Way Down, Encore:  Blossom, Moment
Zach Deputy  :: West Stage  :: Saturday 11:10pm-12:40am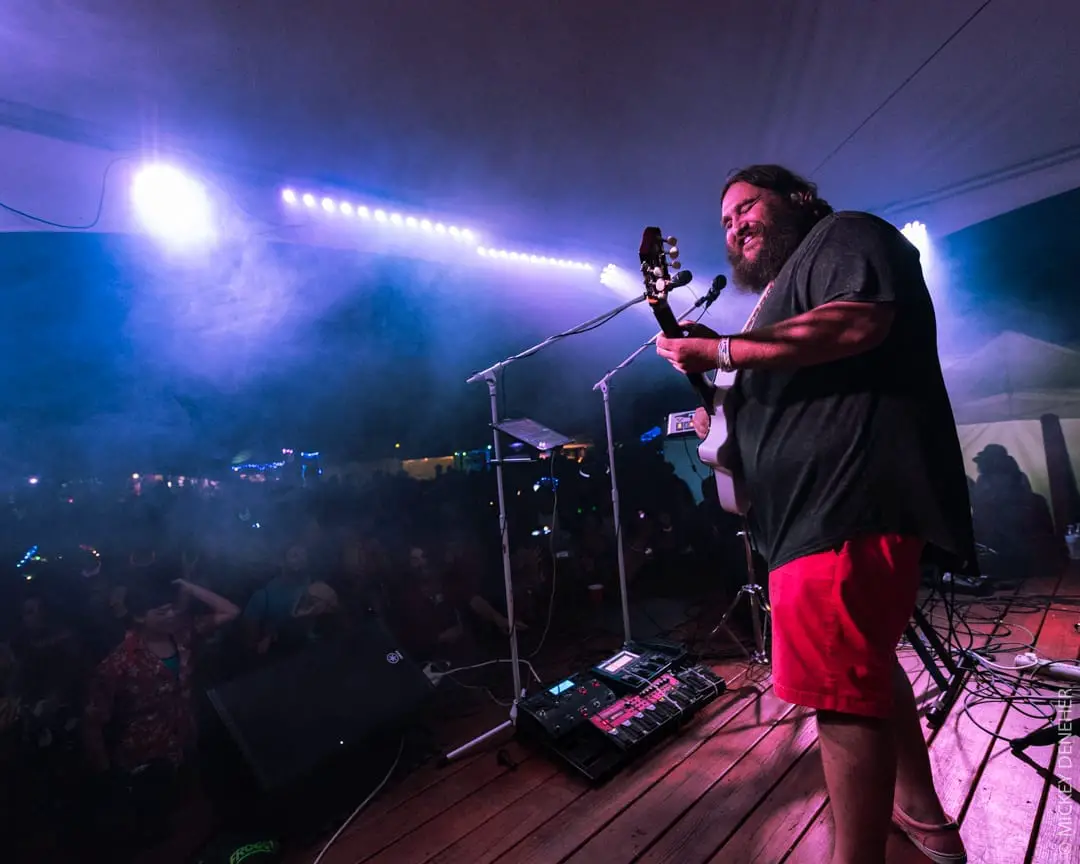 Zach Deputy returned to Mazzstock Music Festival as the headliner and had the prime Saturday night slot at the Main Stage. There is only one thing you need to learn about 'Zachy Dee' – he is a Master Looper. If you didn't know that, his fiery and upbeat set soon would convince you. Hailing from Savannah, GA Deputy honed his chops at Riders Lounge on Hilton Head Island, South Carolina. His unique approach delivered a bevy of bombastic acoustic numbers that inspired the crowd to shake their booty in delight. He shared crowd favorites like the party anthem "Put it in the Boogie," the infectious "Twisty Twisty" and the rhythmic "Home." He had the longest set of the weekend and patrons still were boogying at the end and salivating for more. A down to earth, generous, jovial giant of a man gifted fans with an assortment of benevolent ditties and in doing so proved that Santa Claus still delivers.