On Thursday July 25, three bands from Denver, Colorado descended on Port Chester, New York for a night of musical magic at Garcia's, the bar adjacent the famed Capitol Theatre with Cycles, The Jauntee, and Magic Beans who have all had an extremely successful year, riding the waves of headlining sets at festivals throughout the summer, recent album releases, and upcoming releases.
Before the music began, I had the opportunity to sit with Chris Duffy (bass, Magic Beans) and Caton Sollenberger (guitar, The Jauntee) about their feelings playing together, influences, and plans for the future.
Tom Dillon:  Being that you're all from Colorado, can you comment on what it feels like to be playing together out east?
Chris Duffy:  It feels really relaxed. Cycles, they're good friends from Denver. We played Baltimore together last night and will be at Peach Festival tomorrow. Jauntee just moved to Denver last year and we all sort of share a fan base. It's a good vibe, there's more conversation in the green room.
Caton Sollenberger: (Laughs) Yeah, it's cool to be in this "family" setting. All three of us played Beanstalk last year and we've all been able to help each other out. We (Jauntee) did five weeks out east in the spring and it feels great to be in this kind of a homecoming. This is our fourth time at Garcia's so it's good to be here.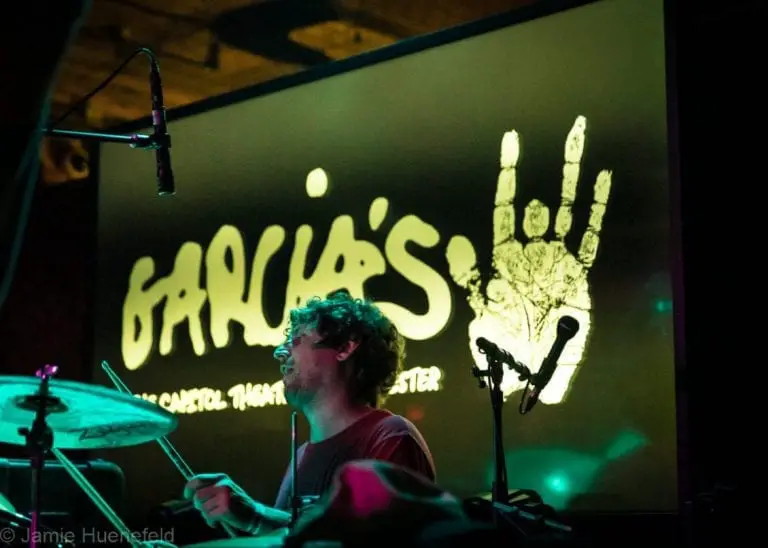 TD: Speaking of Beanstalk, this was the 7th year for the festival, how was that?
CD: Ah man, it was awesome! (Tucker McClung of Cycles chimes in "Favorite Beanstalk so far!) Yeah it was incredible. Each year it feels more dialed in, the crew just gets tighter and tighter.
CS: Unfortunately we missed Beanstalk this year, but just moving to Colorado was a big thing for us. We started going out west a while ago, which always seemed impossible from Boston, so we feel like we have a good home base out there. The scene is really welcoming.
TD: It's been a great year for the Beans between the 7th year of Beanstalk, opening for the Disco Biscuits, and debuting at Red Rocks. What are your thoughts on the space you've carved out for yourselves in the jam band scene?
CD: Well, we are pretty aware of our influences. There is so much good production happening right now in neo-soul and hip-hop – which we listen to a lot of, so we try to show that through the jam band lens. We like to see how the jam band crowd will react to different sounds and influences and we've been pleasantly surprised at how much people are grabbing onto the more heartfelt singing and songs. Those are some of our most streamed songs, the ones that are more songwriting heavy.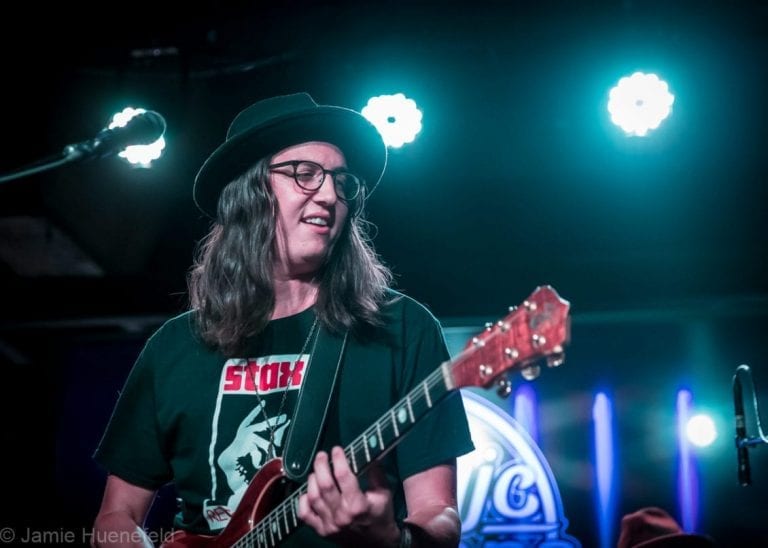 TD: You seem to take a more rhythm-based approach to improvisation, is that intentional?
CD: We try to interpret our influences and not just copy them. We have a lot of peaking guitar solo jams like a lot of jam bands but that doesn't really satisfy all our desires creatively. Scott (Haschey, guitar) really values good songwriting and puts a lot of thought into arrangement, lyrics, and digging deep into human emotion as opposed to singing about some fabled jam band monkey in a tree  – even though we love that stuff too.
TD: So what's next and what are you looking forward to?
CS: Jauntee has a live compilation coming out with takes from our last New England run. It's going to be called Jaunts Of Our Lives. We picked the best stuff that we liked and mixed it all down. There won't be any print but it's all high quality and will be out on streaming and on Bandcamp as a pay-what-you-want deal. It should be coming out real soon, like any day. To be honest it might even already be out!
CD: Well, we just released Off Leash and are really happy with the way the album came out. We were able to inject a lot of different styles so there's something for everyone but we feel like we've barely scratched the surface of accessing our inner producers as far as using other sounds – drum machines or samples on stage. We just keep pressing on. We've talked about getting together and releasing maybe a hip-hop EP or a remix or dance thing, but you might hear us swing into a more acoustic or Americana sound also.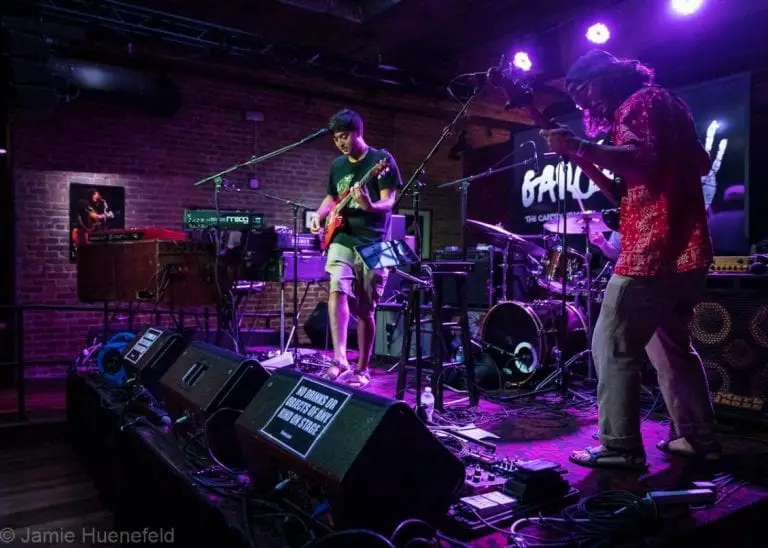 First up was the eclectic trio Cycles, comprised of guitarist/loop-master Patrick Harvey, bassist Tucker McClung, and newcomer drummer Colin O'Brien in his fifth official gig with the band. Cycles are completely unique in their sound and approach, blending genres from rock to soul into a mix of progressive power.
Through their opening hour set, the rhythm section was relentless. Offering a batch of material that can also be found on their recent live release Selections, Vol. 1, the trio covered all their bases. From the opening instrumental "Strife" and the bouncing "Be Yourself" to the more delicate "Everything Must Go," the mood shifted but the sound was consistently huge. This is in large part due to Harvey's control over his gear. While his guitar playing is ferocious, his use of a looper is equally as impressive. As he layers swells over chords, he creates massive sonic landscapes that reverberate through every corner of the room. He has mastered the art of painting with sound and it seems to be something he has taken hold of as totally his own.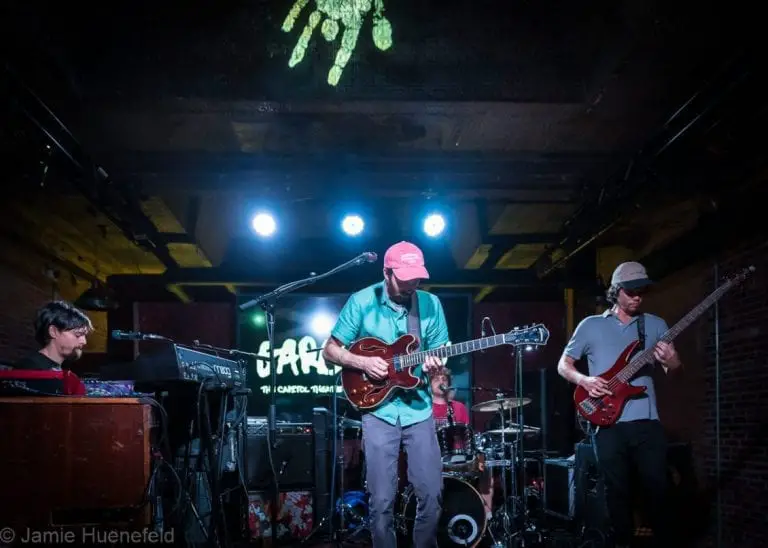 After a speedy equipment swap, The Jauntee got straight into some easy-going funk with "When The Love Is." With tasteful riffs and well-placed transitions from section to section, The Jauntee is one of the few bands on the scene who explores free improvisation to a level where they begin to touch on what a band like Phish was doing or has done.
Adding the first sounds of piano and organ to the night, The Jauntee carried the groove steadily throughout their set. Their uplifting content is explicitly demonstrated in "Way To Grow" as the lyrics reference, "Feel good music to let your spirit free." The progressive number "Flutterby" is an impressive run through ascending melodies, quickly moving scale patterns, and was executed flawlessly. It's obvious that this group has been together for a while and the members are comfortable together. The jams are patient and poised. They take the time to really settle in, letting the crowd feel the beat, giving the music room to breathe, allowing it to grow by feeding off the moment. This was most honestly exemplified in the second half of the set during "Dirty Job" as the band slowly raised the energy level from foot-tapping funk, building anticipation through a series of tense syncopations, to a final release of sustained guitar under a canvas of organ.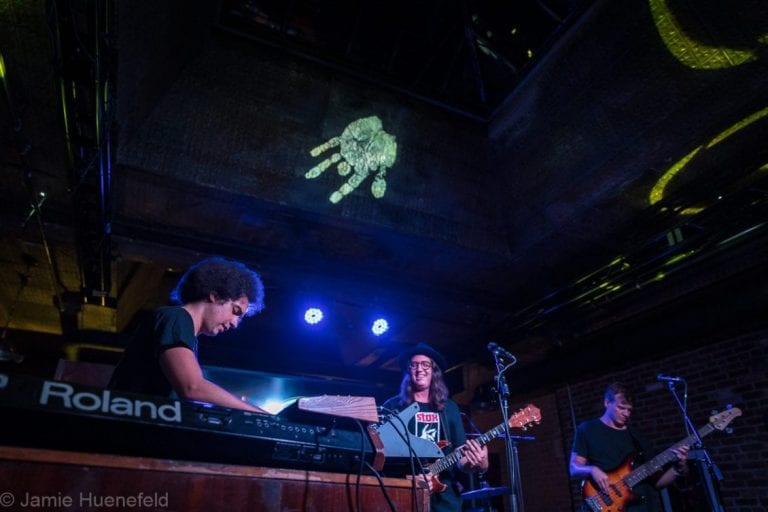 It's easy to see why Magic Beans has steadily, and quickly, built momentum as a band to see. Though they live some 2,000 miles away, fans showed up in force to watch them in Port Chester. One fan even thanked Chris Duffy for putting on such a good show the night before in Baltimore.
The Beans are locked in to their feel-good sound. It's music that's meant to not only make you dance, but make you feel good about it. Kicking things off with the party-funk single "Feed The Beast" from their newest album Off Leash, the band exhibited that they came prepared to lay it down. Keyboardist Casey Russell kept a wide smile all throughout the affirmative "Always Cool" off of 2017's Common Mind. Two songs in and raving with jubilance, guitarist Scott Haschey broke a string and didn't miss a single note. While he stepped off to re-string, the rest of the band wasn't going to wait up. After a short filler with Casey on lead vocals and a impassioned organ solo, the rest of the set was indeed magical.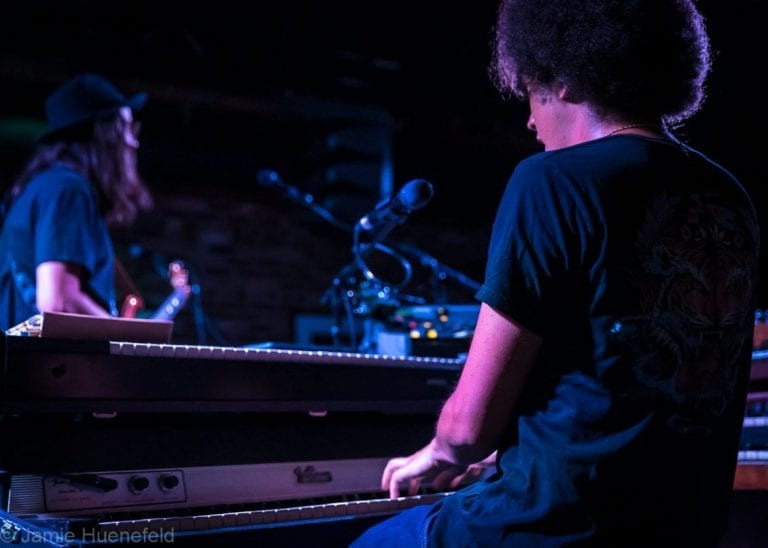 With just 6 songs on their setlist, Magic Beans intertwined all styles, incorporating a variety of sounds from their respective toolkits during an hour and fifteen minutes. Lush organ, euphonic synthesizer, filtered bass, drum samples under tight beats, and vibrant, rich guitar tones were all on full display. A touch of each was compiled into the finale "Contraband," another track from Off Leash, bringing this night of magical music to it's conclusion.
Off Leash is available on all streaming platforms now and Magic Beans can be seen in the Northeast once again on their soon-to-be announced Fall Tour.