Chrome Food and Spirits in Waterford, NY was the site of a recent anniversary party for the Capital Region's newest online local radio station, RadioRadioX. Founded on July 10, 2018 by local musicians, Art Fredette and Ralph Renna, the fledgling station has marked its "X" on the spot in the Capital Region through its Waterford radio station headquarters along with its monthly magazine, The Xperience Monthly. Its mission since formation has been aimed towards playing great music and supporting the local scene through the arts and the ever-growing music scene that continues to serve the Capital Region.
July 10 was the official one-year anniversary of the station. In celebration of both that and the magazine, the RadioRadioX team held a rocking birthday party held Sunday, July 14 at Chrome Food and Spirits. The party was full of fun shenanigans and great live entertainment all afternoon. It was a fun event for the community to be a part of this summer to celebrate the birth of a local radio station, its local original artists and cover groups, and the local artisans and businesses who make up our great scene.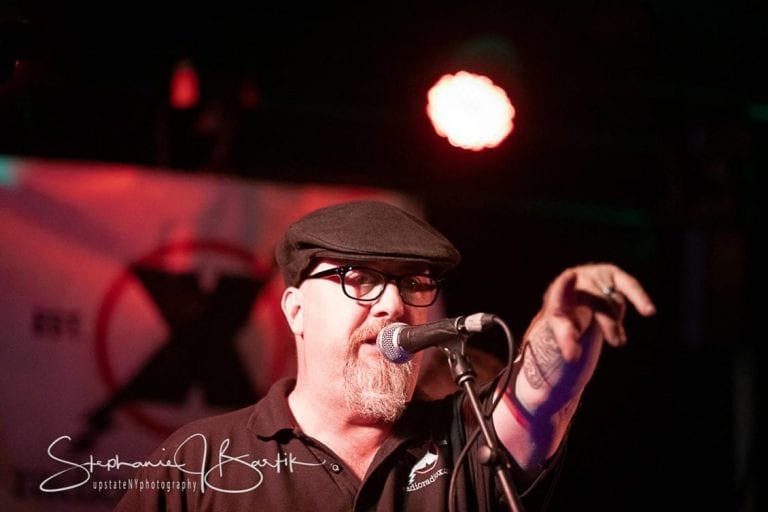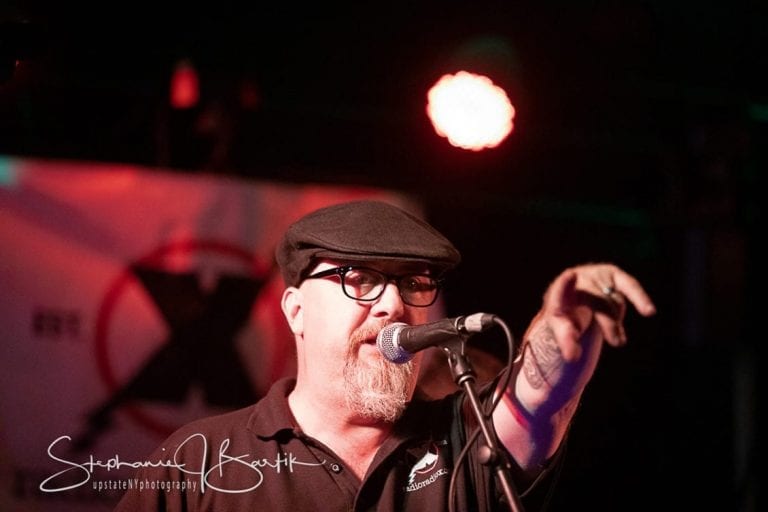 Before it became RadioRadioX, the radio station was known as "The X." Music fans would tune into the station on public radio at 106.1 FM where it would receive airplay for nine months until its untimely demise last year when the radio station that was playing local and regional music not normally heard on popular radio was suddenly taken off the airwaves. Local musicians and fans of the popular station were in an uproar that the station, which was playing their music and supporting the local scene, had disappeared without a trace. Eventually, 106.1 FM became a popular Top 40 radio station and, later, became one of two stations for WEXT.
Rising up from the ashes, members of "The X" jumped into action and decided that the only way to celebrate its demise was to have a funeral party for the station that was held on April 14, 2018 at The Hangar On the Hudson in Troy, properly called, "A Funeral For The X." A who's who of the Capital Region's local scene, like The Ramblin' Jug Stompers, Soul Sky, The Lawn Sausages, Buggy Jive, C.K. And The Rising Tide, to Acoustic Trauma, all came out to pay their respects to the radio station through live music. With death comes rebirth, and "The X" suddenly became RadioRadioX, much to the delight of the scene who was ready to see their radio station make a comeback with a splash.
Since its rebirth, RadioRadioX has built a name for itself. The radio station was created by local musicians and serves the local scene on a whole new level. Since March 2019, RadioRadioX has held their own monthly concert series at their studio where patrons could check out the studio in person while sitting back and enjoying some live music from local solo acts and bands at their event, "Xperience Live." An open house was held at the studio featuring music from the '60s lounge cover group Off The Record, and the "Second Chance Prom," held at Il Faro Restaurant and Bar, that the band also took part in for this exclusive RadioRadioX feature event. Along with the online station came a monthly magazine,
The Xperience Monthly
. The magazine features exclusive music interviews, show reviews, short fiction stories, and arts features written exclusively by local musicians and artisans who are dedicated to keeping our local creative scene alive.
Live music for this event was held on two main stages. In between sets, as the larger acts set up their gear and did their sound checks, patrons went inside the bar to have a drink while watching great performances from solo performers like Brittany Robichaud and Will Foley, and a duo performance from Big Frank and The Bargain Bingers members Frank Novko and Johnny Hoffman. From Robichaud's acoustic take of Alanis Morissette's "Not the Doctor," to The Bargain Binger's unique take on a popular Rolling Stones cover, each act kept their audience entertained with their cover tunes.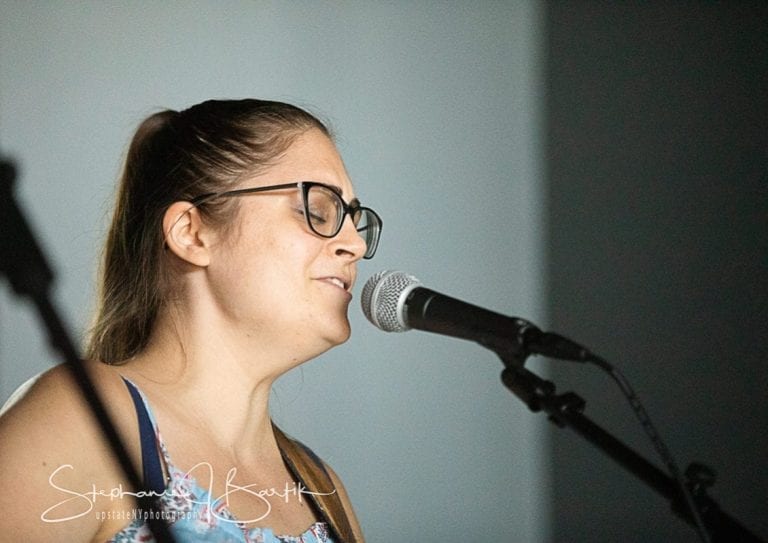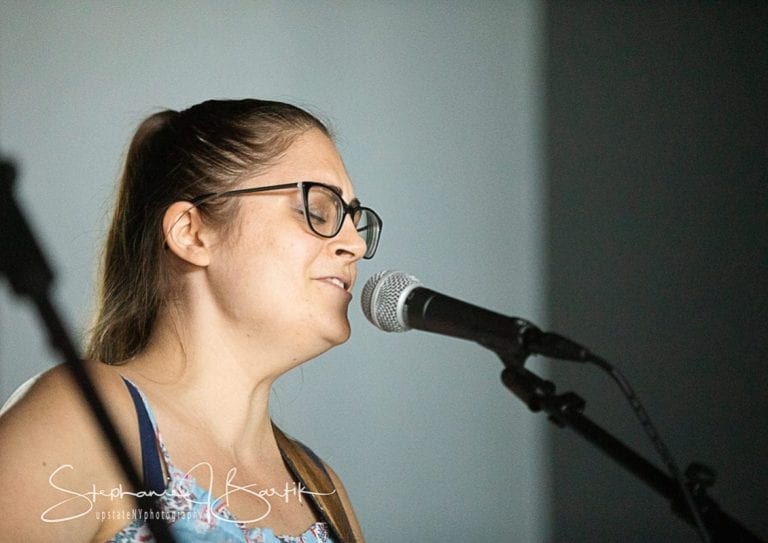 The acts that were featured on the main stage included Albany's Honey Slider, featuring Caity Gallagher (vocals/piano) and Alec Lewis (vocals/lead guitar), Acoustic Trauma, The Lawn Sausages (featuring Luke McNamee on saxophone), Soul Sky, The Chris Busone Band and headlining act, Murali Coryell's Electric Band.Honey Slider's originals were soft and sweet through their delicate piano melodies and swift guitar measures. Acoustic Trauma was blazing loud and energetic. Maceli's swift violin play and the energy he has on stage along with his backline, was amazing. Soul Sky, featuring their three-guitar army of Mark Emanatian, Joe Mele, and Jeremy Walz, raised the roof to a whole new level through their guitar soloing as they fed off each other in their cover of Eric Clapton's "Why Does Love Have to be So Sad?" Funny as always, The Lawn Sausages continue to entertain with their non-stop jokes in between songs and their funny song lyrics that they played from their new album, Appetite for Dysfunction, even at one point inviting two female dancing friends to join them on stage to be their backup dancers for a song.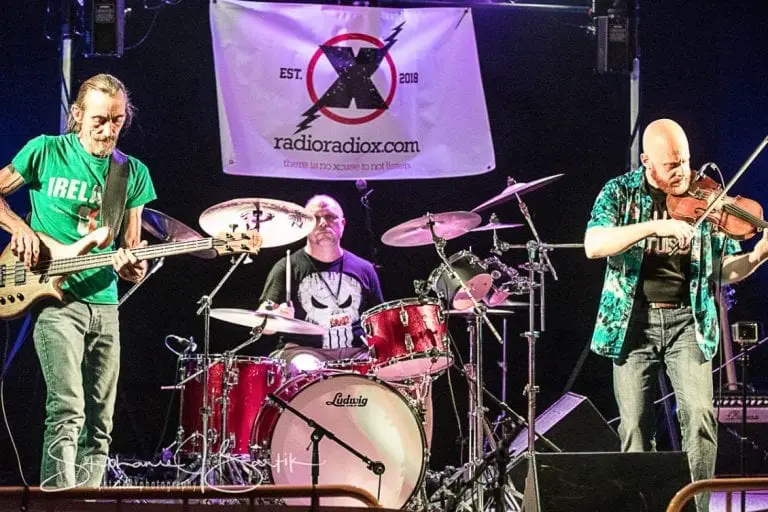 The blues remain alive and well as the final two bands, Chris Busone Band and Murali Coryell's Electric Band, played some tasty tunes for the soul. Coryell's set, although short, was amazing with the assistance of his bassist and drummer. He performed some tunes from his current album, Made in Texas, and left his audience wanting more. The blues is certainly in his blood and it is clear how much passion he has for it through his musical tribute to Muddy Waters and in his original tune, "Eyes Wide Open." Lastly, the "Superstition" from the Chris Busone Band had the audience on their feet with their eyes agape in awe as they watched them perform solos with both passion and a slight angst.In addition to the music, a group of local businesses and artisans proudly displayed and sold their merchandise. RadioRadioX gave away some tickets to raffle winners who wished to attend the "Divine Vibes" event held at The Beer Diviner in Cherry Plain, NY. The businesses and artisans who took part at the event include Goldie's Marketplace, ALM Fine Art And Photography (featuring music photography from Amy Modesti), Mary Kay consultant Angela "Diamond" Fowler, The American Red Cross, American Foundation for Suicide Prevention with music CDs for sale from Will Foley, Park Lane, and visual art, jewelry, and writings sold from Carol Bosselman. RadioRadioX not only supports the local music scene, but they support their community and the local businesses who come together to help bridge their creative community together in the Capital Region. This party helped build community among the local businesses, artisans, organizations, and the music scene in one fun afternoon.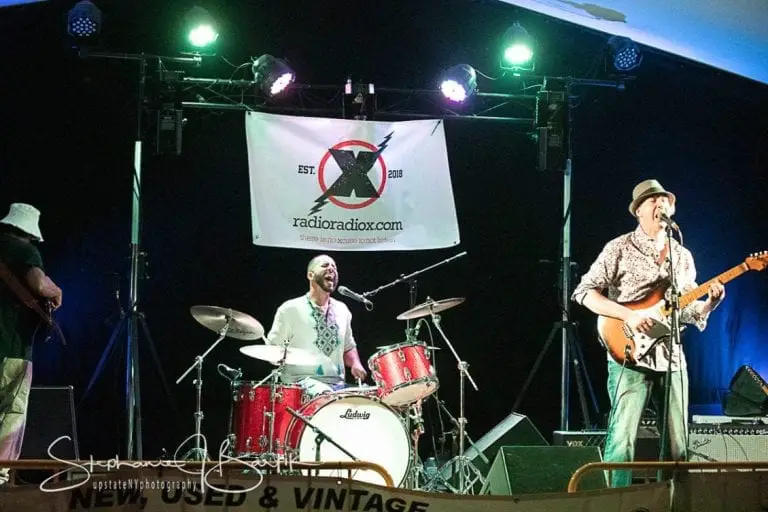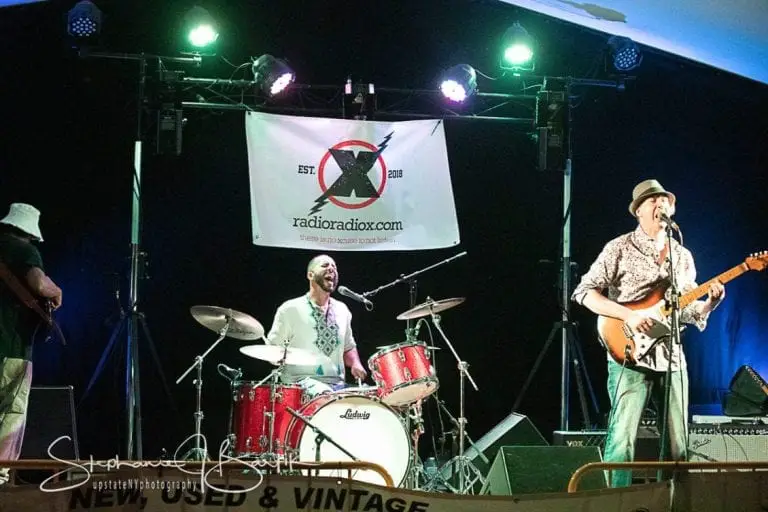 Happy Anniversary, RadioRadioX! Congratulations to the entire team for hosting and putting on this fantastic event at Chrome Food and Spirits. And "Cheers" to many more years in local online radio, newsprint, and helping to bridge together local artisans, musicians, and businesses into one great melting pot of creativity and collaboration.