moe.down 17 took place at its original home July 4-6, 2019, at Snow Ridge in the Tug Hill Plateau town, Turin, following a one-year hiatus. The Independence Day weekend featured steamy temperatures and equally scorching sets.
The host band performed seven sets over the course of three days, as well as stints with side projects and sit-ins throughout. This festival has always been a family-oriented affair and this year's moe.down proved no different — from guest spots from moe. bassist Rob Derhak's kids to drummer Vinnie Amico's dedication of a cover of the Allman Brothers' "Blue Sky," to his daughter, who was celebrating her 19th birthday over the weekend. moe.down XVII was the family affair it has always set out to be.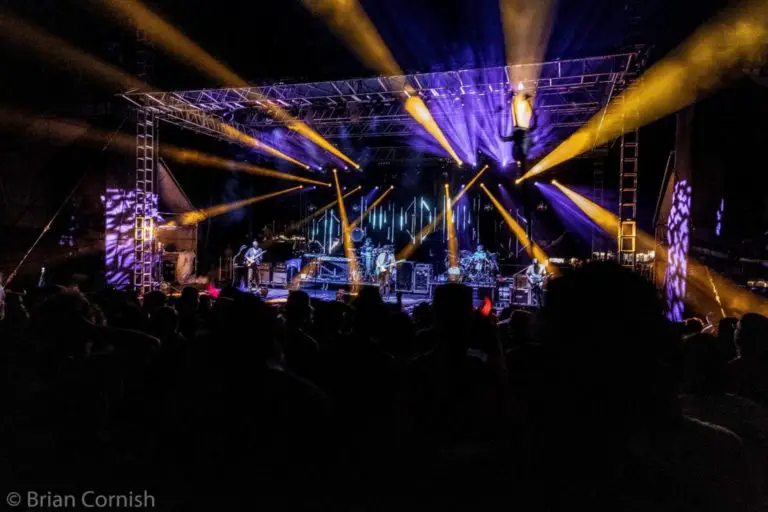 The moePods reunited at moe.down for a Friday afternoon set. Comprised of members of Ominous Seapods and moe., the band first got together at a sold out show at Cohoes Music Hall in January of this year and reconvened at moe.down. A true Wetlands reunion took place during this set when Lo Faber of God Street Wine, another of this year's moe.down bands, joined the moePods onstage. All three bands came up through the second wave jamband scene of the early '90s together and the mutual love was obvious onstage.
Highlights of the weekend included an amped-up set from Cory Wong of Vulfpek with his band, all in matching outfits. The guitarist displayed his fret skills while the band funked up the main stage to kick off the music Saturday afternoon.
Drive By Truckers brought a little bit of southern grind to the Tug Hill Saturday, delivering a blistering late afternoon set on the main stage that attracted more and more festival-goers throughout the set.
The weekend was filled with a lot of positivity and small-town vibes one can only find at Snow Ridge this time of year. moe.'s seven sets over the weekend proved that they're not standing still. Several new songs made it into the setlists and the accompanying light show was on point throughout.