"Woodstock never happened – it was planned." This phrase sums up the massive effort put into the original Woodstock music festival, and after reading Barefoot in Babylon, you'll see how much planning, including last minute changes of venue and crises both big and small, went into making Woodstock a pinnacle event in American music history. For those who enjoy a good music festival, there is perhaps no better publication recounting the extreme detail that went into planning this generation-shaping event than Barefoot in Babylon: The Creation of the Woodstock Music Festival, 1969.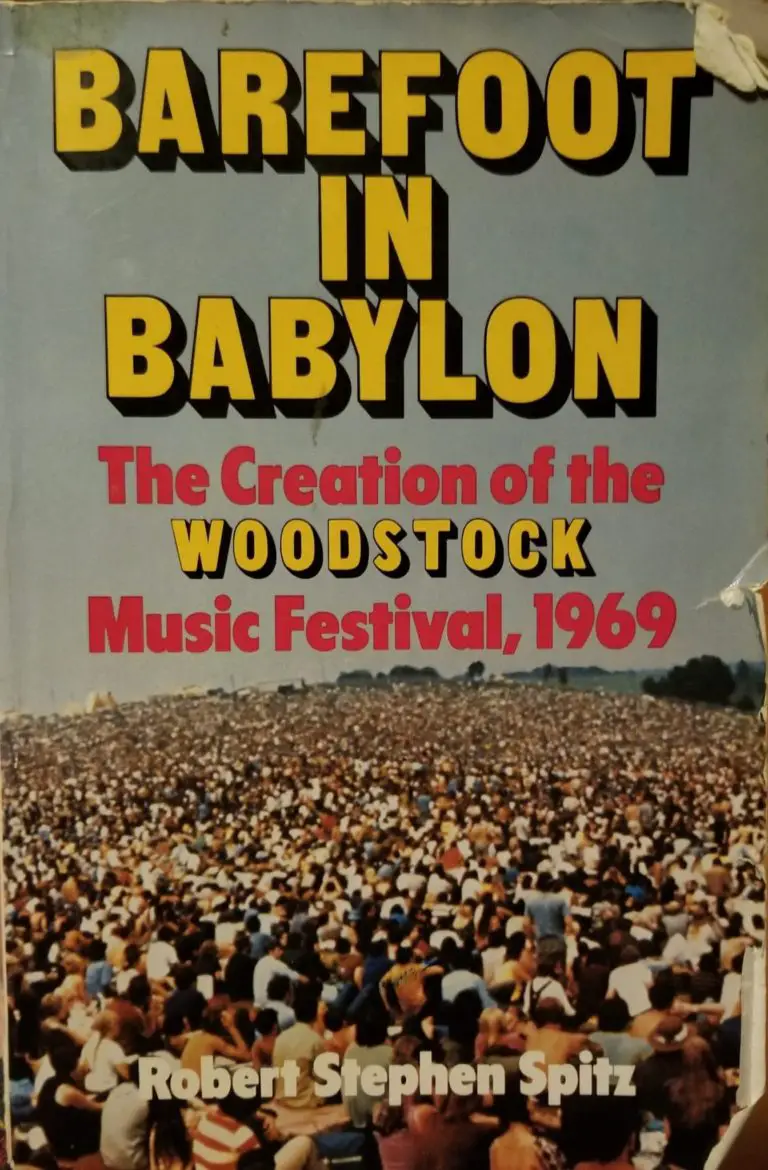 In reading the 1979 history of the festival, one notices not only the culture of the late 1960s and the prevailing anti-war attitude in the nation, but also the minutia that we commonly overlook when we go to a festival.  Food, security, fences, water, stage set-up, the performers, traffic, bathrooms, medical assistance, and just the all-around aura of each festival is given a full treatment in Barefoot in Babylon.  As problems arose, sleep was lost, people ingested bad acid, a few deaths occurred, camaraderie was had between people from every part of the country, and memories were all that was taken. And a movement of music festivals around the country took on new life.
The struggles that Woodstock Ventures had in securing the site is a recurring theme throughout the book as they are constantly told there is no room at the inn. Various townships, including Wallkill, found ways to prevent the festival from taking place with only weeks to go before fans arrived.  There is an overwhelming feeling that you are there, and can visualize every moment of the festival, how the stage slipped 6 inches during a torrential downpour, security extorting money from the festival producers, possible mass-electrocution, and the National Guard waiting on standby for what they thought would be a major health crisis.  Regardless, the festival went off, hitches and all, and the legacy of the efforts of two hippies and two businessmen culminated in a weekend we continue to experience in spirit when attending music festivals each year.
Barefoot in Babylon is meticulously researched, with Spitz working a decade after the festival ended and working tirelessly to track down every member of the original staff that could be found. Stanley Goldstein, headhunter and campgrounds coordinator for the festival, was a major asset to Spitz, identifying and helping to connect him with staff so that he might jog their memories, and then, painstakingly, piece the stories together chronologically. Musicians including Richie Havens, Country Joe McDonald and more filled in behind the scenes details, with a full view of every detail of the planning of Woodstock extensively chronicled.
Tracking down a copy of this book takes some effort, as the book is out of print, but online retailers have used copies for sale.  500 pages doesn't seem like enough to tell the whole story of Woodstock from conception to cleanup, but every moment, every individual, every problem that arose – and there are so many, you'll be shocked they pulled it off – are all documented with great precision.
Barefoot in Babylon is written by Bob Spitz, author of The Beatles: The Biography, and whose most recent book, Reagan: An American Journey., is now available.