The Reciprocal Boogie, the debut album from Massachusetts four-piece The New Motif, is an impressive survey of the band's eclectic sound. The roots are rock, but different tracks run jazzier or more psychedelic, funkier or more spacey. Produced by Soulive's drummer, Alan Evans, the album showcases the band's rich textures and compositional prowess.
The album's first track, "Manifest," is microcosmic of the whole album: it features shifts in style and tempo, is at times led by a funky bass line from Dan Kelly, at other times with a catchy guitar riff from Dennis Christiano, sometimes the organ, sometimes the synthesizer, always high-octane drumming. There are vocals, but the song is undeniably led by the instruments. Checking in at nearly six and a half minutes, it's a bold opening statement to a freshman album devoid of any filler tracks.
While "Manifest" feels frenetic, The New Motif follows it up with a mellower "City Cituation." Cory Schechtman swaps out the keyboards for a saxophone, a pleasant surprise as the track commences. Paired with the following song, "Crooooshtown," the songs are a smooth, jazzy reprieve from the relative tumult of "Manifest."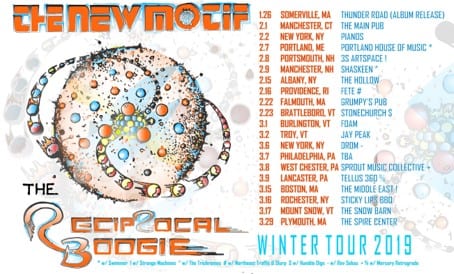 In total, there are nine tracks, each between four and eight minutes long. About half are instrumentals and half feature vocals; Schechtman plays the saxophone for half the songs and spends the other half on keyboards. Unsurprisingly of an album produced by Alan Evans, drummer Terrence Kelleher is extremely active throughout.
The heart of the titular track represents the album well. Guitarist Dennis Christiano trades licks with Schechtman on the saxophone while Ball and Kelly, even if not as prominent with the rhythms, are relentless, lending to the full sound.
The sixth track, "Flown," is the first where the vocals feel like the central component. The song has a reggae tone, unique to the album, and allows Christiano to show off with a high-soaring solo. The ensuing "Yasss!!" is dark and exploratory yet upbeat and features all band members finding their ways into dynamic grooves. At just over eight minutes long, the track is an instrumental odyssey. The following and penultimate song, "Whatever's Clever," features the catchiest vocals.
Closing track "Late Cretaceous" once again puts The New Motif's rich sound on full display; one needs to crank the volume dial to get the full flavor of all the layers. After multiple listens to The Reciprocal Boogie, something different has caught my ear each time: a guitar riff here or a bass line there. Each time after listening, I've found myself going back and listening straight through again
The New Motif is currently touring to promote The Reciprocal Boogie and have multiple shows scheduled in New York. The full tour schedule can be found here.
Key Tracks: Manifest, Yasss!!, Late Cretaceous