Cory Wong isn't strictly vegan in case you were wondering. He's the type that typically won't pass up the best of anything. Best BBQ in the city? He'll gnaw through it. But for this night of the tour, a veggie reset was needed, so we plopped ourselves into a corner table at Red Fern to catch up before his first Rochester gig at Flour City.
Ally Dean: How did Emily Browning become your opener for this tour?
Cory Wong: Emily C. Browning and I (not to be confused with Emily Browning the actress) met at a house concert in LA. She was playing at my friend's house and I knew the taco truck that was gonna be there. Taco trucks in LA are really good. House concert at my friend's house plus sick taco truck means I'm there. There were a bunch of musicians there and at the end of the night the guy coordinating wanted to have a jam session and asked me to lead it and she was there too.
AD: That's sweet. I've been to a few low key house concerts in Upstate, NY where the crowd seemed to be mostly older folks, not necessarily musicians. Is there anything different about the house concert culture out in LA?
CW: This show was unique in that it was a well curated show put together by the PickUp community and it was invite only, but I've also been to shows in garages so it just depends. I've done a few house concerts that my friend hosted in Minneapolis.
Intimate shows like that definitely make me more nervous than playing to thousands of people at Red Rocks. The energy at a big show is unlike anything else, but in a small room like that you can see every person's visceral reaction. And it can get weird. One person can throw off the energy and sometimes you have to just turn pro mode on. But it can also be way more fun when you can connect to the crowd at a much deeper level and sort of hang out.
(Food arrives, interviewing paused to nibble)
AD: Frank DeBlase interviewed you a few weeks ago for City Newspaper and when he asked "What's something you always do?" you replied, "I always laugh and smile." Being the cynical person I am, it made me want to know, what makes you mad?
CW: Plenty of things. When something is supposed to work one way and does all the time and out of nowhere seemingly just doesn't, like computer problems. Why does this program not open? I woke up and now it's not working. What happened over night?
And in musical settings, recording in studios requires fighter pilot focus in some cases and so much precision but it's also a very creative process at the same time so it's a lot to balance. In studio situations if I lose focus I get really frustrated if I mess up a take for everyone by doing something off script. Or we've got it really close, last take was amazing but we could make it tighter. So we go to do the exact  same thing again, just better. Except this time maybe the drummer adds a gigantic drum fill that feels really inappropriate and in the wrong spot. So in a group setting someone hijacking the moment through lack of focus, lack of respect for the craft or the goal really frustrates me.
AD: In recording situations have you had particularly awkward experiences where it seems like one musician isn't quite getting it? How do you navigate that?
CW: If that's happening it takes more patience from everyone else in the room. In a lot of cases that person is also frustrated with themselves. Some people take negative reinforcement better than they do positive reinforcement, so understanding who you're working with and how to communicate with everyone is important to get through the situation. Sometimes in the end you just have to wave a white flag and be done and know you're gonna have to come back to do that part with someone else later, but not let the guy feel so bad about it. But then you feel bad when the album comes out and they see someone else' name on it.
AD: Is there usually no telling them, they just learn on their own in that situation?
CW: It depends. I've had that happen to me before where someone hired me to play guitar on their record and some of it was good but they had a different vision in mind that I wasn't necessarily seeing. I'm way better at reading what a producer wants from me now, and also a better musician now than I was ten years ago. But I have had that happen before where someone replaced my parts and I found out by reading the liner notes. The first couple times you get replaced it hurts. And the first couple times you have to do it to someone it hurts. You don't want them to think it was anything personal. Everyone still gets paid even if their stuff doesn't get used.
AD: What new music are you into right now?
CW: My favorite song of 2018 is "Things" by Louis Cole. He's in KNOWER. It's eclectic, fast, hard hitting, electro meets analog. He's one of the sickest drummers. His solo record has some of that but it also reminds me of the Beach Boys with his singing. I listen to "Things" almost every day.
AD: Seems like it's getting harder and harder to attain that high from music that you want to play on repeat.
CW: Totally. I can't remember the last time I had that where it's like "This is my song!" As far as other new stuff, I'm always seeking out what other guitar players are doing. Also recently been into Kimbra and Emily King.
AD: What have setlists been like on tour? Do you play through the entire album or mix it up?
CW: Definitely been mixing it up. We normally do some songs from each of my releases There are probably four songs we play most nights but we have a lot of material to draw from. Sometimes a live song will really connect with people even though it's not one of my biggest Spotify songs so we'll play it live more often. We're rearranging and adapting. With Vulfpeck Jack likes to build a show which the jam fans aren't wild about because they want to hear a different setlist every night.
AD: Speaking of connecting with people, I saw one of my favorite Rochester bands a few months ago and I was bummed that they barely interacted with the crowd at all.
CW: People have different comfort levels on stage. I sometimes do a stream of consciousness bit on stage and have fallen flat on my face or surprised myself like "oh that was funny, how did that happen?" But I'm comfortable with that. I'm 90% flaming extrovert. Of course there are still those times where I need to be alone to recharge, but then I'm back. I like people.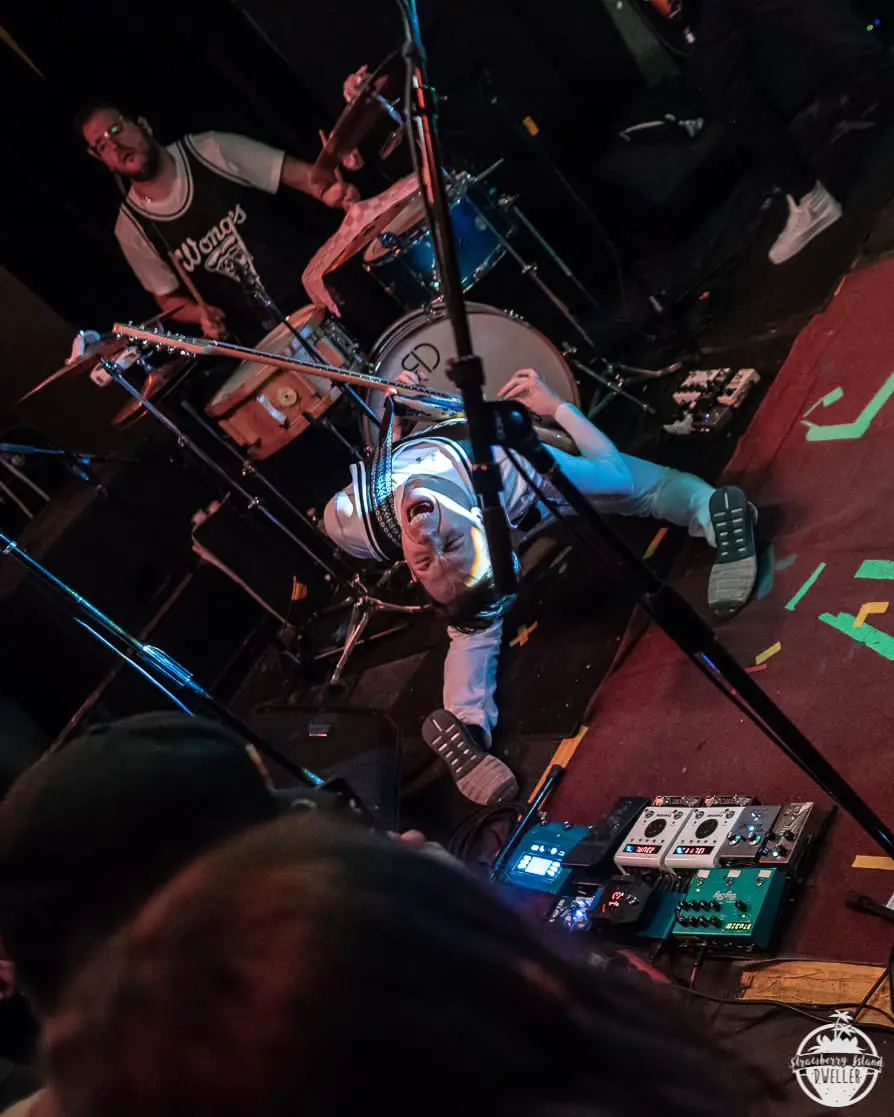 Show Review: Despite our two-hour hangout sesh, we didn't talk much about what happens at Cory's shows. I expected an awesome musical display, but what happened on stage that night involved more production than just a band playing through a set.
Once Cory emerged with his crew, he got right to business, laying out a few ground rules. He denounced how fans can tarnish the evening when "that tough guy stuff starts coming out." He asserted, "I want that to go out the window. Whether their skin is lighter, darker, looser or tighter, they are no better than you and you are no better than them." Immediately leveling fans helped connect everyone right from the start.
Once the show was in full swing, Cory Wong's stage quirks were as entertaining as his nasty guitar work. His facial expressions made it seem as though he was telepathically carrying out a hilarious conversation with his bandmates as he bounced around stage, toothily grinning.
His brand of humor also translated to the visuals projected on screen. Before "Pleasin," Cory announced, "We have a special surprise. We went halfsies with Flour City Station on super fast internet since it's super expensive, but we have a direct line with someone in an isolation booth." Before the video began, a man in the crowd sheepishly yet hopefully called out "Antwaun…?" He was not the only one pining for a glimpse of the singing legend himself. Moments later the singer appeared on screen while the band played along live. Though not in the flesh, Antwaun's universally adored spirit permeated the room as fans joyously soaked in his pre-recorded cameo.
Later in the set, the commercial for Cory Wong's "jam starter pack" was a comedic curveball for which the band came to a dead stop to broadcast mid-set. The fanny pack advertised was emblazoned with his logo, and among other things contained a packet of Smucker's jam and a fluorite crystal. If anyone knows how to market to the jam community, it's this guy. But you have to go to a show to get one since they're not available online.
Aside from the merch commercials (yep there were multiple), their show sprinkled in an amusing array of lo-fi visuals- we're talkin America Online logos and Tony Hawk Pro Skater demos. They provided an ironic contrast to the technical grooves laid down and created a multimedia experience that left the audience amused and amazed.