Brooklyn's own, Turkuaz, has released their fifth full-length studio album Life In The City. With a soundscape more vibrant than a rainbow, each track is crowded with intensity and expressionism. Life In The City paints the aura of a mundane, overstimulated world and bespatters the canvas with electro-funk graffiti. It's infectious, luring ghost-walkers in from the darkest alleys. Once the nine-piece powerhouse entraps your mind, life as you know it, will cease to exist.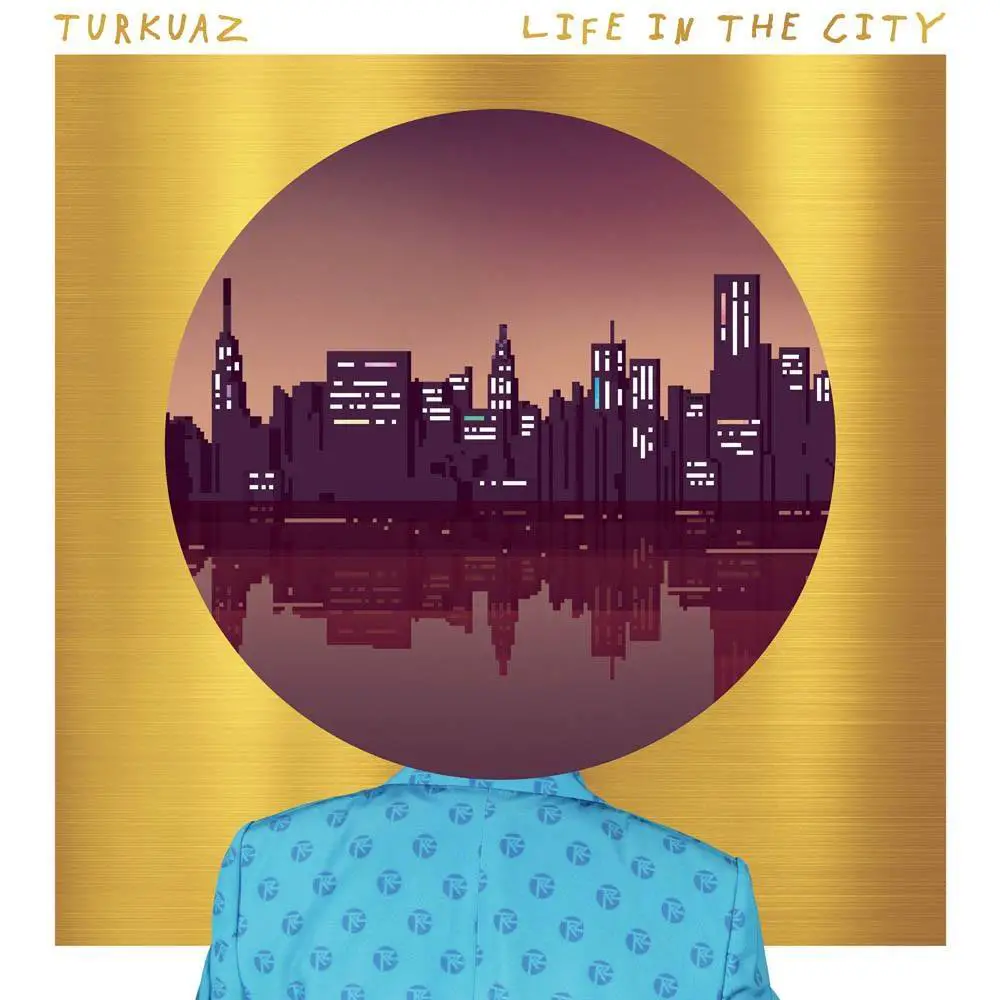 The title track, "Life In The City," sets the stride with heavy isolated synths and layered upbeat guitar.  The pulse is familiar, like walking. Weighted four-on-the-floor kick drum echoes the mass of worn shoes, marching without question. Every step brings a new impetus. The overtones and decay of the drums juxtapose reality as they ring out through a suspended chorus. Choir-esque harmonies, punchy horn lines and random hi-hat splashes seem chaotic, but become increasingly cohesive
"Life In The City  portrays a dark and dystopian future, or current city environment, full of over stimulus," said guitar/vocalist Dave Brandwein. "It gets harder and harder to appreciate life. Blind in the spotlight and caught up in the hustle and bustle of the city. We want it to feel that way in our songs."

Collectively the album is a constant echo of life. From a willingness to try and "just letting it come out", themes arose, like the reoccurring 'city noises' throughout the record. "Make You Famous" is full of funky-energy, bells and ambient percussion. Freeform keyboard leads squawk, reminiscent of Hancock's Head Hunters. "The Question" becomes more airy and soulful, with predominant female vocals, but as it fades away, synth taunts us with a motif from the title track.
Life In The City is the most elaborate Turkuaz collaboration to date, according to Brandwein. "If I Ever Fall Asleep," was co-written with Baritone Saxophonist, Josh Schwartz, with driving energy. The record was co-produced by Jason 'Jacko' Randall of More Sound Studios in Syracuse, Rob O'Block of Nashville and Dave Brandwein in the band's "home-base," Galaxy Smith Studios in Brooklyn. Moreover, Jerry Harrison of Talking Heads produced "If I Ever Fall Asleep" at The Bunker Studios. "It definitely doesn't hurt when an inspiration of the band, like Jerry, is on your side," Brandwein confessed.
In comparison to the daunting 24-track Digitonium, this release was boiled down to nine tracks. "All of those nine songs, I stand strongly behind," said Brandwein. " We actually recorded 20 songs. We will be trickling out material little by little, which is exciting." Turkuaz will debut the new record on a upstate New York run in early October at The Westcott Theater in Syracuse, Town Ballroom in Buffalo and Putnam Den in Saratoga with Butcher Brown. The band is excited to make their first appearance at The Capitol Theatre in Port Chester with Cory Henry & the Funk Apostles on October 19.  
"We're drawing from an eclectic pool of music," said Brandwein. For newcomers, check out Turkuaz's latest in-studio video. "I think that song combines a lot of things into one. You can see our energy. It's got the full package."
Key Tracks: Life In The City, Make You Famous, Lady Lovely