Pigeons Playing Ping Pong is one of the jam scene's hardest touring acts. With a stacked summer lineup of shows and festivals and a fall tour which expands to mid-December, it seems the band cannot sit still (which is great for us). In the midst of the madness of Great South Bay Music Festival I had a chance to sit down and talk to Pigeon's drummer Alex Petropulos to discuss their album Pizazz, their nonstop touring schedule, and what makes the band tick.
Ryan Randazzo (RR): In October you released Pizazz. What was the recording process like compared to other albums you've done, and how have you matured as a band since the last one?
Alex Petropulos (AP): We're so happy with how Pizazz turned out. We recorded it at Right Way Studios in Baltimore, and worked with a great engineer named Steve Wright. We've worked with him on prior albums, but this is the first studio album I'm personally on. I've been in the band for a good four years now, however, because of the timing when I came in, Pizazz turned out to be the first album that I played on, which was just thrilling for me. Before Pigeons I used to do a ton of session stuff, where you'd just be hired to play on an album, and I just enjoyed playing in the studio.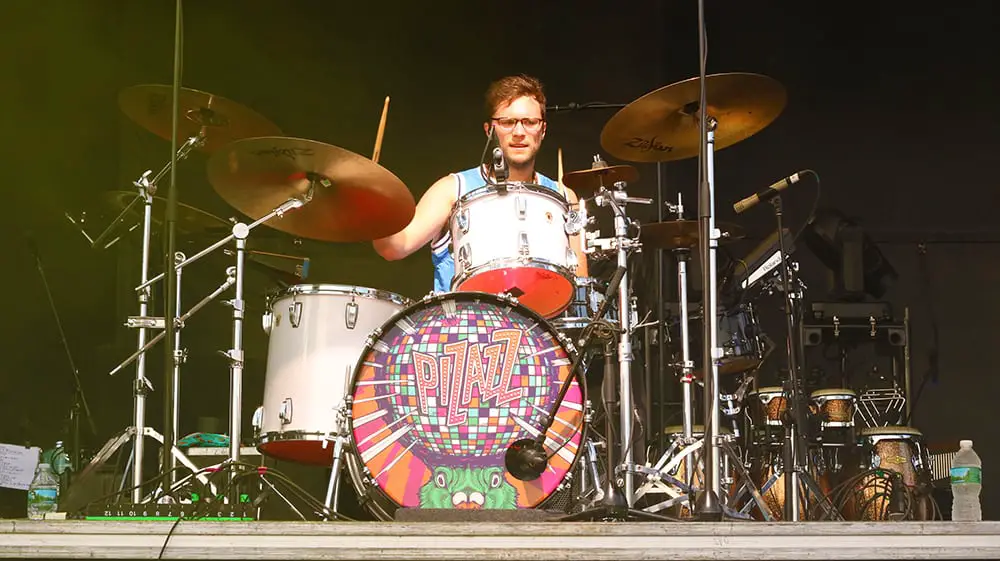 Pigeons and this scene is all about the live performance, so it's a little different for us to go into the studio. Our main goal was to polish these songs that might be new to some people, that we've been kind of working on and carving out for years. We've been trying to create a nice studio sound, and try to capture our live sound because realistically that's what we want. That's our scene, that's how we bring in most of our fans, with the all improv, high energy feel of the show- which can be tough to capture on an album, but we are so pumped. We think it's our best album, we've gotten great reactions. I love it, it's got a great funk sound, but still has those classic funk and rock undertones to it. Just the general vibe, I think it's a good mix for our sound.
As far as the songs themselves, some were newer. We're always changing songs and setlists are always different, so it was a good mix of newer songs and songs that we've had on our plate for a while that we've been morphing over time. That's another great thing- just seeing how we can tune in songs as time goes, which I think we do pretty well.
RR: You play a lot of festivals, but also do  an extensive tour, how does your festival sets compare to a normal Pigeons show?
AP: I love how we're able to do the hardcore, stringent night to night touring, but in the summer, it is mostly festivals. It is a different vibe, but in a good way. It's good to kind of switch that vibe up because festivals are often an hour to two hour set, and we kind of alter our minds for them. Our main touring shows we usually play two sets and an encore, and get to play for a long time with the ability to experiment and improv for a while, take a bunch of risks. With certain festival sets you have less time or are in a location where you might not know how the audience is since they might not know anything about us. Like if we play a pop festival, like Bonnaroo, we always try to stay true to our show. We never try to change the show because we think the crowd will be different, but it is something you always have to keep in your mind. If it's a more family environment we play songs that cater slightly to that while also not straying from our true show. Festivals you get a lot of new ears which is good. I like the balance of it all. In the winter and fall you're on the go every night, and the summer is still busy but different. We get to see other bands and hang out with them.
At jam festivals when artists are done playing they're not just leaving, everyone's hanging out. We're music fans too, and that's the biggest thing for us with festivals. We're fans just as much as anything. When we go to festivals, just like fans, we're checking the lineup, checking the schedule to see when we play and who we can go see. We meet up with bands who you talk to on the road, but only get to see them when you're playing with them.  It not only brings great shows together, but also brings the musicians together to hang and communicate, which is always great.
RR: Your fanbase calls themselves "the flock," as you've grown over the last few years, how have you noticed the fanbase has changed with you?
AP: "The flock" is technically the Facebook band group page, but we like to consider any Pigeon fan a member of the flock. It's constantly growing, and constantly blows our mind. We have fans, for their own pleasure, who will help us out. They post poll questions, do roll calls for shows, get together flock group meetings before shows. It's great. The community is amazing. It keeps everyone on our toes. They're our fans who we do see night to night more and more as we've gotten bigger. It's amazing you see the same fan night to night as the tour goes, and one big thing about that, in a good way, is it keeps us on their toes musically. We've never once repeated a setlist, which is something we like to keep up, but at the same time it also forces us to keep writing and making new music as opposed to just newer jams. When you see the same person every night, you think "oh wow, we've got to mix things up." We love writing music and are always trying to push more, and the constant support from the fans also pushes us to write more music, and create more for them. We know how on top of it they are, listening to every live show, and it's awesome. We feed each other. The fan group will hopefully keep growing as we go, but we're also growing for them at the same time. We have such a great following we're so appreciative to the flock.
RR: Where do you think most of your fans come from?
AP: I would say definitely the live show. Festivals are huge for us because it's easy to just check things out. There are a lot of festivals in the scene where you don't know every band, and that's a cool thing. Festivals are always great for getting new ears, but we're also always working hard and touring too. We're constantly touring. We used to play up to 200 shows a year, but now it's probably around 125. Connecting with the fans live during the show is big for us. We like to incorporate the fans, make eye contact, point people out during the show, make people laugh, and engage with fans during the show. I think that attracts other fans around. One thing I've always thought was good with our show was finding a good balance between crowd interaction and the fun, silliness on stage, but also balancing with a great show. I think we've been able to do that, and I think we also have a relatable show.
I love weird music, but we have a sound where even if you don't know who we are and you're at a club or something, you hear our kind of punchy dance beats, you're hopefully gonna start moving your head. I think our relatable, fun in funk style appeals to a lot of people who are just trying to have a good time and listen to good music. It's definitely all based around the live aspect for sure. It's crazy, we'll play a big show in our hometown, [Washington] D.C. or Baltimore, then we'll go out west to some place we've never been, like San Francisco where we just went for the first time, and there were just as many people. It kind of blows your mind. You wonder if there will be people, then its packed and you think "this is just like a hometown show." It constantly blows my mind how the flock seems to keep growing.
RR: As you've been learning a lot the last few years, what is the biggest thing you've learned in that time? What would you tell yourself five years ago that would be most beneficial now?
AP: I've always played music growing up, but never on this level. I've always dreamed about seeing a show at Red Rocks, let alone be playing one. The biggest thing I've learned, which I was lucky to have learned growing up, is to embrace every moment and constantly have the perspective of "wow, I'm able to do this for a living." You have to take every day. It's a lot of hard work and a lot of hard travel and you can get frustrated, but then you get days like this where you get to the site, look around and think "wow, this is work today." I get to hang out and see my buddies by the water, play an hour set, see Umphrey's McGee and Papadosio. We're always looking on the bright side. We're always trying to embrace what's around. Things can catch up with you if you're just waiting for the show. We love playing so much, but we also love the ride. We love going out before shows and finding good food and cool people. It's much more a community vibe than you would think. It's a grind, but it's a great grind.
RR: Who's your biggest influence as a drummer?
AP: As far as the classic guys, drummers like Steve Gadd who played with Stuff, and so many studio guys like Vinny Colaiuta, who played with Zappa and Sting. I love the old guys who revolutionized their own style and just pushed the limits, even just with their grooves. Gadd can sit by his kit for an hour and just groove, and respect that just as much as some crazy fast drummer. As far as new guys there are so many great drummers out there, especially in our scene. Kris Myers from Umphrey's is incredible. His endurance has always impressed me so much. They can get at it for three hours every night, and he's just roaring back there. Guys like Adam Deitch from Lettuce. Just hard workers. You hang out with them and they're chill, cool guys, but they're also real hustlers. I respect the hustlers and the guys with passion that are always trying to get better. Dave Dicenso is probably my favorite drummer ever. He's played with a bunch of acts and I got to study with him growing up a little bit, and he's like a guru master. He's probably my biggest inspiration when it comes to drumming.
It's hard to choose, there are so many great drummers. I also love finding drummers who I don't love necessarily for the music, for example Justin Bieber's drummer Devon Taylor. I don't listen to Justin Bieber's music, but he is still one of my favorite drummers of all time because I can watch him play, and whatever he's playing you can tell by the style and feel, he loves it and is pushing it to the limits. I love finding drummers that I don't necessarily relate to the artist they're playing with, but you can still see their passion.
RR: Do you have any personal goals that you'd like to achieve with the band within the new few years?
AP: I'd love if we played a headlining set on the summit of Mount Everest. I think with how technology is progressing we can make this happen. We were thinking of some sort of bubble apparatus that we're gonna put right on the peak of Everest, and try and control the climate so we have a good show. There will probably be at least 10 people there. That and the space station. We're working on Everest and NASA right now.
RR: What is the biggest challenge you've had to work on personally as a musician, or as a band?
AP: As far as the band, I was pretty lucky. I always grew up playing shows where no one was there, but as for Pigeons, I came in where the band was already well established and generating a decent amount of momentum and success. Not with Pigeons, but when I was younger the biggest thing was just appreciating the grind. There were shows where you'd put your heart and soul into it, giving everything you've got, posting flyers, and then you've got three or four people there. We've all played empty shows. It can be disheartening, but just playing is great. You know it's just a stepping stone, and you're gonna get through it.
With Pigeons we're lucky enough that we're constantly shocked with our crowd turnouts. We're past a certain point. There are still new markets, but we're getting past speed bumps, or slower markets. We've returned to some that might have been slower in the past, but now they're raging. It's great to see that progression. Having the patience is a big thing. It's such a crazy schedule you have to be patient, and just keep grinding and know that it'll be worth it if you truly believe in it. All the guys in the band believe in what we're doing, and it's helped us get to where we are. Keeping that motivation and always trying to get better is so important. We know too that even if things are going great now, its up to us to keep getting better and progressing. As our fan base grows, we have to grow too musically, and it's something we take pride in doing. Patience and perspective are the keys.
RR: Do you have any pre or post show rituals you do?
AP: When we're on tour and get back to the bus, we like to unwind with Kung-Fu movies. It sounds weird, but we'll play songs to it. We'll put on funk music that we've never heard, and just play movies and it oddly lines up pretty well.
Pre-show everyone's just prepping. We'll do a little team meeting before we go on then our sound man will give our infamous "bird call" through the radio, and that's when the show begins.
RR: You guys have so much energy every show, how do you keep it up so consistently every night?
AP: Everyone's able to get in this great mindset. I grew up playing a lot of sports, and music isn't sports, but before a game player's get in their headspace. We do the same; we prep in different ways. We all have a good understanding that our battle days and show days are long days of work, but when it comes down to the actual show, the show is almost the quick part. At festivals we know we only have an hour or two to get out there and show the fans what we're about. We don't want to look back and think "I could have been a bit more into it." Everyone knows that right when you step on that stage we're committed, and that set time is the entire time we have to throw it all out there. There are days when we're tired and have been doing a lot of travel, but it just washes away right when we take that first step on stage. You just get amped. It's hard not to get excited when you walk into a setting where everyone's cheering for you. It's just fun watching people dance, go nuts with their friends, and throwing their arms up for peaks. Energy is constantly feeding back and fourth between the crowd and the audience. You're riding a high, and it's just an adrenaline rush. You come off stage and sometimes the set feels like it was ten seconds long because it was just a blur. It's important to never take a set for granted, that's for sure.
RR: Do you have any big plans for next year?
AP: We book a long way ahead of time, so we're looking forward to a long next year, which is in the works. Seeing the tours grow in little ways, like going to a city and being bumped up a venue, is always really exciting. We've got a great group that helps us book our show and a great team. You can feel the momentum. Shows are getting bigger and we know that. It's something we keep pushing, and we're always keeping busy. We love seeing new places and trying out places we've never been to, but also returning to a venue that we know is gonna rage. We're constantly working to grow and trying new things. We love jam festivals, but also stepping outside of our box by playing festivals like Bonnaroo or Euphoria, which aren't jam band festivals anymore, but if all goes well that's how we know we'll get new ears. We love the mix of the jam community and trying to expand to new things, try new crowds, and new styles. Even with our writing, we're always trying to progress that. With the position we're in we've got to keep moving forward, and we can't just think that we're good because things are going well. That just means we have to work harder.
RR: What's the most exciting thing that's happened to you since joining the band?
AP: This actually just happened. Jay Blakesberg, amazing photographer, we love Jay and we've gotten pretty close to him, and we've been able to work with him a good amount. Last weekend we saw him a couple of times, once at High Sierra Music Festival, and I was wearing my Primus Pork Soda shirt with the album cover. He saw me and said "Alex, nice shirt. That's a photo of mine, I took that album cover," so he told me all about it. I thought it was funny because I'd been wearing that shirt for years and didn't know he took the photo. Then a couple days later we're at Red Rocks and I'm wearing a Bill Walton Celtics jersey; one of the greatest basketball players ever who's also a big Grateful Dead fan. Jay came up to me and said "Alex, nice shirt. I know Bill Walton really well I'm gonna see him tomorrow and tell him you wore that shirt." I was like "what is it with the clothes I wear with Jay Blakeserg?" So, I was freaking out about it, then later we got an email from Jay because he took a photo of us in front of the crowd and I had my Walton jersey on.  He sent it to Bill and Bill sent a response to forward along to us saying that he loved the picture and thank you so much. It was just unreal. Growing up I was always a big basketball guy, and the Celtics and Bill Walton are guys on your Mount Rushmore of players. I'd never thought he'd be thinking about me, so that gave me goosebumps.
RR: What advice would you have for young musicians?
AP: One thing I always tell young musicians, and I know I keep harping on it, is the grind and perspective. Particularly with drums, when you're a young kid taking drum lessons, you want to get behind that kit and just start wailing, but the first couple years of drum lessons are just the snare drum and technique. Same with any instrument. There are kids that will start because they see their idols ripping, and they don't realize it takes years and years to get to the point of being able to do that. But once you do get over that hump, then it's just pure fun. It's still fun to do all that stuff, but it's stuff you have to work on. It's repetitive and not as flashy, but once you get over that initial hump of learning the basics, as with anything, that's when you can train and push yourself to try and do new stuff. You have to do it the right way. Some kids will skip lessons and just go nuts and try and learn. Obviously, do what you want that's fun, but as far as the real road to learning and being a musician it's important to keep grinding those first few years and I promise it only gets more fun and opens up more doors from there.