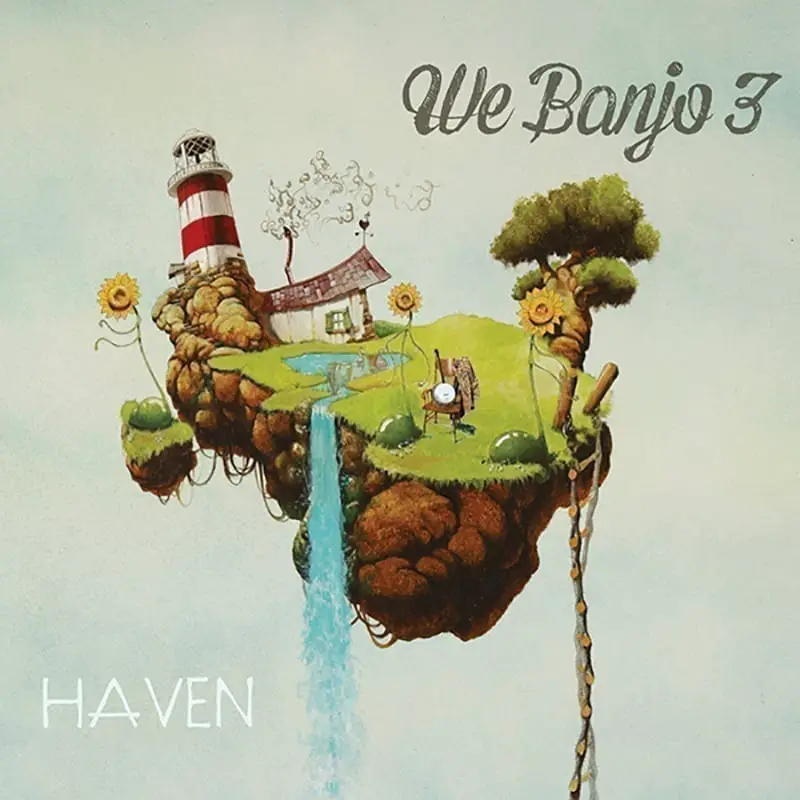 On July 27, 2018, as We Banjo 3 make their first appearance at the Great American Irish Festival, in Frankfort, NY, they will also be releasing their fifth album titled Haven.  As lovers of both bluegrass and Celtic music, these four musicians from Galway, Ireland have dubbed their sound as "Celtgrass" and achieved the perfect marriage of both sounds.
The album starts out strong with the title track "Haven," a song of wanting to escape the daily grind that surrounds each of us every day to a personal haven.  We each need a haven to regenerate and refill, and to each of us it's different. Whether it's a person, place, or thing, the song inspires us to find that haven and refuel our souls.
Recently I spoke with band member David Howley about the new album and a few of the songs that really resonated with me. He told me that "the idea of (the song) 'Haven' came about organically. The world is crazy right now, probably no more crazy than it's ever been, but we are all reaching a boiling point. Art, music and culture have always provided relief amidst the chaos. We realized that so many people come to our shows to dance, sing and step away a little from the every day, to recenter on what's truly important. That interaction is what fuels us as a band, the smiling eyes or the tear of empathetic harmony that rolls down someones face, it means we're down to our human level and that's where people can be fully present. We are not claiming to know how to fix things or to change things; we just know how to get people to dance like new born baby giraffes and sing like they wrote the lyrics themselves." And for those of us that dance like new born baby giraffes, we can totally relate. Music is a haven for us all and this song is a perfect depiction of that. Loved the song, and loved the horns within it.
As you get deeper into the album, they pick it up in the next couple songs with quick tempoed banjo and fiddle numbers.  In "Light In The Sky," you can't help but be inspired to follow your dreams while, with "Sugar House," you're grabbing the nearest partner to cut a rug. True 'Celtgrass' magic these two numbers are.  I loved how the "Sugar House" progressively sped up, exhausting you and encouraging you to keep up at the end. You would definitely get your steps in on this one if you were on the dance floor.
I'm a sucker for love and in "War of Love" you can't help but reminisce about the one got away while watching them move on. Loved the beautiful writing and harmonies on this one with Sierra Hull.
In "Annabelle's Cannon," you have the perfect blend of musicianship – great banjo, great fiddle and great mandolin in this number.  Okay, I just love the melody of this one which made it all great in my book. The beauty of it is that they each were featured perfectly, never competing with each other, only accompanying each other as they took turns front and center…and did I hear an electric fiddle or cello in there, friends?! Not quite sure of which it was, but great add!
"Pack It Up" has a very folksy vibe to it and I specifically liked the progression of the song to the climatic end of musical movement.
On "Marry Me Monday," I love this love song's vibe. It makes you want to grab the one you love, or would like to love, and take a twirl to this classic Celtic waltz. Definitely a favorite for this season's wedding dances.
"Sunflower" is an inspirational quirky tune. With lyrics about love, I found this number very uplifting and loved the harmonies on this one.
"Don't Let Me Down" is my favorite number of all on this album.  It's a beautiful love song that is beautifully written, with beautiful musical composition and outstanding harmonies – a true example of less is more. You'll see what I mean when you listen to it. Just beautiful! Too many beautiful's? Nah!
"Dawn Breaks" is my second favorite track on the album. It's a true Irish jig mixed with a peppering of bluegrass music. It's a perfect marriage of both and shows the true musicianship of all the members of the band in this number. It's a party in a song; some mighty fine craic here!
"Hold Onto Your Soul" is my third favorite.  Although a bit serious in its message compared to the others on the album, it's beautifully written and conveyed.  I asked David about this song. He told us that, "'Hold On To Your Soul' sprouted from an idea our banjo wizard Enda had, a heartbreaking story that is so common in today's metal health climate. He and I sat down in a hotel room in Tokyo and grew it a little more…we got together as a band and watched as it kept growing into the song it is now. It's brutally honest, and doesn't shy away from how it really feels to be down. The message of the song is that when your right there, as low as you think you can be, that's when you just need to hold on a little longer and things will get better."  This a message that so many don't tackle. It's something that should be talked about more, however, tends to be taboo. So through these lyrics, they speak to so many, sending a message of hope for tomorrow.  Although things may look bleak today,  just "Hold on for tomorrow / Your time will come / This too shall pass  / And there's nothing to fear / Hold on for tomorrow."  It's an amazing number all around. I applaud them for tackling the subject!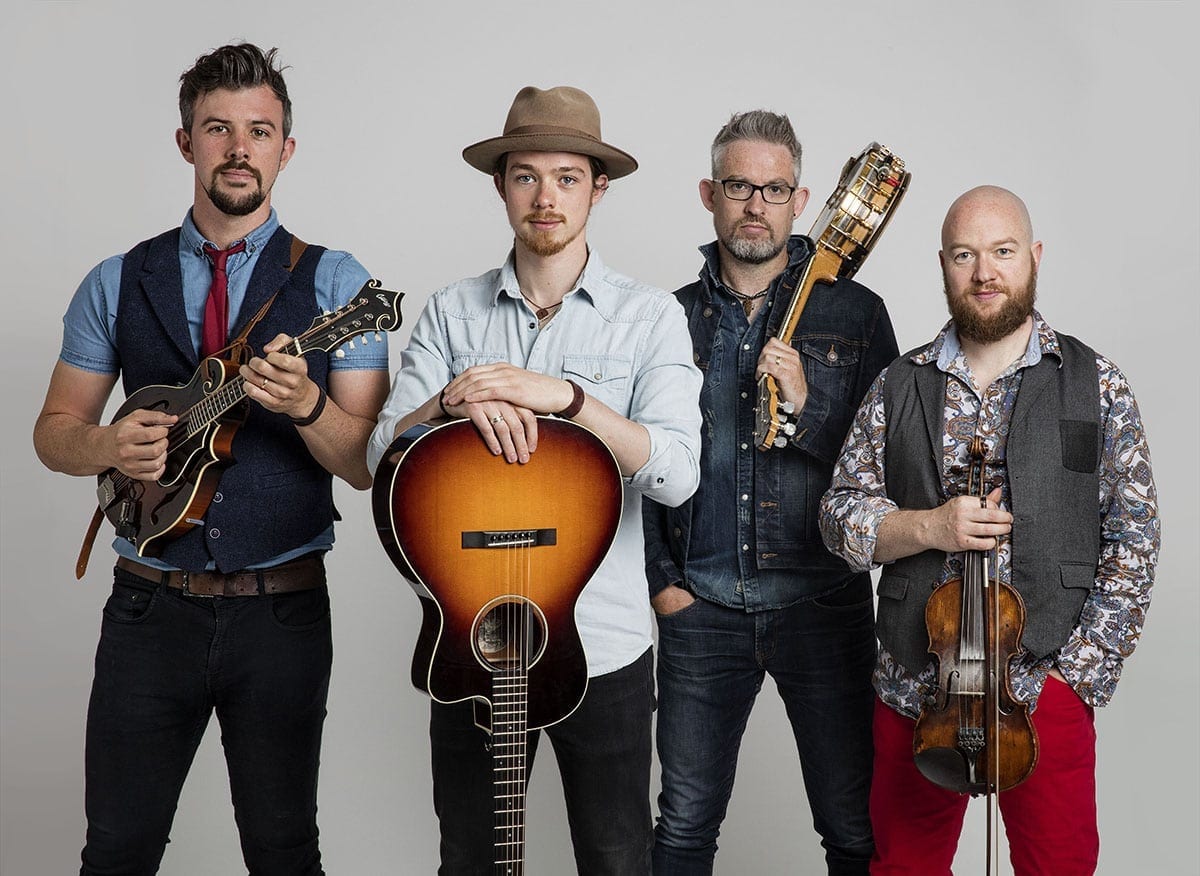 You can't help but be happy listening to this album. I'm a sucker for a banjo and fiddle, but the compilation of the lyrics and music weave a story of love, adventure, hope, celebration and community throughout the whole album.  Although I've been around the Celtic music scene now for about twelve years, this is the first time I've heard their music and I was very impressed. They lived up to all the hype I've heard and blended two of my favorite genres to make the best of both worlds.
Being a newcomer to their music, I asked David if he felt this album was different or an continuation of a story of their previous albums. "Our previous albums are all perfect snapshots of where the band was at a point in time. This album is a little different, it was written, recorded and mixed with a sense of risk. We've never been as honest in our writing before, from love sappy songs to songs about going to your ex-girlfriend's wedding, we tried to stay honest and not shy from uncomfortable feelings. Mental health is a big theme of the album because it's been a big theme in all of our lives, but we also wanted to portray that 'Haven' is a safe space for people to come and just be free."  I look forward to exploring their other albums as well as seeing them live as I have heard they are highly energetic and this energy is impossible to capture in an album.
Join me this year at the Great American Irish Festival to feel this energy, share their message, and welcome them for the first time as we are extremely fortunate to have them playing here.  Take a ride down, grab their set, grab their new CD and meet them as they bring their musical Haven to the festival.
Key Tracks: Don't Let Me Down, Dawn Breaks, Hold On To Your Soul