Southern rock and roll rose up in Saratoga Springs at SPAC on July 3rd, with special guests led by Greenville, South Carolina's Marcus King Band, Tuscaloosa, Alabama's Drive-By Truckers and Jacksonville, Florida's Tedeschi Trucks Band. If that lineup of musicians doesn't conjure images of extended soulful guitar solos and rock n roll in the vein of The Allman Brothers Band, you may need to eat a peach. Over three hours of combined music, these three bands combined for one of the most rockin' shows this year, and a treat for anyone able to see the Wheels of Soul tour and is treks across New York State and the country this month, headed west for a two-night run at Red Rocks in Colorado.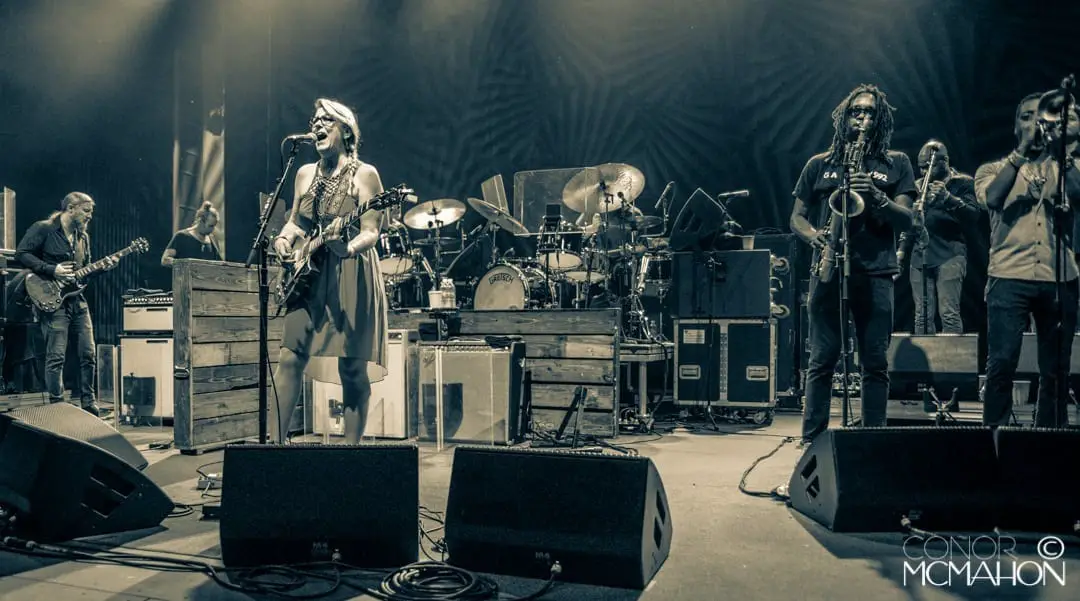 Opening with "Tell the Truth," TTB's love for Clapton shone on both ends of the set, with "Key to the Highway" appearing later in the set. "Don't Know What it Means" with its blaring horn intro and Tedeschi's pipes never fails to get bodies moving, and a giant sax bridge from Kebbi Williams segued perfectly into "The Letter." A smooth jam in "Little Martha/Midnight in Harlem" preceded covers of Dylan's "Down in the Flood," and the Stevie Wonder written/The Band performed "Loving You is Sweeter Than Ever," then punctuated by "I Want More," an original that crescendoed like a rock orchestra, ending with thunderous drums from the duo of J.J. Johnson and Tyler Greenwell.
The earlier performers of the evening were welcomed to the stage eagerly by both band and audience. Drive by Trucker's Patterson Hood joined in on "Let me roll with it," a sing along featuring double driving guitar via Hood and Trucks. Marcus King joined on guitar and vocals for Clapton/B.B. King's "Key to the Highway" where Mike Mattison showed monster presence with his powerful vocals. To close the night, the band welcomed Eric Krasno of Lettuce and Soulive fame and Tash Neal from London Souls for an enthusiastic "Statesboro Blues."
There is as mantle for the wider Allman Brothers Band family, including Gov't Mule, Les Brers, Great Southern, Derek Trucks Band, Tedeschi Trucks Band, and many more yet to come. To see any is to experience the full southern rock band sound, the real deal, every time.
Setlist (via setlist.fm): Tell the Truth, Part of Me, Don't Know What It Means, The Letter, Little Martha/Midnight in Harlem, Down in the Flood, Loving You is Sweeter Than Ever, I Want More, Let Me Roll It*, Laugh About It, Key to the Highway^, Shame, Bound for Glory
Encore: Statesboro Blues+
* w/ Patterson Hood
^ w/ Marcus King
+ w/ Eric Krasno, Tash Neal (London Souls)