The 26th annual New York State Blues Festival has expanded to three days this year. The extra day of the free festival in Clinton Square has allowed organizers to bring in additional national acts, including Thursday's headliner, sister duo, Larkin Poe and several local acts.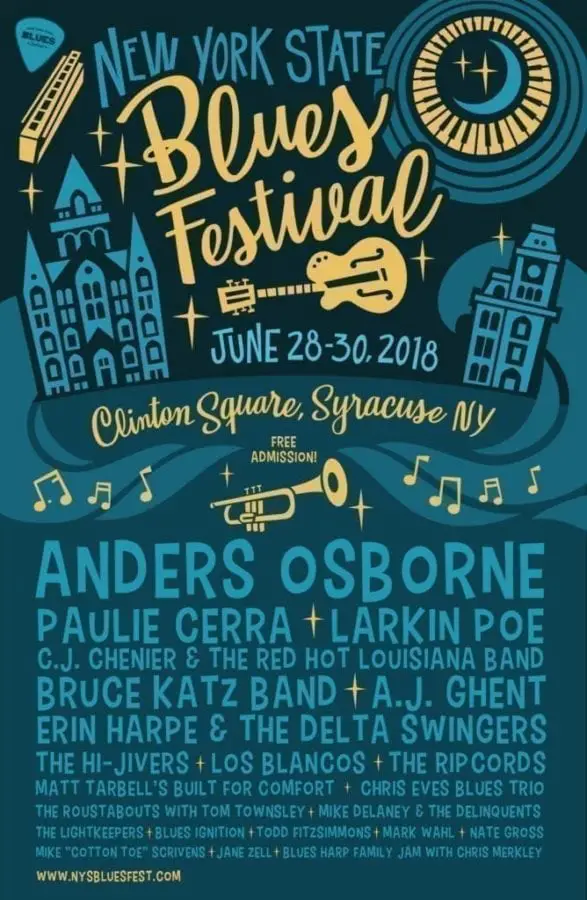 Anders Osborne, C.J. Chenier and the Red Hot Louisiana Band both bring a Louisiana flair to the festival as well as local legends, Los Blancos, who have been known to dip into some Zydeco from time to time.
The festival kicks off Thursday with local blues/soul act the Lightkeepers at 5:00 p.m. They were recently featured on Soundcheck Live at Subcat Studios. You can catch their electric performance below.
Central New York native and saxophonist in fellow Central New Yorker, Joe Bonamassa's band, Paulie Cerra, is the Friday night headliner for the festival.
In addition to all the action on the main stage in Clinton Square, four venues will be providing free live music on Thursday night. The Dinosaur BBQ on Willow Street offers Anonymous Willpower; Empire Brewpub on Walton Street features Jimmy Wolf performing with Todd Minerd and Zubby; Neil Minet performs at Funk 'n Waffles on Clinton Street and Shifty's features the Barking Loungers. Shows at the Dinosaur, Funk 'n Waffles and Empire begin at 9:00 p.m., while the Shifty's show kicks off at 8:00.
Everything kicks off with a pre-party Wednesday night with Jack Broadbent at the Syracuse Marriot Downtown. Opening the show for Broadbent is Colin Aberdeen and Max Eyle. Broadbent is being hailed as the "new master of the slide guitar." Tickets for this show are $20 and are still available through the festival website. See the daily schedule below and check out the Spotify playlist curated by festival organizers to get a taste of what's in store.
Thursday June 28:
5:00 p.m. – The Lightkeepers
6:10 p.m. – The Hi-Jivers
7:30 p.m. – Larkin Poe
Friday June 29:
3:00 p.m. – Blues Ignition
4:00 p.m. – Chris Eves Blues Trio
4:50 & 6:00 p.m. (side stage) – Jane Zell
5:10 p.m. – Matt Tarbell's Built for Comfort
6:20 p.m. – The Ripcords
7:30 & 9:00 p.m. (side stage) – Nate Gross
7:50 p.m. – Erin Harpe & the Delta Swingers
9:20 p.m. – Paulie Cerra
Saturday June 30:
12:00 p.m. (side stage) – Workshop: Blues Harp Family Jam with Chris Merkley
1:00 p.m. – Mike DeLaney and the Delinquents
1:40 & 2:55 p.m. (side stage) – Mike "Cotton Toe" Scrivens
2:00 p.m. – The Roustabouts with Tom Townsley
3:15 p.m. – Los Blancos
4:10 & 5:40 p.m. (side stage) – Mark Wahl
4:30 p.m. – AJ Ghent [ j-ent ]
6:00 p.m. – Bruce Katz Band
7:10 & 8:40 p.m. (side stage) – Todd Fitzsimmons
7:30 p.m. – C.J. Chenier and the Red Hot Louisiana Band
9:00 p.m. – Anders Osborne