Albany-area jamband, Formula 5 has lent its name to a new shake in Capital District Ben & Jerry's scoop shops. The band is also set to host its Rock the Dock Music Festival in Lake George on July 13.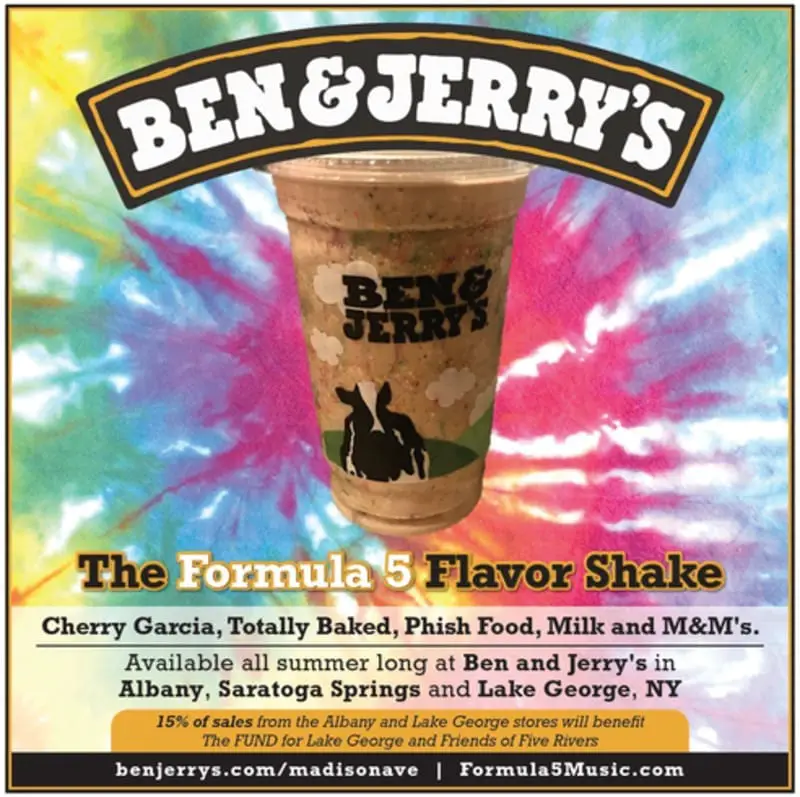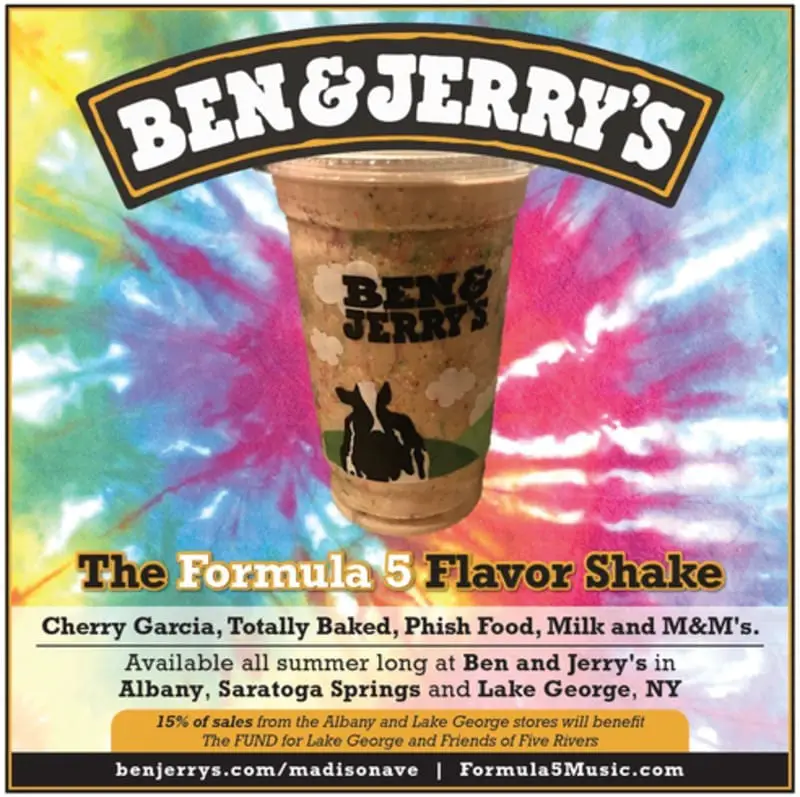 The Formula 5 Flavor Shake combines the iconic Cherry Garcia, Totally Baked and Phish Food ice creams with mini M&Ms and milk. It is available throughout the summer at scoop shops in Saratoga Springs, Albany and Lake George. A portion of the proceeds from the sale of the shakes will benefit the FUND for Lake George and Friends of Five Rivers.
Albany scoop shop co-owner Mike Sperduto said of the shake
"Bringing Ben & Jerry's and Formula 5 together to mix up a shake just made sense. From The Grateful Dead and Phish to Willie Nelson, we keep our eyes on the smile, music and ice cream, so taking this to a local level made sense, and especially with the commitment of a band who embraces our values really solidified it for us."
Watch the Formula 5 commercial advertising the new shake below:
The band is also set to host its second annual Rock the Dock Festival on the dock of the Lake George Steamboat Company in Lake George on July 13. In addition to the host band, other artists performing at Rock the Dock include, Soule Monde (Featuring Ray Paczkowski & Russ Lawton of Trey Anastasio Band), Strange Machines and Let's Be Leonard.
Luke Dow, event manager for Rock the Dock, shared background on bringing the event to the docks on Lake George:
"Rock the Dock was started as a way to celebrate the Lake George Steamboat Company's 200th anniversary by doing something that the company has never done in its history, hold a concert on the pier. The free concert was a way of giving back to all the loyal patrons as well as showcase the talents of local artists and food trucks. This year's festival will also be focused on giving back, with 25% of all ticket proceeds benefiting the FUND for Lake George, to help with their efforts to keep the lake clean and pristine for years to come."
Tickets for this year's festival are $7 and available at the Rock the Dock website.
Formula 5 recently covered the Rush classic, "La Villa Strangiato" at the Hollow Bar and Kitchen in Albany. This performance marks the first time the band has covered Rush in a live setting.