"I don't make enough to hire someone to tune my guitar, so bear with me," said the Record Company's guitarist/vocalis Chris Vos as he tuned his acoustic guitar between songs. It's only a matter of time before Vos will be able to afford his own guitar tech. If Saturday night's show at Syracuse's venerable Westcott Theater is any indication, this band won't be lugging around their own gear much longer.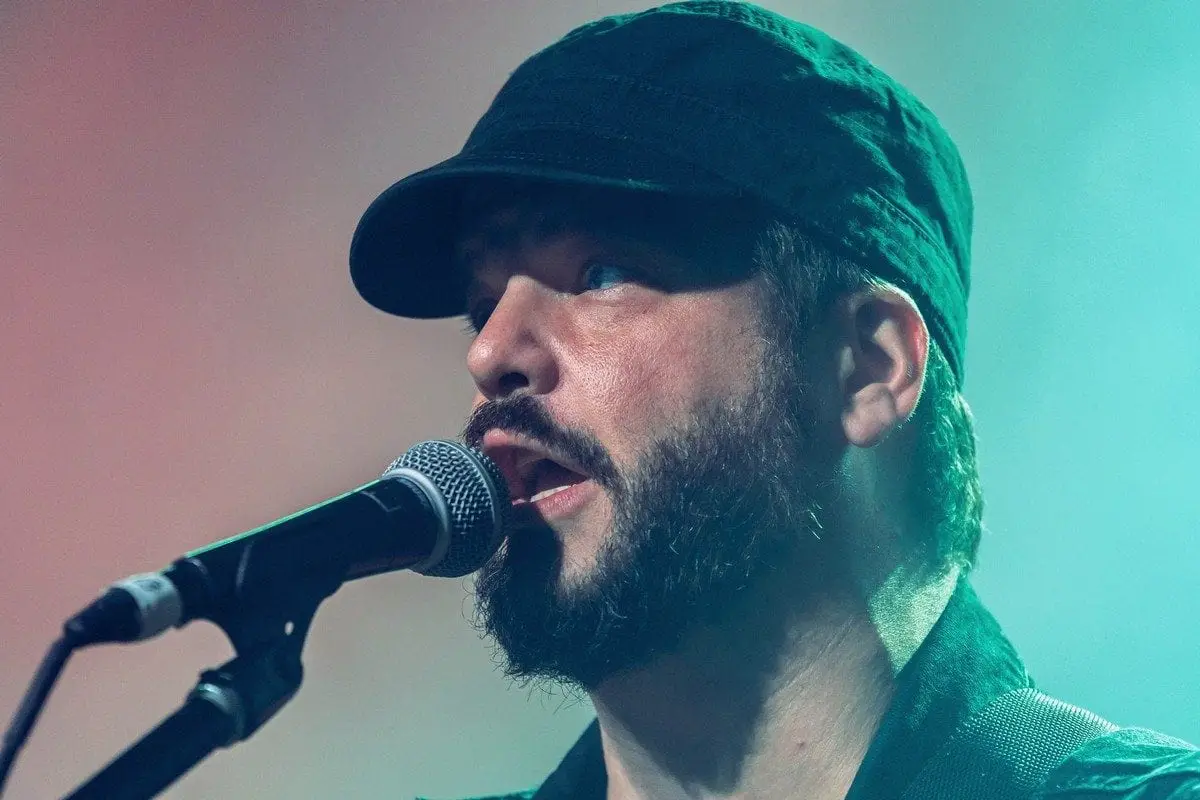 The Record Company, a Los Angeles-based blues rock trio, returned to Syracuse's Westcott Theater almost exactly one year since their last visit, playing to a larger, more enthusiastic crowd and paying that multi-generational crowd back in spades with a spectacular performance.
The band kicked off the show with Elmira native Marc Cazorla's swinging drumbeat on the latest single from the upcoming album, All of This Life, "I'm Getting Better (And I'm Feeling It Right Now)." Vos' harmonica quickly turned this swing number into a bluesy stomp, his voice eerily reminiscent of an exuberant Mark Sandman, the late Morphine front man. The late arriving crowd was into the groove immediately and Vos fed off this vibe the entire night. It would be accurate to call this band a power trio; the power coming from the stage was electric all night.
Their music is derived from the blues and one can hear similarities to other minimalist blues-based outfits from the 2000s like The Black Keys and White Stripes. The difference is The Record Company also pivots between a soulful, gospel style and, with its latest offerings, some pop sensibilities and bass. Alex Stiff is a monster on the bass. The influences on this band range from Al Green to Led Zeppelin to The Grateful Dead to John Lee Hooker to the Beastie Boys and everything in between.
Their second number, "Baby I'm Broken," had Vos break into Chuck Berry's patented duck walk across the stage as he threw down a blistering solo. Bassist Alex Stiff featured prominently throughout the night, but especially in "On the Move," from the band's Grammy-nominated debut album Give it Back to You. His bass lines served as both a lead and keeper of the groove simultaneously.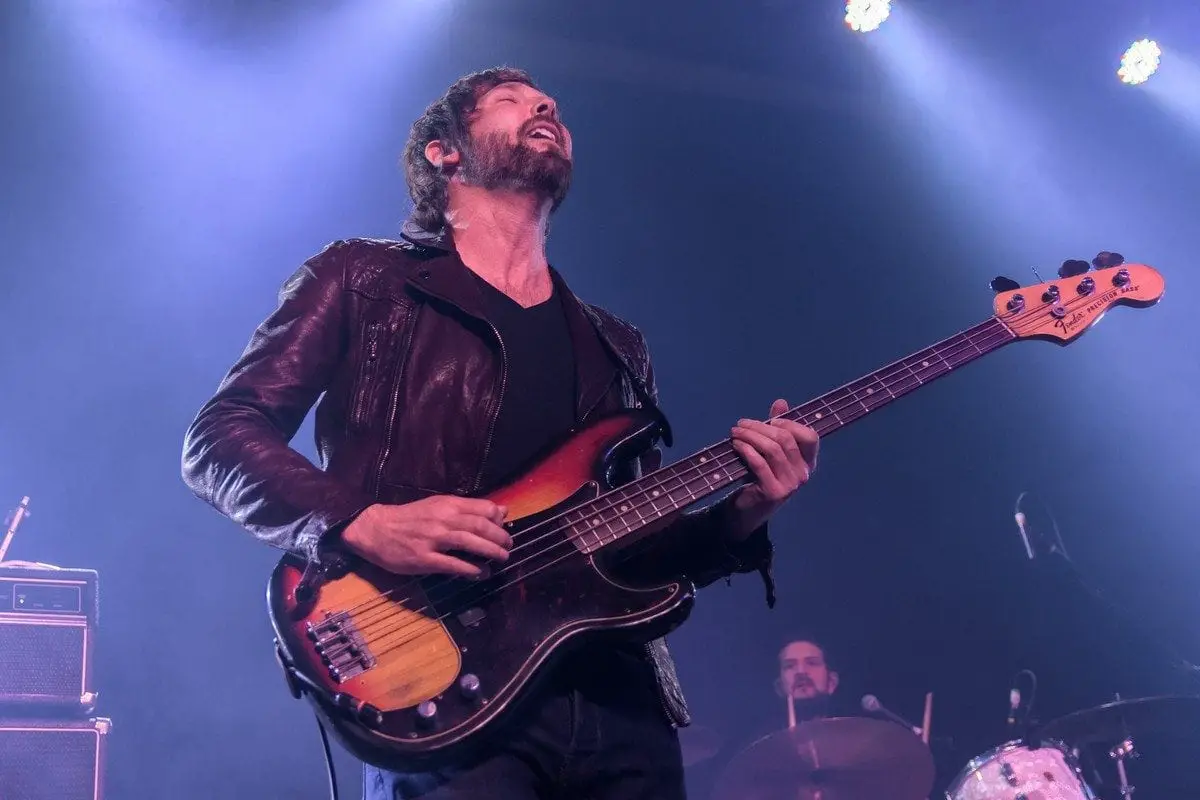 The woeful hit "Rita Mae Young" showcased Vos' lap steel prowess and soulful vocals, something he takes great pride in and with good reason – he shreds. He was assisted on the chorus by those in attendance, inducing a chuckle and an admission that he had forgotten to sing because he was distracted by the audience's vocals.
Over the course of the near-90 minute performance, the band's appreciation for their audience increased exponentially. The feeling was obviously mutual. Prior to busting into the new song "Life to Fix," Vos commented, "There's been rumors going around that rock and roll is dead. I say, 'Fuck that!' Come see a rock and roll show before you say that." This was met with uproarious applause and the opening riffs to the new single.
Usually, when a band breaks out a new song during a show, especially one on an album that has yet to be released, you can count on a number of people to take that opportunity to refresh their beer or visit the rest room. Not so on this night, and it did not go unnoticed by Vos. This show opened with a new song and had several others sprinkled throughout. Vos thanked the crowd following "You and Me Now," saying, "Thanks for listening to the new stuff. We don't practice it because it might take some of the edge off."
The main set finished with the appropriately titled "The Burner," which did exactly that. Vos threw his acoustic guitar across his lap and ripped into the slide intro and that Vos falsetto. The lap steel is his go-to and he made his guitar absolutely wail during this version of "The Burner." The crowd clapped along to the call and response from the lead man while Stiff kept the beat. Vos dropped a Stones' reference before manically kicking up dust onstage to finish off the sweaty set.
Vos came out solo for the first of two encore songs, performing a heartfelt acoustic song titled "I'm Changing." His bandmates were visible backstage singing along with his introspective lyrics: "I got devils in my eyes, tapping in my night…" Much of The Record Company's songs have soul-searching lyrics. This one foots the bill perfectly. But while they tend to reach into their hearts and souls in their original compositions, they aren't above just having a helluva party. Exhibit A: The final song of the night, a bluesy take on the Beastie Boys' "Sabotage." Last year's Westcott performance featured another Beasties' cover "So Whatcha Want." The Record Company ended the night on a satisfying note with the crowd pogoing and shouting along with Stiff's distorted bass lines and beat box drumming from Cazorla on this mid-90s Beasties punk classic.
Opening act, Tthe Suitcase Junket, otherwise known as Matt Lorenz, is a one-man band, employing a unique style of guitar where he employs a dumpster-found, amplified, acoustic guitar with flailing strings, along with an array of original percussion instruments and a unique throat vocal that somehow sounds like a tin whistle.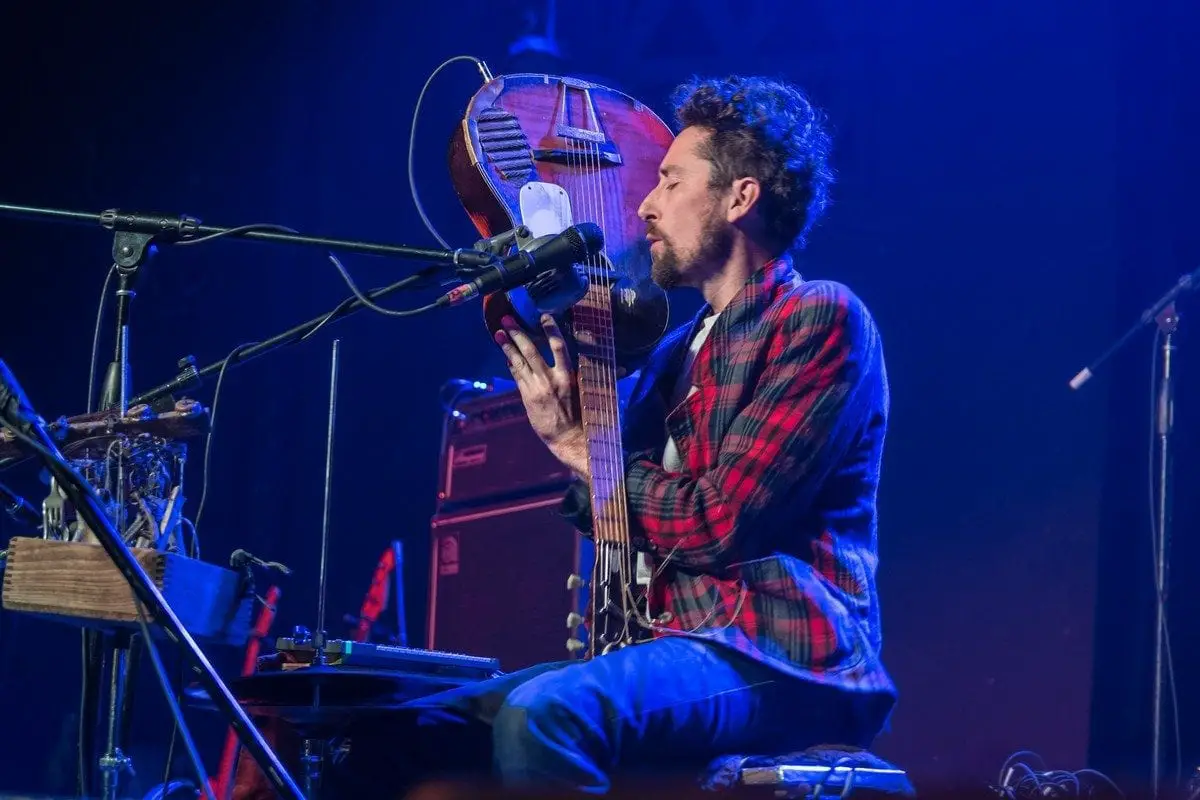 The lack of accompanying musicians is virtually unnoticed with Lorenz's act. He sounds like a full band, incorporating such unorthodox instruments as a gas can baby shoe foot drum, a circular saw blade bell and a box of bones and silverware that serves as a high hat. He'll, at times, sing into his guitar's pickups, creating a distorted vocal effect, followed immediately by his throat vocal, all while throwing down some heavy power chords.
This one-man band is also a one-man Vaudeville show. In between songs, he took jabs at himself and his instrumentation, introducing his "band," discussing what each "member" of his "band" contributed to the sound of the Suitcase Junket. His self-deprecation banter between songs endeared him to the audience right away, a rarity for an opening act. Record Company lead man Chris Vos, while thanking the Junket for performing, mentioned that Lorenz is the artist who has opened for The Record Company the most times. The Suitcase Junket was the perfect opener for the Record Company – an artist true to the art form and original.
Syracuse has always been championed as a blues town. The support shown to The Record Company on this night is a testament to this. At one point in the show, Vos asked the crowd who had never seen them perform before and who had seen them perform. The number of people who had seen them far outnumbered those who hadn't, at least according to this unscientific survey. Syracuse IS a blues town. And now, Syracuse is also a Record Company town.
The Record Company Setlist:
I'm Getting Better (And I'm Feeling it Right Now), Baby I'm Broken, Everybody's Gonna Make a Movie, Rita Mae Young, Feels So Good, Turn Me Loose, On the Move, Life to Fix, This Crooked City, Off the Ground, You and Me Now, The Burner. E: I'm Changing (Vos solo), Sabotage (Beastie Boys cover)