Little Steven and the Disciples of Soul brought a crowd of 900 to church on Friday, May 4. The full band of 14, including 5 horns, 2 pianos, 2 percussionists, 1 guitar, 1 bass and 3 back up singers, were joined on stage by Little Steven a little after 8 pm.  As the wall of sound overtook the Palace, it became immediately clear that the crowd was about to get some soul nourishment through old-fashioned big band live music.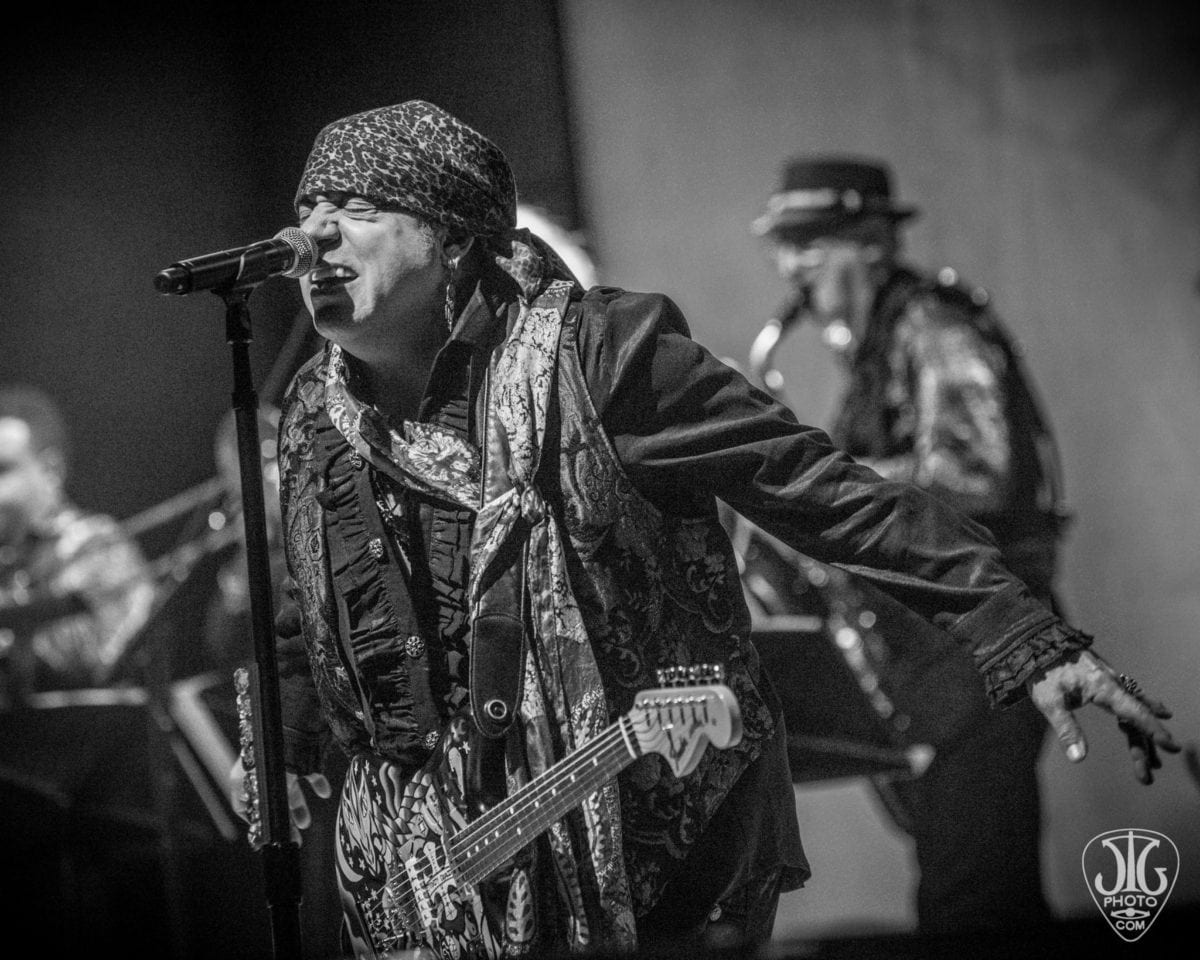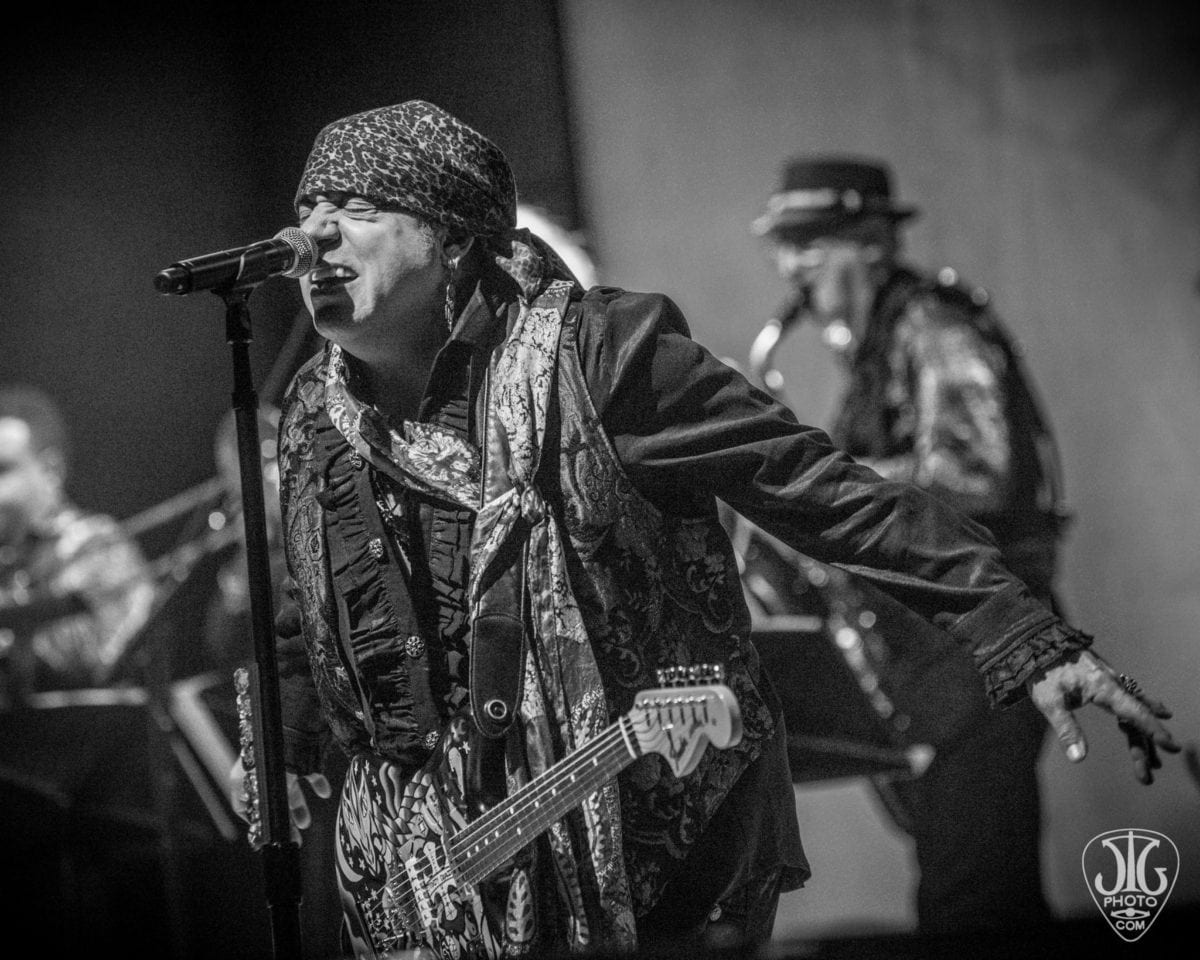 Little Steven spoke to the crowd repeatedly through the concert, asking initially if the crowd liked "good music" as he pointed out dancing, head bobbing fans in the seats. As the band roared through their set list, memories of Little Steven's history playing in the E Street Band and with Southside Johnny flooded the theatre. The top-notch musicians created chord progression after chord progression of satisfying sound, filling the space with covers and new songs alike and bringing the audience to a fevered pitch of joy.
Ever the entertainer, Little Steven was in constant motion. Between removing his trench coat, pointing to band members to cue them to take solos, and dancing with his fans, the star powered his way through five songs before taking a break and instructing his audience to "sit and relax" too. He announced the release of the group's live album and dedicated the night to the teaching profession, noting, "It is time to give them the respect due." He added he probably should also dedicate it to those teachers he gave a hard time to in school, which drew laughter from the agreeable crowd.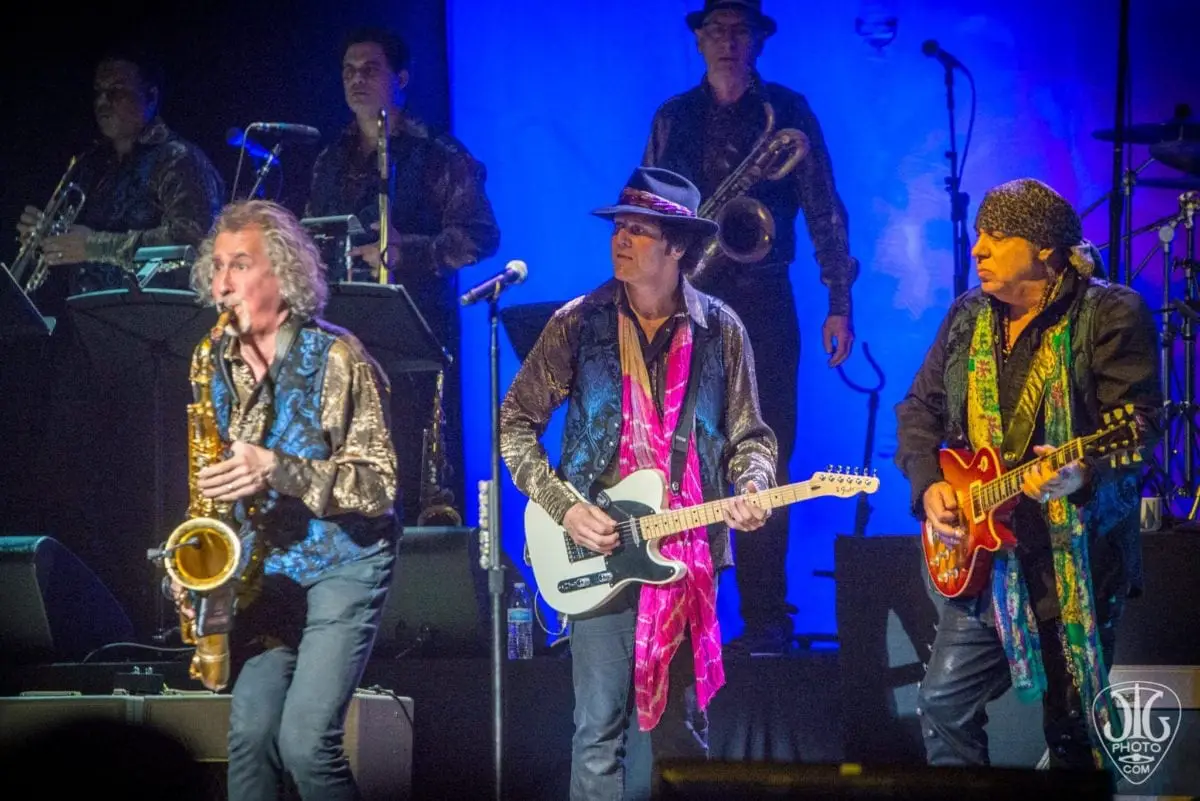 Steven graciously shared his stage and highlighted talent within his band, giving ample opportunities to each section for solos and audience applause. Generous and joyful, Steven reflected on how live music can nourish your soul.  "The world's going crazy out there," he mused, " We need to gather in cathedrals like this to remember our common ground."
Soul music was the common ground for this band, and as they gave nods to Motown and Springsteen alike, they shared high-intensity energy and love for their craft.  They brought the audience with them; with hands clapping and the crowd jumping, as a frenzy of lights and a wall of music lifted spirits and grounded souls in Albany.
Set List: Sweet Soul Music (Arthur Conley cover), Soulfire (The Breakers cover), I'm Coming Back (Southside Johnny & The Asbury Jukes cover), The Blues Is My Business (Etta James cover), Love on the Wrong Side of Town (Southside Johnny & The Asbury Jukes cover),  Until the Good Is Gone, Angel Eyes, Some Things Just Don't Change (Southside Johnny & The Asbury Jukes cover), St. Valentines Day, Standing in the Line of Fire (Gary "U.S." Bonds cover), I Saw the Light (Little Steven cover), Salvation (Little Steven cover), The City Weeps Tonight (Little Steven cover), Down and Out in New York City (James Brown cover), Princess of Little Italy. Groovin' Is Easy (The Electric Flag cover), Ride the Night Away (Jimmy Barnes cover), Bitter Fruit (Little Steven cover), Forever
Encore: I Don't Want to Go Home (Southside Johnny & The Asbury Jukes cover), Out of the Darkness (Little Steven cover)