I first caught Hartley's Encore late last year when they performed at Guthrie Bell's 25th anniversary show at The Hollow. Funk is on the rise in Albany, and Hartley's Encore honed in on the reason why – the influence of funk forefathers Soulive whose albums are influencing the next generation of funk musicians. Their self-titled debut album is an alive EP, all killer, no filler.
The core of Hartley's Encore – Luke Malamood, Jeff Nania and Chris Oliver – graduated from Guilderland High School in 2003, but their playing together goes back to the early 90's when they were in first grade and Luke learned to play piano at Jeff's while Jeff was learning trumpet. The core of Hartley's Encore, Luke Malamood (keys/vocals), Jeff Nania (saxophone) and Chris Oliver (guitar) sat down with NYS Music to get behind the band name, talk about their early introductions to funk and their love of Soulive.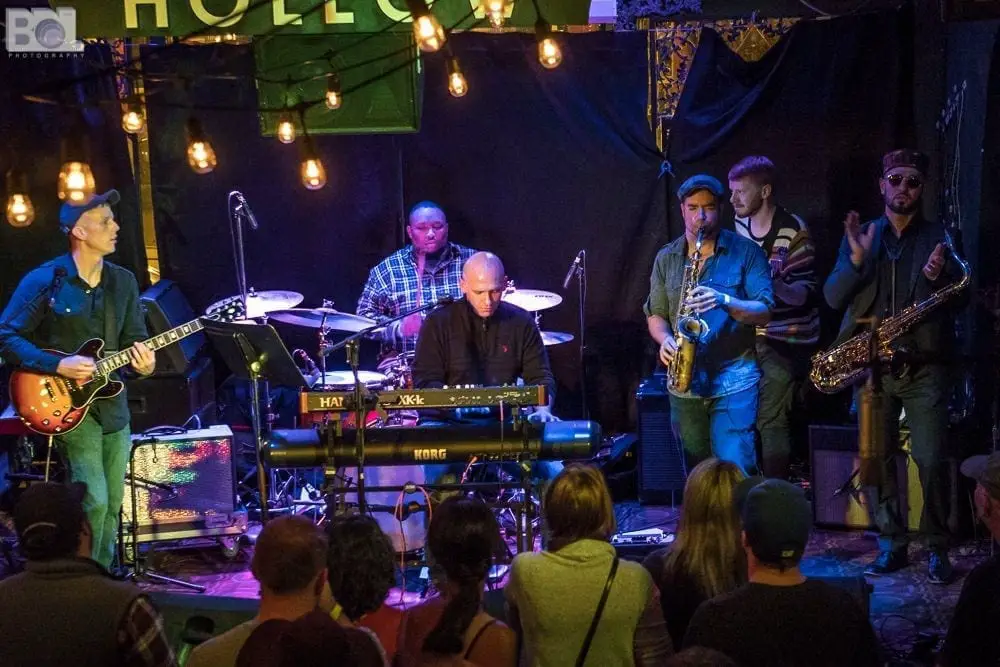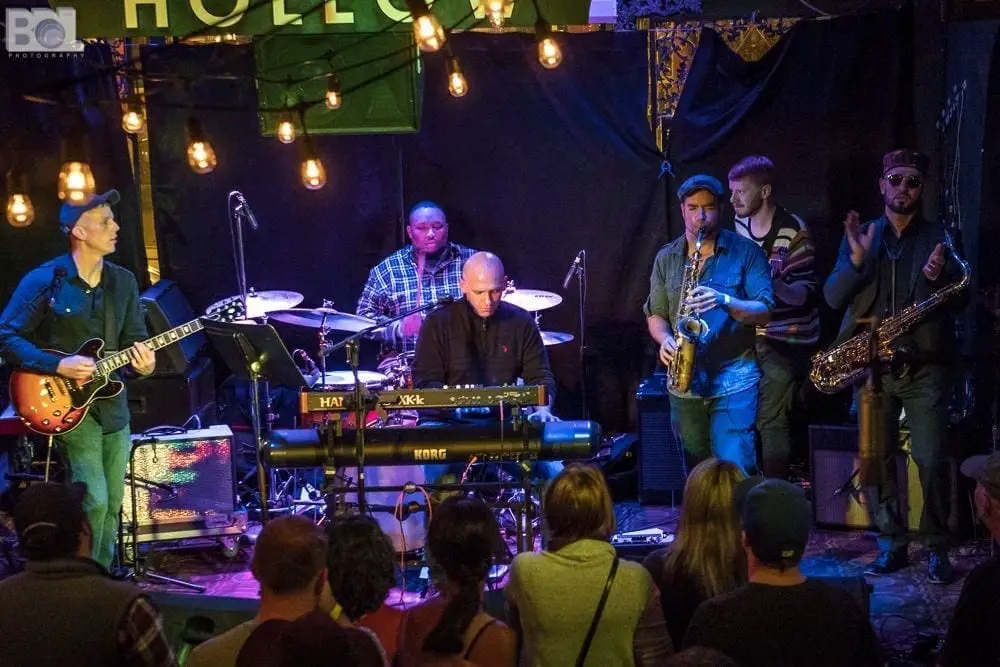 Pete Mason: Where does the band's name originate from?
Luke Malamood: It comes from the time Chris and I were working on this project in fall 2016 and Titanic was on TV and my daughter was watching it and as the ship is sinking, the band keeps playing even as they know they are going to their certain death, but it provided relief for those who were trying to survive. The band leader, Wallace Hartley, is the one who says 'it's been an honor and a privilege' and it was easy to find some info about him. In a loose way, this is right around the time we're gearing up for the craziest presidential election ever, and people were saying the world is coming to an end, so Hartley's Encore is a loose tribute to the band and bandleader and we think it's important that we do what we do.
Chris Oliver: For me, the encore thing, when we decided on it, it was real in an historical sense, but Luke and I have played together for years, and he and I reuniting was its own encore. So it made sense to have the name Hartley's Encore.
PM: What was the experience like working with Alan Evans (Soulive) at Iron Wax Studios?
Jeff Nania: We did the second Chronicles album with Alan and one thing I like about this approach is that he doesn't make you try to sound a particular way, he has the mics and know-how to make you sound the best. Before having heard us, because we didn't have any recordings yet, he asked for three records we really liked that he could use to get a vibe for our sound.
CO: Tower of Power Tower of Power, The Meters Rejuvenation and Dr. John Desitively Bonnaroo were the three we shared, and it's pretty clear to some extent that we wear our influences on our sleeve. When we got there, he said 'give me a year' to reference, and I said "Whatever year 'Hey Pocky Way' came out." (1988) Alan was pretty hands off and wanted to make us sound as good as he could. I was pretty intimidated from a musical standard but I went in there and he lets you go in there and do you. He prioritizes the artist remaining true to who they are, and as a guitar player and songwriter we were allowed to go in there and just be us.
LM: There was an intimidation factor working with Alan that grew out of the first time I saw Soulive in October of 2003.  We had just graduated from high school and a bunch of our friends had gone to Bonnaroo and everyone was all about Soulive. When we went to see him, it was incredible seeing any of them. Neal Evans is my hero, he has to be one of the funkiest dudes on the planet. His left hand I would put up against any bassist in the business. When Neal was active in Lettuce, even with Jesus Coomes who's a monster bassist, Neal was also hold down the bass parts. Even though I'd met Neal and Alan, it felt like hallowed ground just being there with Neal's brother. It was like hip hop beats with jazz and funk. He was probably the biggest question mark having met Neal and (Eric) Krasno in the past, but Alan I didn't know too well. He was the coolest guy and I couldn't have asked for this experience to be any better and professional. I got to play on one of Neal's organs and he was the coolest, sweetest dude. Justin Henricks had a great experience working on the Wurliday record so it was a no brainer for us to work with him. He met and exceeded our expectations. Both Wurliday and Hartley's Encore had the album mastered by Brad Smalling at EverGroove Recording Studio, so two funk bands from the Albany area got the same treatment done on their first albums.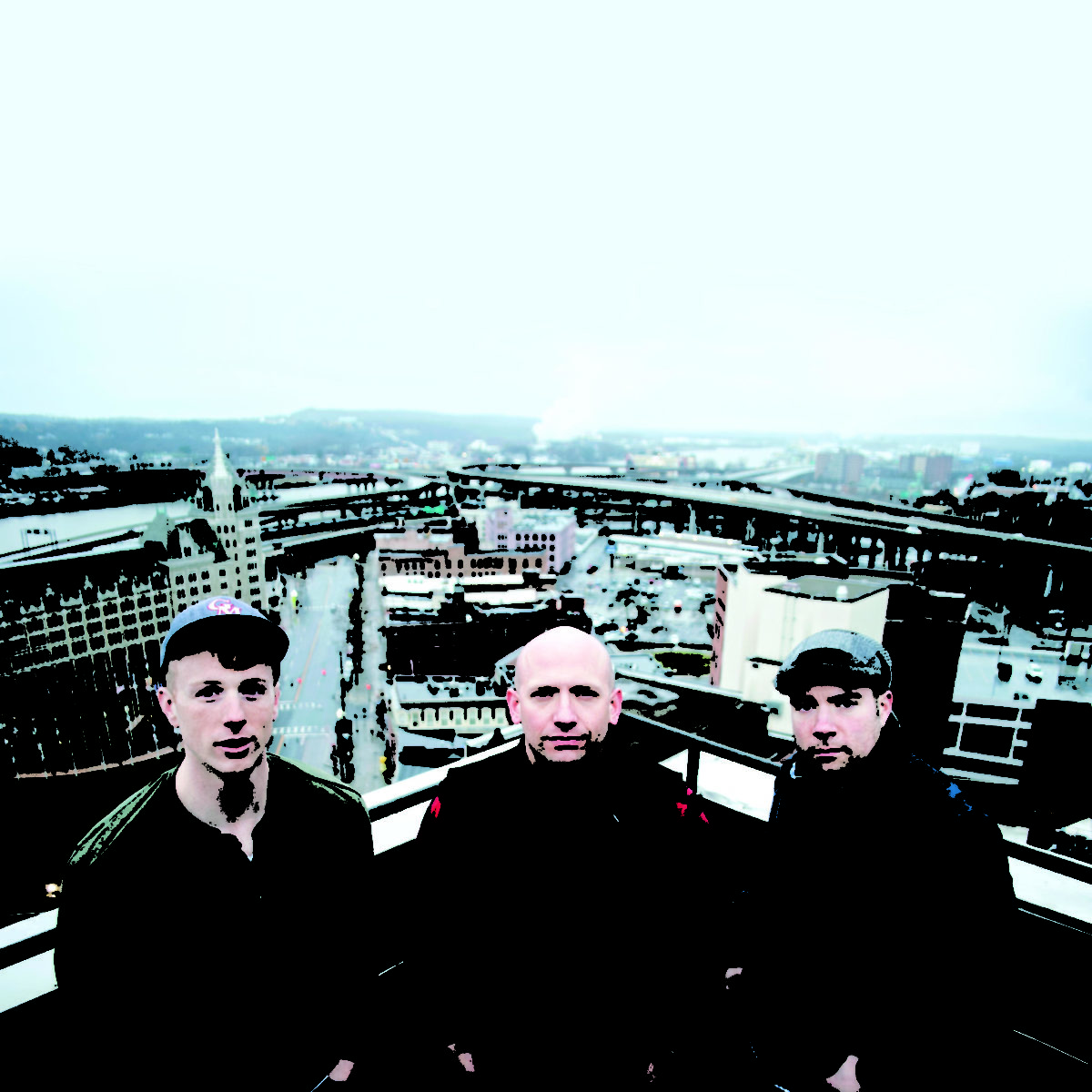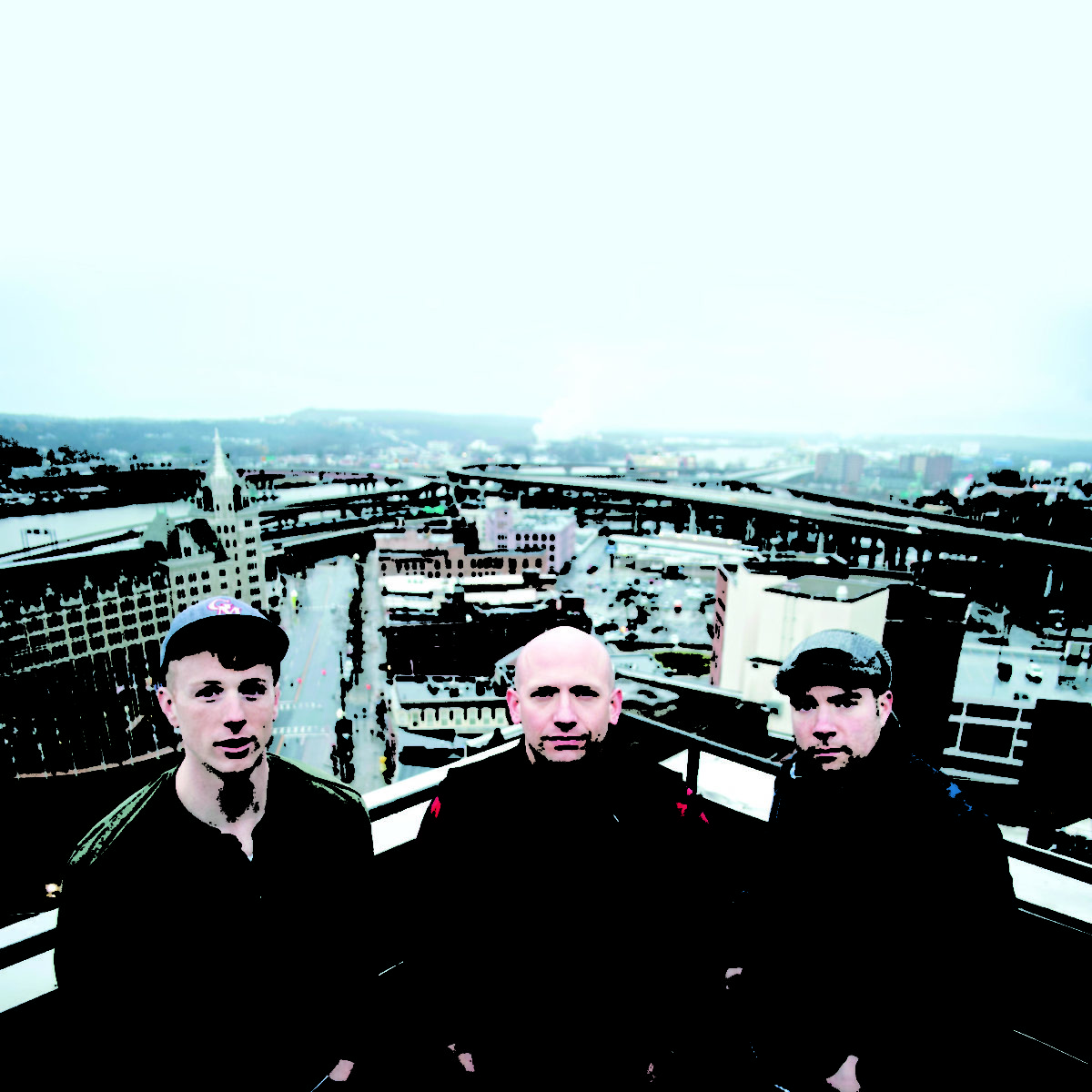 PM: What were the early funk experiences that tipped you towards making genre of music?
CO: I was probably the last person to get on the funk train. When I moved back to Albany a few years ago, Luke sent me a Meters album and "People Say" was the one that hooked me.
LM: I have been obsessed with Soulive since I first saw them play at Rev. Hall in the fall of 2003.  Are they a "funk" band per se…I mean, I hate labels in music to begin with. Plus, I've yet to read a definition of the word "funk" anywhere that I can wholeheartedly endorse. To me, with funk, it's like, I know it when I hear it. Soulive is jazz, soul, hip-hop, and of course, funk.  More importantly, I look at Soulive, and their cousins Lettuce (really the whole "Royal Family"), plus probably Dumpstaphunk and Galactic, as the godfathers of the growing modern funk/soul scene, as it currently exists. I was in college from 2003-2007, at Villanova, right outside of Philly. Between being at home and being away at school, with all of the incredible Philly venues at my fingertips, I got to see all of these modern funk/soul godfathers when I was relatively young, and I listened to them a lot (Jamiroquai too). Those guys never shied away from celebrating their influences, so through them, I got really turned-on to a lot of the funk/soul OGs: James Brown, Parliament/Funkadelic, Stevie Wonder, The Meters, Earth, Wind & Fire, Tower of Power, and Average White Band, to name a few.  Of course I had heard "Cold Sweat," "Superstition," "September" and even "Cissy Strut" before, but these modern godfathers really wet my appetite to go back and dig in some more.
Then, (though I'd spent one boozy night in NOLA with some buddies during my senior year in college), my first real trip to New Orleans was in March 2009, a that trip changed my life (in more ways than one). Among other things, I made my first trip to the Louisiana Music Factory, a legendary record store in New Orleans, and got my hands on my first Meters record, which I believe was Rejuvenation.  As one of my favorite singer/songwriter/pianist/keyboardists, Jon Cleary, has said, "Funk is the ethnic folk music of New Orleans," and once I got my first real taste of that, being down there, I was hooked. Ever since then, with multiple trips back to New Orleans, countless nights at Brooklyn Bowl (especially for Bowlive!), and really me just digging deep into the genre, I've connected the dots between the modern funk/soul godfathers of today's scene and the OGs.  I am now way down the funk/soul Rabbit Hole, have been for years!  It feels real good in here, and there's a lot of love to go around, so I've got no plans of coming out any time soon!
JN: I think I discovered Soulive in my sophomore year of high school. When I was younger my dad was a jazz head and I was constantly listening to jazz in high school, especially Blue Note records which was legendary label, with Wayne Shorter and Coltrane's most famous albums. I was dating a singer/songwriter who she worked at Coconuts in Stuyvesant Plaza and she gave me a handful of CDs. There were two that popped out – Medeski Martin and Wood's Shack-Man and The Dropper. Soulive Turn it Out was the first record I had heard of theirs. I dug it at the time because Blue Note was putting out some new jazz and I was coming at it from a new angle.
PM: What has the Albany reception been like, having only started out a little more than a year and a half ago?
LM: I'd give credit to Justin (Henricks) who started the Funk Night at City Beer Hall (ed note: now held at Parish Public House) that started to be a time when I could get out to see live music again after having two kids. Much like funk night, the reception has been pretty consistent and incredible as we've had max capacity shows and shows with like seven people there. In the funk and soul genre, we've only had a jam band thing in Albany and that overlaps to the funk scene, as well as an Indie scene. I think there is a healthy scene here in Albany and we can do it with the best in terms of being a small city. There are a lot of things that go into the reality of venues on given nights. Early on, we leaned heavily on friends and family to turn out. But gradually, slowly, we started to organically make some fans, the kind who keep coming to shows and we know by name. We were lucky enough to have Greg Bell add us to some big shows, including his 25th anniversary show. Slowly but surely, we started to see some people organically catching onto this, and that's really what I think our goal would be – play once or twice a month and get people out to the show and have a celebration.
CO: Both Luke and I will admit we are better songwriters than musicians. When we put our heads down and kept getting big on our own, Jeff took us under his wing, and given his playing in the region for the past seven or so years, we started to meet musicians and people who were in the scene and it kind of allowed us to get to where we are now and it helped us tremendously. I got out to see Justin Henricks and people who were doing it in Albany and that connection came from Jeff.
LM: this is a snapshot of who we are now, and we can attribute it to people like Greg Bell putting us on shows and NYS Music giving us some love and helpful in getting us to be able to be welcomed in this community.
Hartley's Encore released their self-titled debut album on April 20 and will have to album release shows in coming weeks. Catch them at The Hollow on Friday, April 27 with Victory Soul Orchestra and at Bowery Electric on May 18 with Sauce on the Side. At both shows, Luke, Jeff and Chris will be joined by a rotating rhythm section of Josh Gordon and Brad Monkell (bass), Mike Gilet and Erik Pravel (drums), Phil Chow (trumpet), and Alex Gonzalez (percussion). Hartley's Encore is now available on Spotify and Apple Music.