As spring arrives, so does the release of Bumpin Uglies latest studio release Beast from the East.  The twelve track collection drops Friday, April 6 just as most of the country begins to wake from it's winter slumber.  And Beast from the East is the perfect soundtrack to that ready awakening.  Packed full of reggae beats, ska energy and punk attitude, Bumpin Uglies unveil the type of album that's perfect for telling winter to buzz off.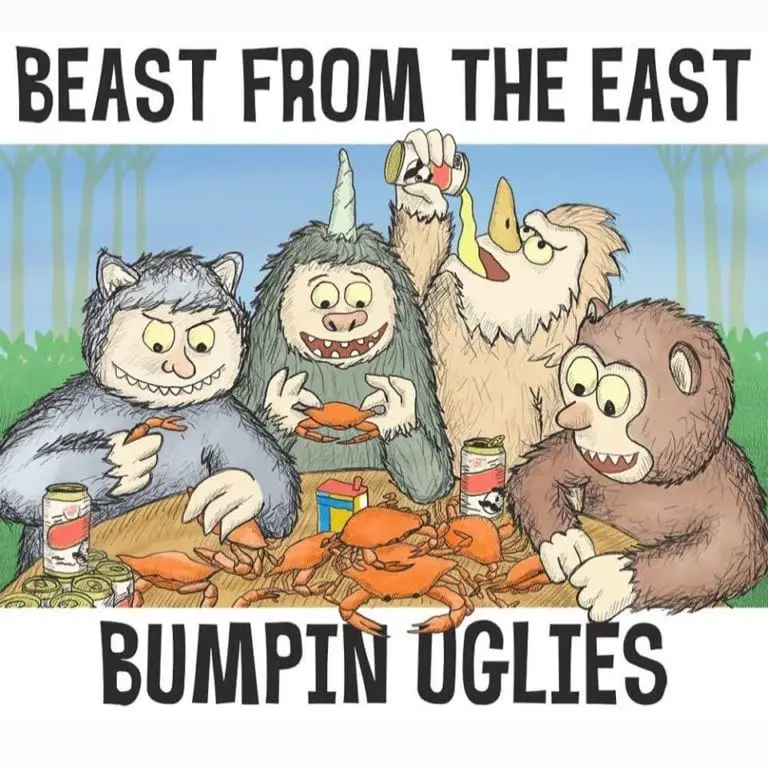 Beast from the East marks the band's fourth full length studio album.  But more importantly, it also marks the band's first release with keyboardist Chad Wright, whose arrival took the  band from trio to quartet when he joined in December of 2016.  While the album still showcases guitarist and vocalist Brandon Hardesty's trademark catchy songwriting and clever lyrical poeticism, the addition of Wright rounds out the Bumpin Uglies sound. And that is this releases major win.  Beast from the East showcases not only the band's growth but also the band's potential. And despite how Hardesty may lament that he doesn't "write songs for the radio" in the aptly titled track "Radio", Beast from the East is full of tunes that reveal otherwise.
The albums lead track "Could've Been Great" switches between edgy guitar riffs and punctuated drums to whimsical reggae cadences with lively keys.  In contrast, Beast from the East closes with the acoustic soul-searching tune "Optimism in F#". And sandwiched in between these two songs are ten tracks that prove Bumpin Uglies is more than just a white boy reggae outfit.  Beast from the East reveals there are many vastly different sides to this band; all locked, loaded and ready to delight the band's Uglies Nation fanbase while poised to hook new fans along the way.
Prior to the release of Beast from the East, Bumpin Uglies treated their fans to a smattering of sneak peeks including "All in Stride", "Hard Liquor", "Budtender" and "Crazy".  While "All in Stride" showcases Hardesty's ability to write mantra style lyrics that hook you into singing along because you feel like you have been in his shoes, "Hard Liquor" flips you into party mode.  It's still a song you want to sing along to, but it's also the kind of song you want to play while hitting the McDonald's drive-thru at 3am after a night of debauchery.
"City by the Bay" pays homage to the band's Chesapeake Bay roots.  The song is subtle, with the punchy horns and mellow timing that takes the listener on a starry-eyed musical journey as Hardesty remembers his past.  In contrast "Crazy" rides the upbeat drive of 3rd wave ska tradition while lyrically the song examines the drama and uncertainty of a dynamic romantic relationship.
While much of Hardesty's lyrical content can be described as introspective self-realizations, in tracks like "Apathy" or "Officer O'Herlihy", he doesn't shy away from writing lyrics intend to incite questioning of authorities or provoke inciteful thought. We are reminded that "freedom's like a muscle, when not exercised it's lost" as Hardesty encourages the listener to challenge what we are told, educate ourselves, and "read between the lines."
Beyond the A+ plus lyrical content, Beast from the East also showcases wonderful song structure, thoughtful musicianship and tasteful songwriting.  Bumpin Uglies beautifully melds key elements of reggae, funk, rock, punk, ska and pop while paying homage to the original inspiration.  Anchored by the impeccaible rhythm section of drummer TJ Haslett and bassist Dave Wolf, the duo lays a solid foundation on which Hardesty and Wright blend a cascade of genres.
Wisely placed vocal harmonies only enhance Hardesty's vocal chops, which sit on top of the band's music like milk and honey.  In a time when the world's music charts seem to be engulfed in autotune, mumble and a general lack of diction, Hardesty's rich tone makes you listen.  He has a point of view and he wants you to hear it.
Beast from the East was recorded at the Annapolis Audio labs in Annapolis, Maryland.  The album was produced by Howi Spangler, vocalist and guitarist for the alternative alt-rock outfit Ballyhoo. The album is available for pre-order on iTunes and Spotify.
Check out Bumpin Uglies tour this spring where they will share the stage with Sublime tribute band, Badfish.
Key Tracks: All in Stride, Hard Liquor, Radio