The promise of colorful blossoms, a great selection of artwork and crafts, delicious food and two full days of music will all unfold as the 70th annual Tulip Festival takes place in Albany, Saturday May 12 and Sunday May 13 in Washington Park during Mother's Day weekend.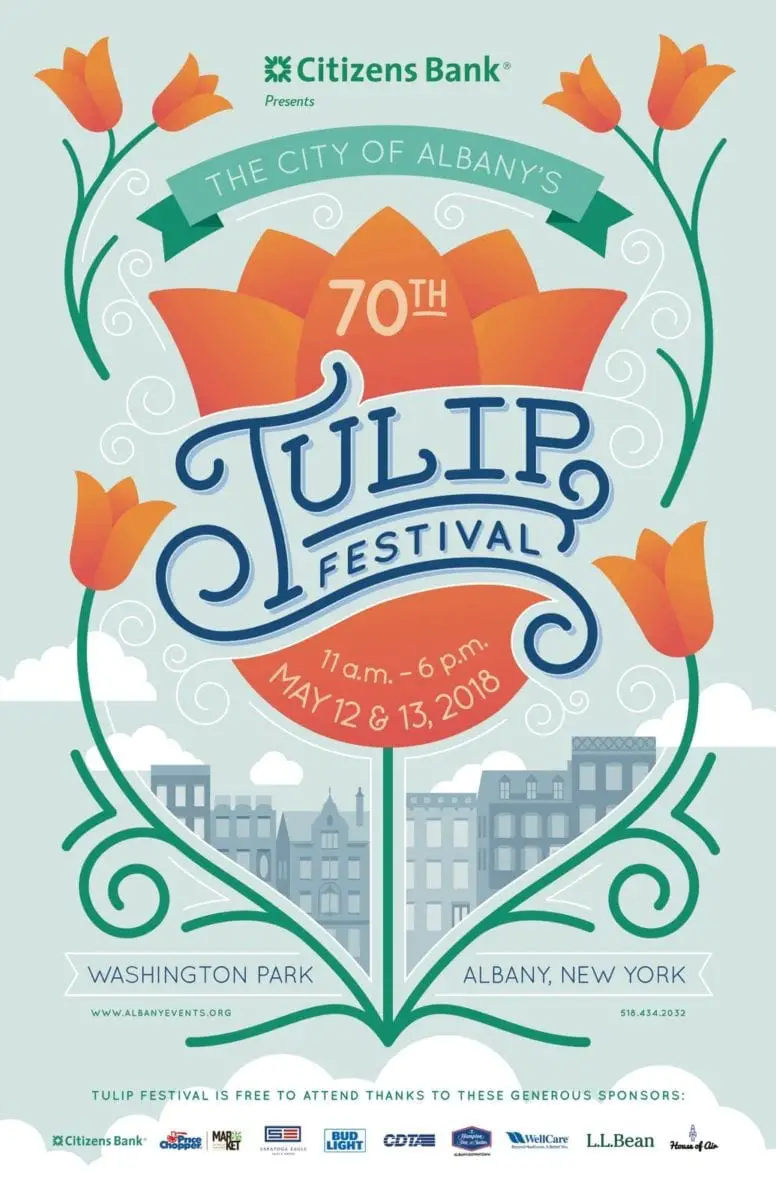 With the lineup just announced, there's plenty to be excited about with a great selection of talented regional acts vibrantly showcasing the magnitude of musical skill in Albany and around the state. The lineup below is sure to offer every music lover something to look forward to. NY bands (which is nearly all of them!) are in bold. This event is free so there's no reason not to go support these fantastic musicians.
For more information including kids events, tulip tours, volunteer opportunities, shuttle services, the BEER GARDEN and more, visit their website.  And don't forget to bring your mom.
SATURDAY, MAY 12
MAIN STAGE
Washington Park Parade Grounds
Media sponsor: 102.7 WEQX
4:30 p.m. – White Denim (Rock) – Austin, TX
3:00 p.m. – Naked Giants (Indie) – Seattle, WA
1:30 p.m. – Front Business – Albany, NY
LOCAL 518 STAGE
Washington Park Lakehouse Stage
Presented by WellCare
Media sponsor: Exit 97.7
4:45 p.m. – The Age (Neo soul) – Upstate NY
3:30 p.m. – The LateShift (Rock) – Albany, NY
2:15 p.m. – Blind Crow (Bluegrass) – Albany, NY
1:00 p.m. – Sorrow Estate (Indie folk) – Albany, NY
SUNDAY, MAY 13
MAIN STAGE
Media sponsors: 98.3 TRY, 1023 Kiss FM, 99.5 The River & PYX 106
4:30 p.m. – Dr. K's Motown Revue (Motown tribute) – NY
3:00 p.m. – Taina Asili (Afro-Latin/reggae) – Albany, NY
1:30 p.m. – The Sea The Sea – (Indie folk/pop) – Upstate NY
LOCAL 518 STAGE
Media sponsor: Exit 97.7
4:45 p.m. – North and South Dakotas (Bluegrass) – Upstate NY
3:30 p.m. – Zan Strumfeld (Folk) – Troy, NY
2:15 p.m. – Jordan Taylor Hill (Indie roots) – Albany, NY
1:00 p.m. – Ryan Leddick Trio – (Indie acoustic rock) – Albany, NY